labor
Teaching Assistants in Decatur, Il. Struggle for Better Healthcare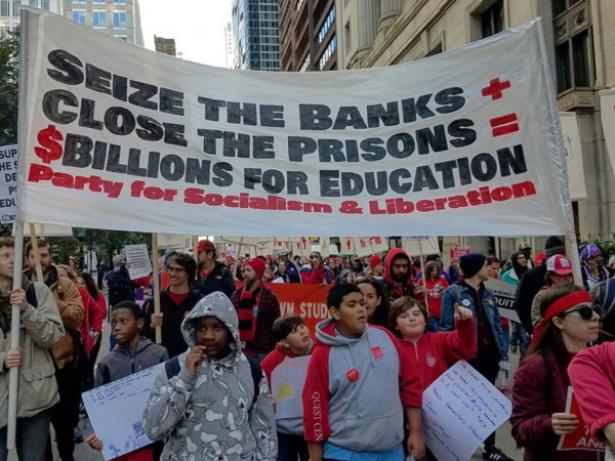 Rally in Chicago in support of the Chicago Teacher's Union on October 14. This fall across Illinois, education workers have gone on strike.,Photo by Liberation News.
On November 5, hundreds of union members and allies came out to support the Decatur Federation of Teaching Assistants  as they rallied for a fair contract with the Decatur School Board outside of Eisenhower High School in Decatur, Illinois. Though the night was cold and dark, DFTA supporters were warmed by the strong showing of solidarity with their cause. To chants of "DFTA all the way!" and "Don't dictate, negotiate!" we all picketed in the parking lot before coming together to listen to speeches from local labor leaders and supporters.
From the bed of a pickup truck, DFTA President Paula Busboom spoke about rising healthcare costs, a key issue of bargaining for DFTA members: "The ever increasing cost of health insurance and overall healthcare is a nation-wide problem…this school board is taking that issue to heart and feeling that they need to make the Decatur Federation of Teaching Assistants the example."
A member from another union in the city, Aleita Graham, spoke further to this point about how the School Board was trying to make an example of DFTA: "I am here because I know that what happens to one of us happens to all of us. If a TA's family is in crisis because they're priced out of healthcare, we are all in crisis. If one TA cannot get their chemo meds and they are at risk, we are all at risk. And when one union in this school district is disrespected and devalued, we are all disrespected and devalued."

"We walked back into those buildings with heads held high…"
Representing over 275 teaching assistants in Decatur Public Schools, DFTA has been negotiating with the School Board since April of 2019 for a fair contract. Despite the efforts of the union's negotiating team, the School Board continues to offer packages that would impose hundreds of dollars in increased monthly healthcare costs for DFTA members and their families. After several bargaining sessions with a federal mediator continued to stall out over the issue, DFTA members were forced to go on strike to fight for their right to affordable healthcare access.
DFTA members made a strong showing on the picket lines for three days from October 28th-31st, and labor allies from across the state came to show their support. Some members of Chicago Teachers Union, who were on strike at the time, organized to get on a bus and drive down to join DFTA picket lines for solidarity.
During the strike, DFTA members were disappointed to learn that the School Board elected to cancel Special Education programs in Decatur Public Schools. This left over 500 students without care during the three days of the strike, resulting in parents and guardians scrambling to find ways to watch their children.
Despite their strong showing, the strike was forcibly ended when the Decatur School Board threatened to unilaterally terminate healthcare and other benefits for DFTA members and their families if they did not return to work. In face of the Board's heartless and illegal union-busting tactics, DFTA members returned to work on November 1 "with heads held high," as their President, Paula Busboom put it.
However, many of the DFTA members who returned to work saw their healthcare terminated anyways, in addition to their life insurance, sick and personal time and access to their flexible spending accounts. TAs and their families have already suffered as a result of the Board's blatant disregard for the livelihood of their employees. One TA cannot access their chemotherapy medication, and another cannot pickup their daughter's prescription; numerous TA's have been unable to access their essential services and benefit programs.
Decatur School Board grilled by DFTA members and allies
After the November 5 rally, DFTA members and allies went inside to attend the School Board's open meeting and to speak in the public commentary section. All of the seven public commentators, who were DFTA members, parents of Decatur Public Schools students, community members and other union and social movement members, raised their fiery voices in support of DFTA, calling for the School Board to immediately re-open negotiations with DFTA and to resign over their gross mishandling of the situation.
One commentator, a parent of a child in a DPS special education program, made clear that she blamed the School Board—not the union—for not allowing her child to go to school during the strike. This parent said, "I challenge each and every one of you to spend a week with a teaching assistant, and then you can see all the work that they do, and how they deserve to be paid equally." Another parent, Kein Collins, blamed the "Board of Mis-education" for denying his children their Halloween Party by canceling the special education programs at DPS on October 3. "I find that unforgivable," Collins told the Board, "How is your image now?"
One of the first to comment, Jacob Jenkins, was echoed in many other statements when he called for the whole School Board to resign: "You have not created a 'destination district,' you have created a disaster zone," he said. Citing the heartless cancelation of special education programs during the strike, a botched merger with another school that had gone poorly, and the lack of Black representation in the school district, Jenkins pleaded with the Board to resign and "please save this district any further embarrassment." According to the Illinois State Board of Education, Black students make up a plurality of the population at Eisenhower High School.
The Board of Education has still to this day been unwilling to find terms that are acceptable and respectful to the DFTA membership. The federal mediator's involvement has also not yet helped reach a satisfactory outcome. DFTA and allies from around the area continue to hold rallies to make it clear that there continues to be community support for DFTA and its cause.
The problems of education under capitalism
The owners of private and charter schools are waging war against their public school competition. They run themselves or their candidates—"pro-business" politicians like Decatur School Board President Beth Nolan or Decatur's Mayor, Julie Moore Wolfe—to control the politics of education. Once in office, capitalists cut public spending and talk about "balancing the budget," but the budget always ends up balancing in favor of the rich and powerful capitalists, never the working public. As the last step, capitalists gut spending on public programs, which paves the way for these programs to be turned over to the control of corporations. This manifestation of the class struggle hurts working-class people and their families. The Decatur Public School district is already far into this process.
Approximately 20 percent of school-age children in Decatur already go to private schools, a much higher percentage than average. These schools, despite what their supporters claim, can put these families into financial stress because of the tuition costs.
This struggle also highlights how white supremacy and racism continue to be a daily feature of life in the U.S. Jacob Jenkins put it best when he exclaimed that 56 percent of Black and Brown kids are still forced to attend "Jim Crow" schools. White families often have better access to well-funded and adequately staffed education for their children than their Black and Brown counterparts. Racism is still an integral feature of class society in the United States, and the struggle for affordable and quality and education cannot be won without the multinational unity of the working class.
Socialists and progressives must continue to join picket lines, support striking workers and build connections within the diverse working-class. Only through strong, organized mass movements can working and oppressed people realize their strength and build a society that works to satisfy the needs of all. As the negotiations persist between DFTA and the Board of Education, progressive and revolutionaries should stand in solidarity with the teaching assistants of Decatur.
JOIN THE PSL SUSTAINERS FOR EXCLUSIVE ADDITIONAL DIGITAL CONTENT.