Global Left Midweek - Last Year, Next Year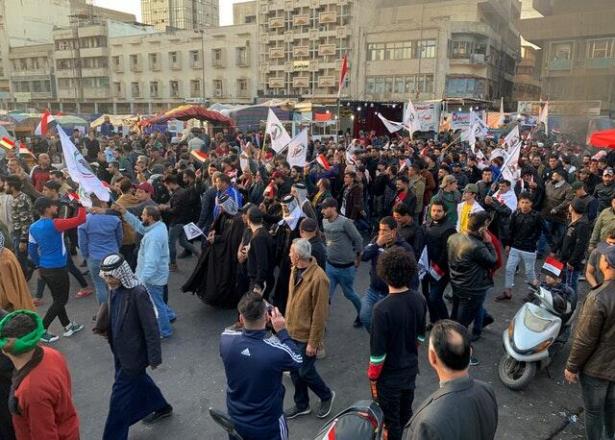 Hundreds of Iraqi mourners stormed the U.S. Embassy in Baghdad on Dec. 31, following deadly U.S. airstrikes this week that killed 25 fighters from an Iran-backed Shiite militia in Iraq,Photo: AP/Hürriyet Daily News
__________
Women Lead the Fight to Save the Planet
Anuj Tiwari / The Times of  India (Mumbai)

Celebrating the power and courage of all the women and girls across the world who have to taken to the streets for their beliefs in gender equality, violence and democratic values.
__________
Iraq: Protests Shift Target to US Aggression
Marco Carnelos / Middle East Eye (London) 
Attacks could shift the focus of ongoing protests from political corruption and Iranian influence, towards the US violation of Iraqi sovereignty.
__________
France: CGT Head Assesses the Ongoing Strike
There appears to be no end in sight to the current walkouts. "It's a strong movement and still supported by public opinion," said Philippe Martinez, secretary general of the CGT union as he visited picketing workers at a bus depot.
__________
Cuba's National Assembly Makes Changes
Roberto Livi / Il Manifesto Global (Rome)
Manuel Marrero Cruz was installed as Prime Minister by the National Assembly of the Poder Popular. Díaz-Canel highlighted on the occasion of his nomination, Marrero's merits include the fact that he has successfully managed one of the main engines of the Cuban economy while maintaining harmony with the military.
__________
No Pause in UK Electoral Work
Salma Yaqoob / LabourList (London)
The seeds of our transformative vision have already been sown with with the back-breaking work of our brilliant members and activists. These need to be nurtured, not abandoned. The prize of a Labour victory in spring will represent a blossoming of hope and opportunity not just for the West Midlands but for the nation.
__________
India: CPIM Leader on Repression and Uprising
Anando Bhakto / Frontline (Mumbai)
Mohammad Yousuf Tarigami, the Communist Party of India (Marxist) leader and four-time legislator from Kulgam in South Kashmir, shared his experiences post the August 5 action of the Government that had the Kashmir valley locked down. While exposing the Government's fascist agendas, he underlined that there is hope for a sustained resistance. 
__________
The Workers' Party of Belgium
Muhammed Shabeer / Peoples Dispatch (New Delhi)
Bert De Belder talks about the rise of the party, its involvement with trade unions and its engagement with youth and other sections of society. The party has emerged as one of the major opposition forces in the country, with significant representation in the federal and regional parliaments.
__________
Continuous Rebellion in Hong Kong
Au Loong Yu / Social.Geschichte Online (Duisburg/Essen, Germany)
Within the current movement multiple inclinations co-exist. The nativists have been saying loudly for years that mainland Chinese people are all 'fxxking supporters of despotism.' Obviously, many protestors have not listened to their advice.
__________
The Year in Review
Rappler (Manila)
In the last 12 months, the world got reminded of the power of mass movements and onground action – and how democracy can only get stronger because of it.