labor
The Labor Strike That Shut Down San Francisco and Kicked Off the City's Counterculture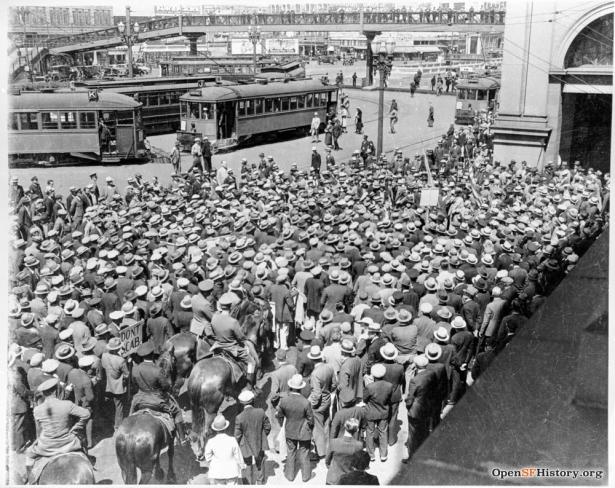 A large group protests against unfair working conditions and police brutality during the General Strike of 1934 in San Francisco.,
This article is part of SF Throwbacks, a feature series that tells the stories behind historic photos of San Francisco in order to learn more about our city's past.
San Francisco's radical leftist politics didn't start with the hippies in Haight-Ashbury or even the beat poets howling in North Beach. No, our counterculture leanings date back even further, to a group of sailors looking for fair wages. In what's known as the General Strike of 1934, workers initiated an unprecedented labor strike that shut down San Francisco — the first time this took place in a major U.S. port city. This singular event spurred the modern-day American organizing we know today.
The photo above, taken by an unknown photographer in July 1934 outside the San Francisco Ferry Building, shows a large group of men protesting in solidarity against unfair working conditions and police brutality. The sea of suits and top hats is packed tightly to fit as many workers as possible, with more pouring out of the streetcars on the corner. One holds a sign reading "Don't scab," a phrase that urges workers not to take jobs or cross a picket line during a strike.

The San Francisco strike started rather modestly in May 1934. About 10,000 longshoremen in cities up and down the West Coast simultaneously demanded an end to policies such as the "shape-up," a degrading employment practice where the sailors were forced to line up each day and compete with one another for work. (How's that for a Bay Area gig economy?) Other maritime unions joined in, but the strike was still relatively isolated to ports. That is, until San Francisco's police resorted to violence against the protesters. On July 5, 1934, a day that would later become known as "Bloody Thursday," police officers fired their guns into a crowd of demonstrators, killing two and injuring nearly 70 others. The clash started in Rincon Hill, then a poor, working-class neighborhood, and poured out into Market Street and eventually the Embarcadero. The killings raised alarm all over the city and beyond, and the resulting solidarity can be seen in this very photo. In total, 63 separate unions across San Francisco officially joined the striking longshoremen on July 16, 1934.
These developments came at the height of the Great Depression, when labor unions were just beginning to find their political footing. This general strike was the first time coordinated labor efforts shut down a U.S. city the size of San Francisco. During the strike, San Francisco became a ghost town: Hotel workers, streetcar operators, restaurant workers, builders, and others all refused to show up for work. Approximately 130,000 workers in dozens of industries demonstrated the power of collective bargaining. Workers in other West Coast cities, including Seattle and Portland, held "sympathy strikes" in solidarity.
But because nothing is scarier to people in power than some real coalition politics, the strike horrified the city's establishment. The reprisal was swift and brutal. Newspapers all over the city launched a campaign against the strike, calling it a "communist plot" and a "revolution." For publishers opposed to Franklin Roosevelt's New Deal programs, the strike was a convenient scapegoat, said journalist Lorena Hickok.
Police Chief William Quinn brought in 500 new officers and spent $60,000 (the equivalent of $900,000 today) on munitions to control the "threat" of the striking workers. The National Guard was even called in to patrol San Francisco's port. Vandals dispatched by the American Legionnaires, a war veterans group, destroyed union halls and soup kitchens throughout the city.
Irving Bernstein, a noted labor historian and activist, wrote that the attacks had a pattern: "[A] line of cars filled with men in leather jackets drew up; they invaded the quarters, smashed windows, wrecked the furniture, threw typewriters into the street and beat up the occupants. The police invariably arrived just after the vigilantes had left and promptly arrested those who had been beaten."
The strike was treated as a full-blown class war — one that San Francisco's authorities were determined to win.
Monumental as it was, the general strike lasted only three days. But even though it didn't have staying power, the longshoremen, who had first started the strike months before, got what they wanted. They won higher pay and a hiring hall run by the union itself, rather than by outside employment agencies that treated the sailors badly. Most important, the general strike had ripple effects across the West Coast and beyond.
The struggles the longshoremen faced — long hours for little pay, no autonomy, brutality from authorities — remain problems people in the Bay Area face every day. Just this week, student workers at UC Santa Cruz received termination letters from the university for striking, sparking anger in academic communities around the country. And Tartine's employees are organizing to join the International Warehouse and Longshoremen's Union, the current iteration of the sailors' union that started the strike. Employees of the iconic bakery chain say that it has become too corporate and isn't paying their employees well enough. Anchor Brewing employees did the same thing last year. Labor organizing in San Francisco is alive and well.
We might just need another general strike.
Journalist and freelance writer Casey O'Brien is based in Berkeley, Calif. She writes about the environment, health care, equity, justice and community issues.