labor
'No Job? No Rent.': Residents At An Alexandria Apartment Complex Prepare To Strike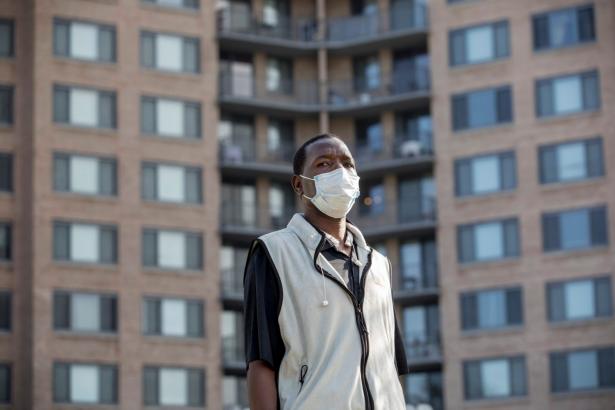 Sami Bourma is helping organize a rent strike at Southern Towers, a five-building apartment complex in Alexandria where many residents have been laid off.,Tyrone Turner / WAMU
This story was updated at 2:41 p.m. April 8.
A month ago, Sami Bourma had two jobs. He was a cafeteria cook at the National Institutes of Health and an Uber driver. Now, he can't work.
Furloughed from his NIH job and wary of picking up passengers during the coronavirus pandemic, Bourma has no income. He can't pay his rent at the Southern Towers apartment complex in Alexandria. But rather than tell his landlord he can't pay, Bourma is organizing a property-wide rent strike, with more than 300 households all saying they not only can't pay … they won't pay.

"I started talking to people in the hallway and the lobby just to have an idea how people feel," he says. Within an hour, Bourma says, his neighbors were in tears. "Some of them, they don't have money completely, because they've been laid off early."
Many residents of Southern Towers work in hotels, restaurants, airports and cleaning services. They've lost their jobs as businesses across the region been ordered closed to slow the spread of COVID-19.
Bourma and others with the Unite Here Local 23 union and African Communities Together have circulated a petition to residents of the complex's five buildings. Their goal is 1,000 signatures from the 2,300 total units. They want management to cancel rent until one month after the pandemic ends, address safety and cleaning concerns, and create a sliding scale for future rent payments based on income.
"No job? No rent. That's what we demand right now," Bourma says.
Property manager Bell Partners, which has 17 properties in Northern Virginia, was unavailable for an interview but responded to WAMU via email, saying it has taken measures to assist residents in financial distress.
In an email to residents on March 30, property manager Bell Partners wrote that for accounts "in good standing" they would waive late fees for April payments if full payment or a payment plan had been executed by April 20. They would also offer payment plans if there was evidence of hardship and reimburse $25 of credit-card fees if rent was paid in full.
But while the due date for rent has been pushed back to the 20th, few concessions have been made for those who can't pay it at all, Bourma says.
Many of the tenants who have signed a petition work as drivers, airport staff, restaurant servers and in cleaning services.Tyrone Turner / WAMU
"The people got mad about [the email], since they're not talking about safety, just only they're thinking about action — how they're going to get their money," Bourma says.
Bourma adds that building staff was slow to take safety precautions such as disinfecting common areas, including the elevator and the lobby where his 11-year-old daughter connects to wifi to do her homework.
In the past few days, staff have begun resuming trash pickup and stepped up cleaning measures, Bourma says — actions he thinks may have been in response to an email he sent management on Friday. In it, he alerted the property that he'd been in communication with an Alexandria City Council member about the importance of "protecting the health of ourselves and our families" while at home.
"Bell Partners has taken measures to help ease anxiety and potential financial burdens for our communities as the result of the COVID-19 pandemic," an email from Bell reads. "We are working with those impacted by COVID-19 by offering payment plans to residents who have experienced financial hardship. Additionally, we have waived late fees for April rent payment and credit card fees for processing payments. We strongly encourage residents with any questions to contact their community manager or leasing office."
Alexandria Mayor Justin Wilson sent a letter in mid-March to Alexandria landlords encouraging them to be flexible with rent payments during the crisis.
"I would ask that you consider now what you can do to ease burdens for tenants who will have difficulty paying rent because of illness or financial hardship related to ongoing business disruptions and closures," Wilson wrote.
In Virginia, Maryland and D.C. eviction proceedings have been temporarily suspended as the region deals with the economic fallout of the pandemic, and landlords are barred from removing a resident from their home. But landlords in the region can continue to issue eviction notices if rent is not paid; in D.C., for example, 800 eviction cases have been filed since March 16, the date the D.C. Superior Court closed, says Beth Mellen Harrison of the Legal Aid Society of the District of Columbia.
"If a tenant were to withhold rent indefinitely, then once this court order that basically prevents evictions from happening right now lifts, then they could be evicted," says Louisa Rich, an attorney at the Legal Aid Justice Center in Richmond. "But the reality of the situation is if a tenant [in Virginia] withholds rent right now but is later able to pay it, they could avoid eviction … if they pay all the amounts before the court date."
Rich says similar strikes are happening elsewhere in Virginia, including some organized by the Richmond Tenants Union. But Rich acknowledges that this can't be fully resolved by tenants and landlords alone. Landlords need tenants' rent payments in order to cover the mortgage, utilities and other building expenses.
"It is important to be also demanding things from our government in terms of making sure that our whole economy doesn't crash because we're all operating on the lower level of like, 'We can't pay our rent, so we're just not going to pay our rent," Rich says. "There needs to be probably also kind of a safety net for just making sure that the people down the line are also able to pay their bills."
Since last month, many members of the Apartment and Office Building Association of Metropolitan Washington have been having proactive conversations with tenants about their needs, says Nicola Whiteman, AOBA's senior vice president of government affairs. Whiteman says a significant increase in rental-assistance aid is necessary at the federal and state levels, perhaps "mirroring" existing programs.
"No one's going to be evicted during this crisis," Whiteman says. "The challenge is then, if — as the projections increase in terms of rents that are not coming in — what kind of relief is needed on the housing-provider side?"
The D.C. Council has passed legislation that allows for mortgage-payment deferments for commercial and residential properties, and that requires owners who are granted savings to pass them on to their tenants. Rent increases are also barred.
Several other rent-reduction efforts in the area have seen some recent success, including a Columbia Heights building where April rent is canceled.
Given social-distancing constraints, much of Bourma's organizing has been done over the phone, via text, calls and video apps. Bourma says his phone has been pretty busy in the past two weeks.
"And now I start having to have to use my wife's phone," Bourma says. "I have to use my phone and the iPad to be able to catch everyone who calls me."
This story was updated to reflect that African Communities Together is also helping organize the rent strike.
Your Support Makes It All Possible
When you give to WAMU, your tax-deductible gift helps make possible the award-winning reporting and programs upon which you've come to expect and rely, including Morning Edition, All Things Considered, 1A, The Kojo Nnamdi Show and many more!