Newspapers Won't Connect the Dots on Postal Service Threats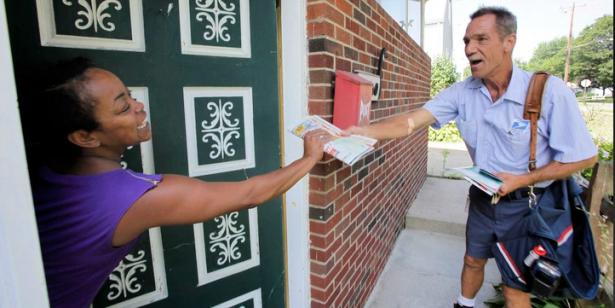 ,
More than six weeks after a bill was introduced to require vote-by-mail to be available for the November 3 elections, no federal steps have been taken to ensure a fair and free election in the shadow of a pandemic that threatens people's ability to access the polls.
In fact, while some states scramble to put together vote-by-mail plans—shouldering the financial burden themselves—others are doing nothing, and New York went so far as to cancel its presidential primary. Meanwhile, commenting on Fox & Friends (3/30/20) about the Democratic vote-by-mail bill, Donald Trump said the quiet part out loud:
The things they had in there were crazy. They had levels of voting, that if you ever agreed to it you'd never have a Republican elected in this country again.
Now, with the US Postal Service reeling (like so many others) under the economic impact of the pandemic, Trump has revived the right-wing crusade to privatize all mail and package delivery, threatening to refuse desperately needed aid for the Postal Service unless it quadruples its rates, cuts service and guts its union—which provides hundreds of thousands of secure middle-class jobs. Without federal aid, the USPS will run out of money by September; adopting Trump's measures will effectively drive the USPS out of business, as competitors undercut its rates (Atlantic, 4/24/20).
In either case, the Postal Service's ability to handle a crush of mail-in ballots in November would almost certainly be threatened. The right-wing vendetta against the Postal Service long predates the pandemic, but gutting it now has the potential to undermine the integrity of the November election. Yet establishment media seem remarkably uninterested in connecting the dots.
In the New York Times, Trump's revitalized crusade against the postal service has gone largely unremarked upon outside the opinion section. On April 25, the story made it into the bottom of a "Virus Briefing," in which Trump's "belief that Amazon and other online retailers have been profiting from low prices that have left it asking for a government bailout" was not countered until the last paragraph, which explained that the USPS "in fact…makes money from its business with Amazon, which is likely to shift to alternatives such as UPS or FedEx if the Postal Service raised prices substantially."
Others didn't bother at all with factchecking Trump's central claim about the postal service propping up Amazon. The Hill (4/24/20), for example, headlined Trump's subsequent remarks that he "would never let our Post Office fail," not explaining either how that squares with his commitment to forcing massive rate hikes, or the fact that the USPS's relationship with Amazon is actually a revenue-generator for the service. And at the LA Times, the only brief mention of the USPS issue in the print edition (4/25/20) noted without comment that Trump "has berated the Postal Service for years, claiming it is exploited by Amazon and other e-commerce sites."
The Washington Post (owned by Amazon CEO Jeff Bezos) did put the story of Trump's threat to the Postal Service on its front page (4/24/20), but reporters Lisa Rein and Jacob Bogage didn't find room to mention vote-by-mail in the entire story.
In response to Trump's threats, presumptive Democratic nominee Joe Biden (whose campaign urged supporters to the polls in primary contests despite the threat of the coronavirus—FAIR.org, 3/28/20, 4/6/20) speculated that Trump might try to "kick back the election somehow." Biden suggested that Trump's threat not to fund the Postal Service suggests he is "trying to let the word out that he's going to do all he can to make it very hard for people to vote. That's the only way he thinks he can possibly win."
Biden's comments got press attention—but again, little connecting of the dots. As virtually every report pointed out, Trump has not threatened to postpone the election, nor would it be constitutional, which makes Biden's first suggestion less probable. But, just as they did a month ago in the first wave of stories about threats to the November election (FAIR.org, 3/23/20), journalists continue to focus on reassuring the public about what can't go wrong (simply not holding an election) rather than digging into what can (claiming the election results are illegitimate because of security, fraud or delays, or simply making it impossible for people to vote without putting their lives at risk).
Turn the page from the Post's page one story and you'd find a report (4/24/20) from Annie Linskey on Biden's musings, which told the story as nothing more than a partisan political squabble. Linskey quoted seven partisan political sources (four Republicans and three Democrats, including Biden and a Biden spokesperson), plus Amy Walter from the Cook Political Report, who analyzed Biden's remarks as a way to rally his supporters. One reference to a concern of "voting experts" (that "polling locations will be drastically reduced in November if the virus returns and election workers become scarce") appeared in the third-to-last paragraph.
In a separate article that appeared only online, Colby Itkowitz (Washington Post, 4/24/20) managed to speak to voting-rights experts, but still spent the first half of the piece emphasizing that "the president has no power over when America votes." For those who made it that far, the piece was one of the few places for readers to hear that there were other ways for the president to keep people from the polls, including making voting by mail difficult or using "emergency powers to keep people in cities where outbreaks have been worse from going to polling places in person, in the name of public health." Nowhere was the legitimacy of the election under those circumstances mentioned.
Meanwhile, at the New York Times (4/24/20), Biden's remarks appeared to raise hackles:
It was an extraordinary claim for the presumptive Democratic nominee to make about an opponent, especially for Mr. Biden, a former vice president and Washington veteran who prides himself on civility and respect for American institutions, including and especially the presidency.
Reporter Katie Glueck reassured readers that
Mr. Trump has not moved to delay the election, and Mr. Biden, who once taught constitutional law, most likely knows as well as the voting experts do that it would be exceedingly difficult to postpone the election and that the president does not have the authority to unilaterally take such action.
When, later in the article, Glueck pivoted to note that "Mr. Biden has also signaled that he is acutely aware of the roadblocks to voting that Americans may face as an election unfolds amid a pandemic," she—like Linskey—presented those roadblocks through an almost purely partisan lens. Glueck quoted Biden, two other Democratic officials and pundit Jon Meacham to argue that:
Taken together, there is a real concern among many Democrats that Mr. Trump, who recently claimed "total" authority as president during the crisis before ceding some authority to the governors, will pursue re-election ruthlessly and with no regard for traditional norms.
Those concerns are obviously not confined to Democrats—they're shared by all who genuinely care about democratic institutions in this country. Based on their coverage of the November election, and the crucial political battles happening now that will determine whether that election can happen freely and fairly, it's safe to question whether all the journalists who are meant to safeguard democracy consider themselves part of that group.
Julie Hollar is the managing editor of FAIR's magazine, Extra!. Her work received an award from Project Censored in 2005, and she has been interviewed by such media outlets as the L.A. Times, Agence France-Presse and the San Francisco Chronicle. A graduate of Rice University, she has written for the Texas Observer and coordinated communications and activism at the Lesbian/Gay Rights Lobby of Texas. Hollar also co-directed the 2006 documentary Boy I Am and was previously active in the Paper Tiger Television collective.
© 2020 Fairness and Accuracy In Reporting (FAIR)