labor
Solidarity Helps Seafarers on Cruise Ships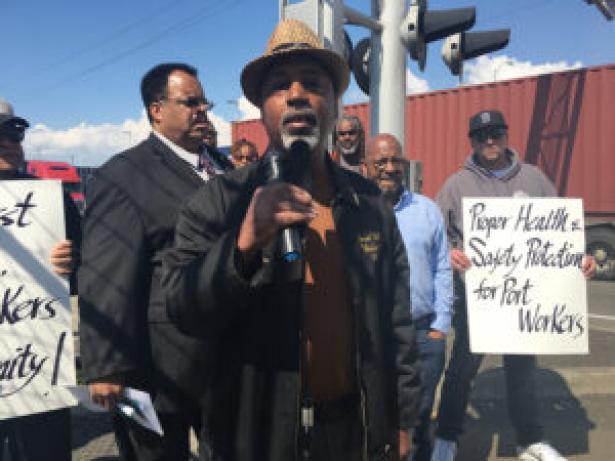 Local 10 President Trent Willis (center) and Local 34 President Keith Shanklin (left) rallied with members and community leaders at the Port of Oakland,
The cruise ship industry gained notoriety early this year after several Princess vessels became high-profile hotspots for COVID-19 outbreaks, spreading the virus to hundreds of passengers. The cruise industry operates 272 vessels worldwide that host 300 million customers a year. While companies initially responded to the outbreaks with an eye toward protecting their public image and profits, treatment of crewmembers before and after the virus struck seemed to be a lower priority.
The cruise industry depends on massive numbers of low-wage workers to care for guests and operate the giant vessels. Typical crew sizes range from 25% to 50% of the total guests, with ratios of one crew member for every three customers being common.
Longstanding abuses

Crewmembers on cruise and cargo vessels have long struggled against low pay, abusive management and dangerous working conditions. Vessel owners perpetuate this abuse by exploiting a loophole in maritime law, allowing ships to register in countries that provide little or no enforcement of labor, environmental and tax laws.
Most large vessels, whether carrying passengers or cargo, now fly a "flag of convenience" which allows them to carry passengers from wealthy nations while bypassing stronger labor, environmental and tax laws.
COVID-19 flourishes under FOCs
Flying a flag of convenience (FOC) has made responding to the COVID-19 outbreaks more difficult for passengers and crewmembers. When the virus outbreaks occurred, vessels were far from the countries where they were registered, and those countries had neither the funding or infrastructure to offer any meaningful medical, public health and scientific assistance. That left responsibility to states, nations and nongovernmental organizations (NGO's) to respond as best they could while epidemics raged aboard the giant vessels.
The national governments of passengers and crew members were called to help, with some offering sympathy and support, while others turned their backs on both citizens and workers.
Tale of two vessels
The experience of two different Princess vessels illustrates how the FOC system allows seafarers from around the world to be exploited. In February, the Diamond Princess attempted to quarantine at the Port of Yokohama in Japan, following a COVID-19 outbreak. Japanese officials were limited in their ability to intervene because the ship was registered in Bermuda and subject to that nation's laws, not Japan's.
COVID-19 strikes second Princess
A few weeks later, a different vessel, the Grand Princess, was sailing in circles off Northern California. They needed to dock at a nearby port because COVID-19 was spreading among passengers and crewmembers. After high-level consultations with California Governor Gavin Newsom and Oakland Mayor Libby Schaaf, the Grand Princess was allowed to dock in Oakland on March 9th. Two passengers and 19 crew had tested positive for the virus, confirmed by test kits that were delivered and recovered from the vessel via helicopter while the ship circled off the coast. Once again, efforts to enforce federal and state health and safety standards were limited because the ship was registered in Bermuda. That complication didn't stop local community groups and longshore leaders from voicing concerns at rallies and sharing those concerns with reporters.
Protecting workers & community
Local 10 President Trent Willis joined with Local 34 President Keith Shanklin, Local 75 Secretary Ryan Murphy and Local 91 President Billy Keypoo to express concern for the safety of seafarers – and ensure that refuse offloaded from the Grand Princess was properly handled to protect longshore workers and the community from COVID-19-contamination. The team of union leaders began coordinating their efforts before the cruise ship arrived, using their Joint Port Labor Relations Committee as a forum to raise concerns with employers. Local officers sought and received support from the ILWU Coast Committee and International Officers, including President Willie Adams.
"It wasn't easy, we had to make them do everything," said Trent Willis, "and that includes making them follow the grievance procedures," he added.
ITF Inspectors involved
As events were unfolding in Northern California, longtime ILWU member Sam Levens was completing a training in London, England, as the Bay Area's new International Transport Workers Federation (ITF) Inspector. West Coast ITF Coordinator Jeff Engels from Seattle temporarily filled-in during the brief absence, coordinating events on the ground in Oakland until Levens returned. Engles kept in touch with local activists, the union in Italy (FITCISL) that represented workers on the Grand Princess, U.S. Coast Guard officials and Princess Cruise Lines representatives.
He also consulted with ITF leaders in London and with the ILWU International Officers. Levens returned and quickly hit the ground running as the area's newly-trained ITF Inspector.
Advocating for work
Levens worked hard to advocate for crewmembers under trying circumstances – made more difficult because the vessel is registered in Bermuda under a flag of convenience. No representative from Bermuda helped with the lengthy and sometimes difficult negotiations needed to protect the health and safety of crewmembers, longshore and transportation workers, passengers and residents of Oakland. Another complication involved crewmembers' desire to return to their homes in China, the Philippines and other nations – but some countries were reluctant to repatriate their own citizens because they had been exposed to COVID-19 while working on cruise ships.
President Willie Adams used his experience and connections as a longtime San Francisco Port Commissioner to assist Levens and Engels in their efforts to protect workers and the community.
Cruise ship flotilla
On April 8, the Grand Princess left the Bay Area and sailed for Southern California where she anchored with roughly a dozen other cruise ships, seeking to enter the Port of Los Angeles on April 23. Meanwhile, her sister vessel, the Royal Princess, sailed from Southern California on April 18, filled with seafarers bound for the Philippines, then Indonesia and India – bringing workers home who were unable to secure passage on a charter flight. Princess officials have told Bay Area longshore leaders that they have now sanitized the Princess Grand and intend to shuttle her between LA and Oakland every 7-10 days, using a skeleton crew to keep the engines and systems operational.
Passengers gone, problems persist
Cruise ships around the world are in the final stages of unloading all their remaining passengers, a process that should be finished by the end of April. Then comes the work to assure seafarers will not languish before being repatriated to their homes. Time is running out for some seafarers with personal contracts that expire soon.
Non-essential crewmembers are only entitled to room and board – without pay – until they can get home. Cruise Lines are also imposing industry-wide pay cuts for crewmembers who remain on duty, beginning in May. Companies are screaming poverty after decades of healthy profits, made easier by exploiting crewmembers and avoiding taxes – thanks to their flags of convenience.
Seeking taxpayer subsidies
Registering with foreign flags to dodge labor laws and avoid paying taxes hasn't stopped the world's largest cruise line from seeking a massive bailout from U.S. taxpayers. Carnival, the massive parent company for Princess Lines, Holland America, Cunard, Seaborn, Costa and other lines, is seeking a public bailout for their foreign-flagged fleet. Jeff Engels predicts that we should "expect to hear lobbyists and their friends in Congress crying about the need to 'protect jobs' for a company that spent decades refusing to pay living wages, sign decent contracts or pay their fair share of taxes."
"The industry's effort has failed so far," says Engels, "but we'll need to be vigilant to see that they don't cut a deal with the current administration."
More than cruise ships
Problems for seafarers aren't confined to cruise ships. The COVID-19 pandemic and resulting economic depression have hammered the cargo industry – causing some crew to be stranded and abandoned on vessels around the world. Many companies have instituted temporary freezes on crew changes or limited them to emergencies.
The ITF and its maritime affiliates – including the ILWU – are pressing the International Maritime Organization and other bodies to see that seafarers and transport workers are treated fairly during the COVID-19 crisis – and in the future when it eases.
Fund to help workers
Seafarers were in a precarious situation long before the COVID-19 crisis struck early this year. Many workers are now stranded on ships at sea, and others are afraid to return home for fear of losing their jobs in the future.
To help, the ITF has set-up a $3 million emergency fund to assist seafarers abandoned, stranded or otherwise affected by this pandemic. Funds can be accessed through the ITF Inspectors or ITF affiliated unions. Repatriating crewmembers
As The Dispatcher was going to press, industry reports noted that some cruise ships, including a Princess vessel from the Port of Los Angeles, were being used to repatriate crewmembers to the Philippines and other ports in the Pacific.
Thanks to Jeff Engels, West Coast USA ITF Coordinator, and Bay Area Inspector Sam Levens for their contributions to this report.