Demanding End to 'Failed Billionaire-Backed' Policies, 200+ Teachers and Activists Urge Biden to Go Bold on Public Education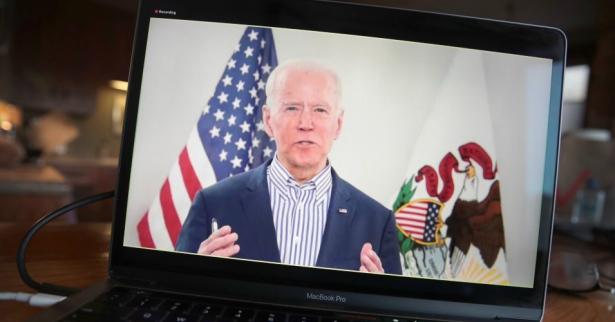 Vice President Joe Biden holds a virtual campaign event on March 13, 2020 in Chicago, Illinois., (Photo: Scott Olson/Getty Images)
A group of more than 200 teachers, academics, and activists on Tuesday published an open letter calling on presumptive 2020 Democratic presidential nominee Joe Biden to commit to a bold education platform that puts the needs of students first and breaks decisively from the decades-long bipartisan record of attacks on public schools.
"You have the power to fight for the public schools and colleges and universities that our students deserve," reads the letter, which was signed by New York University professor Diane Ravitch, Princeton University emeritus professor Cornel West, author and activist Jonathan Kozol, and 212 others. (See the full letter and list of signatories below.)
"Over the past decade, politicians on both sides of the aisle have made devastating cuts to public education, while privatizing public schools, scapegoating educators, and providing massive tax breaks to corporations and the rich," the letter continues. "These attacks have resulted in a national teacher shortage and reduced educational opportunities for many of our students—especially students of color, those from low-income households, LGBTQ students, and students with disabilities."

The letter demands that Biden include in his platform a number of policies that have long been at the center of progressives' education agenda, including:
Complete cancellation of all outstanding student loan debt and a cap on student loan interest rates in the future;
Tuition-free public colleges, universities, and trade schools;
A moratorium on public funds for charter school expansion until the completion of an audit "to determine the impact of charter growth in each state";
A ban on for-profit charter schools and for-profit colleges and universities;
Free and universal school meals; and
A starting salary of no less than $60,000 per year for teachers and expansion of collective bargaining rights.
The educators and activists also urged Biden to back an emergency program to prevent cuts to public education during the coronavirus pandemic, which has strained state and local budgets and placed school funding on the chopping block. Democratic New York Gov. Andrew Cuomo sparked backlash earlier month when he vowed to work with billionaires like Microsoft founder Bill Gates to "reimagine" the state's education system after the Covid-19 crisis subsides.
"The public health and economic emergencies resulting from the Covid-19 pandemic have only made public education more vulnerable," the letter states. "It is no exaggeration to say that the future of public education itself is at stake. To reverse this offensive against public education, we call on you to pledge to appoint a Secretary of Education publicly committed to reversing this failed billionaire-backed 'education reform' agenda."
Ravitch, an education historian and opponent of school privatization, wrote in a blog post Tuesday that the purpose of the letter is to pressure Biden to "reject the stale and failed policies of the past 20 years" in favor of a "fresh vision for American education."
Washington Post education reporter Valerie Strauss wrote Monday that "public education advocates have had a difficult time in the past few decades as both Republican and Democratic administrations have pursued policies that they believe harm public schools."
"President George W. Bush ushered in the No Child Left Behind period, signing the K-12 legislation into law in early 2002 and ushering in the era of the high-stakes standardized test," wrote Strauss. "Then came President Barack Obama, who public education advocates hoped would stop the country's obsession with standardized tests and address inequity baked into the funding system. Instead his administration heightened the importance of the test scores by pushing states to evaluate teachers by them."
Strauss reported last June that "by all appearances... Biden was an enthusiastic supporter of Obama's agenda," which promoted the expansion of charter schools.
Biden has since been critical of for-profit charter schools, saying last May that they siphon money from public schools "which are already in enough trouble." The education platform on Biden's campaign website does not mention charter schools.
To address the crisis of student loan debt, Biden unveiled a plan last month that would forgive "all undergraduate tuition-related federal student debt from two- and four-year public colleges and universities for debt-holders earning up to $125,000" per year—a proposal that falls short of activists' demands and Sen. Bernie Sanders' (I-Vt.) plan to cancel all outstanding student loan debt.
Read the full letter from educators and activists:
Dear Vice President Biden:

As the Democratic Party presumptive nominee, you have the power to fight for the public schools and colleges and universities that our students deserve. We are concerned educators, public education advocates, union members, parents, and students, writing to request that you demonstrate your commitment to that agenda.

Over the past decade, politicians on both sides of the aisle have made devastating cuts to public education, while privatizing public schools, scapegoating educators, and providing massive tax breaks to corporations and the rich. These attacks have resulted in a national teacher shortage and reduced educational opportunities for many of our students—especially students of color, those from low-income households, LGBTQ students, and students with disabilities.

The public health and economic emergencies resulting from the Covid-19 pandemic have only made public education more vulnerable. It is no exaggeration to say that the future of public education itself is at stake.

To reverse this offensive against public education, we call on you to pledge to appoint a Secretary of Education publicly committed to reversing this failed billionaire-backed "education reform" agenda and we call on your campaign to immediately adopt the following policy planks:

* Implement a Federal Emergency Education Program that would:

Provide direct federal aid to ensure that school districts and public higher education institutions are able to prevent budget cuts and maintain pre-crisis staffing levels.

Empower educators to determine how best to utilize remote learning education technology when it is deemed necessary for health and safety reasons and how best to teach those students for whom remote learning is not feasible or appropriate.

Suspend all federal requirements relating to the use of high-stakes testing for the duration of the emergency.

* Triple Title I funding to ensure that at-risk schools get the funding and resources they need and invest in broadband so that students have access to critical resources.

* Repeal high-stakes testing mandates that force educators to "teach to the test."

* Address the school-to-prison pipeline by investing in public schools and calling for the elimination of zero tolerance policies and over-policing.

* Ban for-profit charter schools and for-profit colleges and universities.

* Support the NAACP's moratorium on public funds for charter school expansion until a national audit has been completed to determine the impact of charter growth in each state.

* Eliminate the $440 million annual federal subsidy for new charter schools, which have a failure rate of 40 percent and currently subsidizes billionaire-funded corporate charter schools.

* Give teachers a much-deserved raise by setting a starting salary for them at no less than $60,000 (pegged to the cost of living), expanding collective bargaining rights and teacher tenure, and funding out-of-pocket expenses for classroom materials.

* Strengthen the Individuals with Disabilities Education Act (IDEA) by ensuring that the federal government provides at least 50 percent of the funding for special education.

* Provide year-round, free universal school meals, increase funding for Community Schools and after-school programs, and implement universal child-centered pre-kindergarten for all children beginning at the age of 3.

* Guarantee tuition-free public colleges, universities, HBCUs, Minority Serving Institutions, and trade-schools to all, not just those who qualify through means-testing.

* Cancel all student loan debt and place a cap on student loan interest rates moving forward.

Signed

    1. Diane Ravitch, education historian and activist
    2. Jonathan Kozol, National Book Award-winning author and advocate for children
    3. Danny Glover, Actor, Social Justice Advocate
    4. Michael Moore, Academy Award-winning director
    5. Alex Caputo-Pearl, President, United Teachers Los Angeles
    6. Cecily Myart-Cruz, Vice President, United Teachers Los Angeles, NEA
    7. Cornel West, Professor of the practice of public philosophy at Harvard University and Professor Emeritus at Princeton University
    8. Senator Nina Turner, campaign co-chair, Bernie 2020 and former Ohio State Senator
    9. Shaun King, CEO, The North Star
    10. Debby Pope, Chicago Teachers Union, Delegate and Executive Board
    11. Arlene Inouye, United Teachers Los Angeles Secretary
    12. Carol Burris, 2013 NYS High School Principal of the Year, Executive Director of the Network for Public Education
    13. Angelina Cruz, President of Racine Education Association
    14. Demetrio Gonzalez, President of United Teachers of Richmond, CTA/NEA
    15. Jesse Hagopian, Teacher; Editor, Rethinking Schools; Co-Editor, Teaching for Black Lives
    16. Juan Ramirez, UTLA/AFT Vice President
    17. Julie Van Winkle, UTLA Secondary Vice President-elect
    18. Ari Bloomekatz, managing editor of Rethinking Schools
    19. RoseAnn DeMoro, Former Executive Director of National Nurses United
    20. Steven Thrasher, Professor, Northwestern University
    21. Larry Cohen, Board Chair of Our Revolution and past president of the Communications Workers of America
    22. Frank Holmquist, Professor of Politics, Emeritus, Hampshire College
    23. Jane F. McAlevey, Organizer, Educator, Author
    24. Cynthia Liu, K12 News Network
    25. Eric Blanc, author Red State Revolt
    26. Adolph Reed, Jr., Professor Emeritus, University of Pennsylvania
    27. Nikhil Goyal, former adjunct professor at New York University and PhD candidate at the University of Cambridge
    28. Charles Palermo, Professor of Art History, William & Mary
    29. Bob Peterson, Rethinking Schools editor and Member, Milwaukee Board of School Directors
    30. Eleanor J. Bader, English teacher and freelance writer
    31. Kilynn Lunsford, National Organizer, Labor for Bernie
    32. Annelise Orleck, Professor of History, Dartmouth College
    33. Gordon Lafer, Professor, University of Oregon and Member, Eugene, OR Board of Education
    34. Corey Robin, Professor, Brooklyn College, CUNY
    35. Michael Lighty, Leading Advocate for Medicare for All
    36. Joanna Wuest, Postdoctoral Fellow and Lecturer, Princeton University
    37. Jennifer Ashton, Associate Professor, University of Illinois at Chicago
    38. Penny Lewis, Associate Professor, CUNY School of Labor and Urban Studies
    39. Stephanie Luce, Professor, CUNY School of Labor and Urban Studies
    40. Steve London, Professor, CUNY School of Labor and Urban Studies
    41. Douglas A. Medina, Instructor, CUNY, Guttman Community College
    42. Thomas J Adams, Senior Lecturer, University of Sydney (US Citizen)
    43. Cedric Johnson, University of Illinois at Chicago
    44. Samir Sonti, Assistant Professor, CUNY School of Labor and Urban Studies
    45. Steve Striffler, Professor, UMass Boston
    46. Allen Cholger, Sub District Director, USW (retired) and former Executive Assistant to the President, APWU, (retired)
    47. William Mello, Associate Professor of Labor Studies, Indiana University
    48. Nomiki Konst, Director, Matriarch
    49. Nancy Fraser, Henry A. and Louise Loeb Professor of Philosophy and Politics, New School for Social Research
    50. Liza Featherstone, Adjunct Professor, New York University and Columbia University
    51. Bruno Gulli, Associate Professor of Philosophy, Kingsborough Community College, CUNY
    52. Christian Parenti, Associate Professor of Economics, John Jay College CUNY
    53. Rebecca Tarlau, Pennsylvania State University
    54. Glenn Kaplan, filmmaker, Member IATSE Local 600
    55. Rick Armstrong, Associate Professor Department of English, Kingsborough Community College, CUNY
    56. Heather Lee Compton, Studio Zahiya
    57. Meg Kallman Feeley, Adjunct Lecturer English, Kingsborough Community College, CUNY
    58. Merlin Chowkwanyun, Donald Gemson Assistant Professor of Sociomedical Sciences, Mailman School of Public Health, Columbia University
    59. Jim Zogby, Founder of the Arab American Institute
    60. Daniel Moak, Assistant Professor, Ohio University
    61. Wamiq Chowdhury, Attorney, Member NC Piedmont Democratic Socialists of America
    62. Sarah Cate, Assistant Professor, Saint Louis University
    63. Rebecca Garelli, Lead Organizer, Arizona Educators United
    64. Marquita Walker, Interim Chair and Associate Professor of Labor Studies, Indiana University
    65. Rogers M. Smith, Christopher H. Browne Distinguished Professor of Political Science, University of Pennsylvania
    66. James Counts Early, Board Member, Institute for Policy Studies
    67. Steve Presence, Senior Lecturer in Film Studies, University of the West of England
    68. Colleen Mihal, Professor, College of Marin
    69. Lisa McLaughlin, Ph.D, Associate Professor, Department of Media, Journalism and Film and Department of Global and Intercultural Studies, Miami University-Ohio
    70. Christopher R. Martin, Professor of Digital Journalism, University of Northern Iowa
    71. Karyn Hollis, Villanova University
    72. Adam Safer, Graduate Student, Stony Brook University
    73. Bryan Wagner, Associate Professor, University of California, Berkeley
    74. Janice Peck, Professor, Media Studies Department, University of Colorado at Boulder
    75. Paul Prescod, Political Liaison in Philadelphia Federation of Teachers
    76. Kevin Howley, Professor of Media Studies, DePauw University
    77. Eric Cheyfitz, Ernest I. White Professor of American Studies and Humane Letters, Professor of American Indian and Indigenous Studies
    78. Carlos Figueroa, Ithaca College
    79. Gino Canella, Assistant Professor and filmmaker, Emerson College
    80. Daniel Brenner, Teacher, Eastern Suffolk BOCES (retired)
    81. Michelle Strater Gunderson, First Grade Teacher, Chicago Public Schools, Trustee, Chicago Teachers Union
    82. Robert Vitalis, University of Pennsylvania
    83. Max Page, University of Massachusetts Amherst
    84. Nathan Godfried, Adelaide & Alan Bird Professor, University of Maine
    85. Inger Stole, University of Illinois
    86. Philip Fiermonte, Former Burlington City Councilor
    87. Joel Jordan, former Director of Special Projects, United Teachers Los Angeles
    88. Rich Potter, Assistant Professor, American Jewish University
    89. Kevin Gotkin, Visiting Assistant Professor, New York University
    90. Lee Artz, Purdue University Northwest
    91. Dr. Eileen R. Meehan, Professor Emerita, Department of Radio, Television and New Media, College of Communications, Southern Illinois University at Carbondale, Illinois
    92. Jay O'Neal, West Virginia teacher and strike leader
    93. Emily Schnee, Professor of English, Kingsborough Community College, City University of New York
    94. David Duhalde, Democratic Socialists of America (DSA) Fund
    95. Roxana Marachi, Associate Professor of Education, San José State University
    96. Jeffrey A. Winters, Professor of Political Science and Director of the Equality Development and Globalization Studies Program, Northwestern University
    97. Rod Metts, Associate Professor of Communication Studies, California State University, San Bernardino
    98. Nino Gulli, Adjunct Professor, University of Maryland Global Campus, UMGC
    99. William Riordan, History Instructor at the University of Colorado
    100. Nicole McCormick, President, Mercer County Education Association
    101. Mary Summers, Lecturer, University of Pennsylvania
    102. Doug Henwood, Journalist
    103. Herbert G. Reid, Professor Emeritus, University of Kentucky, Department of Political Science
    104. Christina Dunbar-Hester, 2019-2020 Berggruen Fellow, Annenberg School for Communication and Journalism
    105. Hadrian Predock, Associate Professor of Practice, University of Southern California School of Architecture
    106. Robert M. Saltzman, Emeritus Professor of Lawyering Skills, USC Gould School of Law
    107. Howard A. Rodman, Professor, University of Southern California, Past President, Writers Guild of America West 108. Larry Gross, Professor, Annenberg School for Communication and Journalism, University of Southern California
    109. Mark Jonathan Harris, Distinguished Professor, School of Cinematic Arts, University of Southern California
    110. Kathy Smith, Professor, School of Cinematic Arts, University of Southern California
    111. Miki Turner, Assistant Professor, University of Southern California 112. Sean T. Mitchell, Associate Professor of Anthropology, Rutgers University, Newark
    113. Rebecca C. Glasscock, Professor Emerita, Geography and Peace Studies, Bluegrass Community and Technical College
    114. Priya Kapoor, Professor, Portland State University
    115. Carlin Meyer, Prof. Emerita, New York Law School
    116. Rianne Subijanto, Assistant Professor, Baruch College, CUNY
    117. Janet Poppendieck, author, Free for All: Fixing School Food in America
    118. Tulia Falleti, Class of 1965 Endowed Term Professor of Political Science, Director of Latin American and Latino Studies Program, University of Pennsylvania
    119. Marisa Chappell, Associate Professor of History, Oregon State University
    120. Micaela di Leonardo, Professor, Northwestern University
    121. Judith E. Smith, Professor Emerita of American Studies, University of Massachusetts Boston
    122. Julie Van Winkle, Secondary Vice President-elect of United Teachers Los Angeles
    123. Lawrence Blum, Distinguished Professor of Liberal Arts and Education, Emeritus, University of Massachusetts Boston
    124. Michael Schwartz, Distinguished Teaching Professor, Emeritus, Founding Director, College of Global Studies
    125. Richard Lachmann, Professor of Sociology, University at Albany SUNY
    126. Keith Brooks, retired educator, NYC alternative high school division
    127. Richard Strier, Sulzberger Distinguished Service Professor Emeritus, Department of English, University of Chicago
    128. Laura Anker, Distinguished Service Professor, American Studies, SUNY Old Westbury
    129. Alan Gilbert, Distinguished University Professor, Korbel School of International Studies, University of Denver
    130. Susan Jhirad, retired Professor of English from North Shore Community College
    131. Bill Bigelow, Curriculum Editor, Rethinking Schools
    132. Kathy Hall, Associate Professor, University of Pennsylvania
    133. Jane Kauer, Consulting Scholar, Physical Anthropology Section, University of Pennsylvania Museum
    134. Ilana Gershon, Ruth N. Hall professor of anthropology, Indiana University
    135. Karen Koran, retired educator, School District of Philadelphia
    136. Ana Croegaert, Assistant Professor, Anthropology + Sociology, University of New Orleans
    137. Amy Stornaiuolo, Associate Professor, University of Pennsylvania
    138. Brenda Beaudette-Kaim, French Department, University of Vermont
    139. Kathryn Moeller, Assistant Professor, University of Wisconsin-Madison
    140. Bonnie Urciuoli, Professor Emerita, Anthropology, Hamilton College
    141. Christy Schuetze, Associate Professor of Anthropology, Swarthmore College
    142. Fran Ansley, Professor of Law Emeritus, University of Tennessee College of Law
    143. Frederick Erickson, Professor Emeritus, University of California, Los Angeles
    144. Arléne Amarante, Assistant Professor of Law at Lincoln Memorial University's Duncan School of Law
    145. Karen Weinstein, Peralta Community College District
    146. Alessandra Visconti, assistant professor of instruction, Northwestern University
    147. Polly Murphy - Retired teacher TN School for the Deaf
    148. Alan Spector, Professor of Sociology, Purdue University Northwest
    149. Maria Catalfio, retired member, OPEIU Local 494
    150. Ann Jefferson, University of Tennessee, Knoxville, Lecturer, retired
    151. Piotr Axer, PhD Candidate in Slavic Studies at Brown University
    152. Bonnie Blustein, Professor of Mathematics, West Los Angeles College
    153. Frances Maher, Professor Emerita, Wheaton College
    154. Matt Witt, Editor, World Wide Work
    155. John C. Berg, Professor Emeritus, Suffolk University
    156. Ana Celia Zentella, Professor Emerita, UCSD Department of Ethnic Studies
    157. Arleen Llanes, Middle School School Teacher, Bay Area
    158. Daniel Merin, Climate and Culture Coach, Office of School Climate and Safety, School District of Philadelphia
    159. Sylvia Lester, Child Psychologist, NYU Postdoctoral Program for Psychoanalysis and Psychotherapy
    160. Julia A. McWilliams, Lecturer, Center for Programs in Contemporary Writing, University of Pennsylvania
    161. Monica Emerich, Instructional Designer/Project Manager, CSU Global Campus
    162. Judy Norsigian, Co-founder and board chair, Our Bodies Ourselves
    163. Rachel Rubin, Professor and Chair, University of Massachusetts Boston
    164. Danya Lagos, Postdoctoral Researcher, University of Texas at Austin
    165. Elizabeth Manley, Kellogg Endowed Professor, Associate Professor of History, Xavier University of Louisiana
    166. Gianmarco Savio, Assistant Professor, County College of Morris
    167. Andrea Reyna, public middle school teacher; California Democratic Party Executive Board, San Mateo County Democratic Central Committee
    168. Maia Cucchiara, Associate Professor, Urban Education, Temple University
    169. Jeffrey Melnick, Professor of American Studies, UMass Boston
    170. Sherene Seikaly, Associate Professor of History, University of California Santa Barbara
    171. Nelson Lichtenstein, Distinguished Professor of History, University of California Santa Barbara
    172. Alice O'Connor, Professor of History and Director of Blum Center on Poverty, Inequality, and Democracy, University of California Santa Barbara
    173. Eileen Boris, Hull Professor and Distinguished Professor of Feminist Studies, University of California Santa Barbara
    174. Linda Burrows, Public School Teacher
    175. Laurie Katz, Professor of Early Childhood Education, Ohio State University
    176. Wayne Au, Professor, University of Washington Bothell
    177. Susan Fountain, Adjunct Professor, CUNY School of Professional Studies
    178. Robert Farrell, Associate Professor and Chair PSC-CUNY Chapter at Lehman College, CUNY
    179. Elizabeth Hovey, John Jay College, CUNY
    180. Glenn Kissack, Retired Mathematics Teacher, Hunter College High School
    181. Leo Parascondola, Adjunct Lecturer, William Paterson University
    182. Michael Spear, Assistant Professor of History, Kingsborough Community College, CUNY
    183. Jonathan Buchsbaum, Media Studies, Queens College, CUNY
    184. Sigmund Shen, Associate Professor, LaGuardia Community College, CUNY
    185. Dwight Billings, Professor Emeritus, University of Kentucky
    186. Richard Maxwell, Professor, Queens College, CUNY
    187. Stan Karp, Editor, Rethinking Schools
    188. Lori Rothstein, CUNY Graduate Center
    189. Carol Stabile, Professor, University of Oregon
    190. Eileen Moran, Queens College, CUNY
    191. Phaedra Pezzullo, Associate Professor, Dept. of Communication, University of Colorado Boulder
    192. Philip Barnett, Professor, City College and Graduate Center, CUNY
    193. Priya Kapoor, Professor, Portland State University
    194. Rachel Youens, Adjunct Assistant Professor, LaGuardia Community College, CUNY
    195. Vincent DiGirolamo, Assistant Professor and PSC Chapter Chair, Baruch College, CUNY
    196. Ryan Bruckenethal, New York City Special Education Teacher, United Federation of Teachers
    197. Gabriel Winant, Assistant Professor, University of Chicago
    198. Ruth Wangerin, Department of Anthropology, Lehman College, CUNY
    199. Kathleen Offenholley, Professor of Mathematics, Borough of Manhattan Community College, CUNY
    200. Olga Steinberg, Professor, Hostos Community College, CUNY
    201. David Gerwin, Professor, Dept. of Secondary Education and PSC Chapter Chair, Queens College, CUNY
    202. Eric Freas, Associate Professor of History, Borough of Manhattan Community College, CUNY
    203. Jocelyn Wills, Tow Professor of History and Affiliated Faculty Member, American Studies & Women's and Gender Studies, Brooklyn College, CUNY
    204. Marc Kagan, Graduate Assistant, CUNY Graduate Center
    205. Ruth Milkman, Professor of Sociology, CUNY
    206. Nelly Tournaki, Professor of Special Education, College of Staten Island, CUNY
    207. Adam Sanchez, Teacher; Editor, Rethinking Schools; Zinn Education Project
    208. Blanca Vazquez, Adjunct Associate Professor (Retired), Film and Media Studies, Hunter College, CUNY
    209. Lisa Rivera, Associate Professor, University of Massachusetts, Boston
    210. Josh Staub, Director of Restorative Programming, School District of Philadelphia
    211. Rachel Buff, Professor of History, University of Wisconsin-Milwaukee
    212. Christopher Zurn, Professor of Philosophy, University of Massachusetts, Boston
    213. Eric Fishman, Elementary School Teacher, Boston Public Schools
    214. Susan Kang, Associate Professor of Political Science, John Jay University, CUNY
    215. Sarah Soanirina Ohmer, Assistant Professor, Department of Latin American and Africana Studies, Lehman College, CUNY