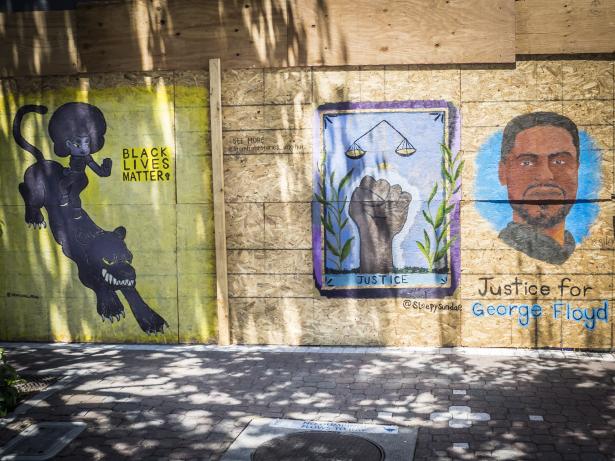 murals, Redwood City, CA, jeannetteferrary.photoshelter.com
The editors of TASTE stand in solidarity with the protest movement that has rapidly swept across America in response to the murders of George Floyd, Breonna Taylor, Tony McDade, Ahmaud Arbery, and many before them. The fight against systemic racism and police brutality is alive, and we feel it's critical for us as a publication to participate in the best way we know how—in elevating a diverse group of voices across our platforms.
While publishing these voices and stories has always been part of our mission at TASTE, we have a lot of work ahead of us in using our platform to confront systemic racism. In the meantime, we'd like to offer some additional ways for you to get involved, be it through reading, giving, or simply following a social media account from a voice we respect. And if you would like to share any additional resources, or would like to get in touch about contributing to TASTE, please reach out to hello@tastecooking.com. Our lines are always open.
—The TASTE Editors
WHO TO FOLLOW
Black Earth Farms (@blackearthfarms): a Pan-African and Pan-Indigenous farming collective in Oakland donating food to Black protesters and organizers.
Black Food Bloggers (@blackfoodbloggers): an organization "connecting black food nerds with the hungry masses" with a very active Facebook group.
Black Food Folks (@blackfoodfolks): a community and fellowship of Black food professionals founded by photojournalist Clay Williams and Colleen Vincent.
Black-Owned Brooklyn (@blackownedbklyn): a curated guide to Black-owned restaurants, bars, products, and stores in Brooklyn.
Klancy Miller (@klancycooks): a food writer and cookbook author who founded For the Culture, a food magazine that celebrates Black women who work in food and wine.
Therese Nelson (@blackculinary): a former TASTE Cook In Residence and the founder of Black Culinary History. Baratunde Thurston (@baratunde): a comedian, award- winning author, and tech entrepreneur who hosts the weekly IG Live show "Live On Lockdown."
Michael Twitty (@thecookinggene): a James Beard Award– winning author and cultural critic.
WHAT TO READ
This anti-racist reading list compiled by our parent company,
Penguin Random House, in addition to these recommendations from Black booksellers and publishers.
Whetstone Magazine, an independent print magazine about global food culture founded by Stephen Satterfield. (Also check out Satterfield's podcast, Point of Origin.)
Island & Spice, a quarterly magazine that explores Caribbean foodways.
Jasmine Mitchell's Anti-Racism Resource Packet, which covers everything from allyship to Black mental health resources.
Michelle Alexander's decade-old The New Jim Crow, which examines how the U.S. criminal justice system functions as a contemporary system of racial control.
HOW TO SUPPORT
Download the EatOkra app to find local Black businesses nationwide, and check out this extensive list of Black-owned bars and restaurants, including these metro areas:
New York City (compiled by Hannah Goldfield, Rachel Karten, and Joseph Hernandez)
San Francisco Bay Area (compiled by Soleil Ho, Tracey Friley, and others)
Los Angeles (compiled by Kat Hong and Talia Mayden) D.C Metro Area (compiled by Anela Malik)
Chicago (compiled by Seasoned & Blessed)
Seattle (compiled by Naomi Tomky)
Portland, Oregon (compiled by I Love Black Food) Atlanta (compiled by THE VILLAGE)
WHERE TO DONATE
If you have the means, please consider contributing to these five organizations that are supporting communities across the country in our collective fight against racism and violence. We'll be sharing more local organizations in an upcoming newsletter.