labor
Notorious NYC 'Body Shop' Settles Sexual Harassment Suit Involving 18 Female Construction Workers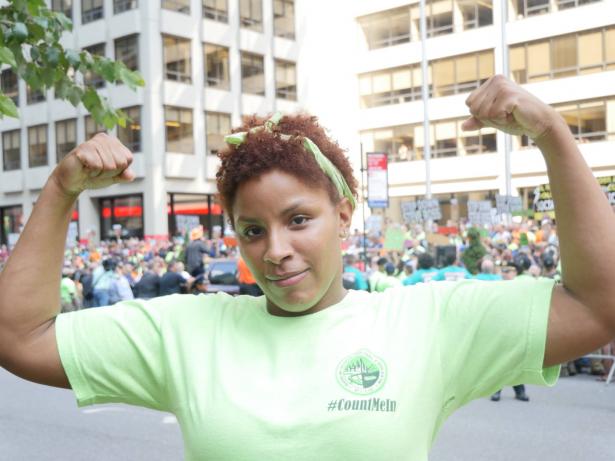 Local 79 Laborer Tierra Williams at a #CountMeIn rally on the corner of E. 51st Street and Park Avenue in 2018,
Attorney General Letitia James announced the deal with TradeOff on July 13. The company, based in Lynbrook, Long Island, also agreed to establish training, policies, and disciplinary procedures to prevent sexual harassment, and to hire an independent monitor reporting back to James' office for three years. 
TradeOff agreed to the settlement while "expressly" denying the conclusions the Attorney General's office drew from its investigation. Those included that supervisors offered to put extra hours on at least five women's timesheets in exchange for sex; that at least one supervisor regularly tried to grope women, and at least two texted them photos of their penises. The company's top management, the investigators said, "repeatedly intervened to protect the harassers and fire women who complained."
At least 12 women were fired, the report said.
"I'm really happy," says plaintiff Tierra Williams, a former TradeOff worker now an organizer with Laborers Local 79. Not so much for herself, she added, although she was fired after she complained about being harassed by a foreman on her job at Hudson Yards, but for the women she worked with.
"A lot of them haven't bounced back from being fired," she says. "A lot of them like construction, but don't want to go back to that kind of situation."
"We commend the Attorney General's leadership in fighting back against harassment and retaliation in construction," Robert Bonanza, business manager for the Mason Tenders' District Council of Greater New York and Long Island, said in a statement released by James' office. "Most importantly, we thank the former employees of TradeOff for their courage in coming forward to expose the horrific treatment they experienced while on the job."
TradeOff is one of several companies, dubbed "body shops," that supply low-wage, nonunion workers to developers in the city, says Tamir Rosenblum, in-house lawyer for the Mason Tenders District Council/Laborers Local 79. The union referred the women's complaints to the Attorney General's office in early 2018, he says, but "we've been working on TradeOff issues since about 2015. They've got a long history of labor violations."
"They exploit men too," says Williams. 
The "body shop" business model the two describe resembles a combination of the "crew chiefs" who recruit migrant farmworkers and Amazon's method of hiring warehouse workers through subcontractors, to avoid direct responsibility for their wages and conditions.
"TradeOff was born out of the rise of the open/merit shop construction market. The New York City construction industry saw the development of a new viable and competitive workforce option, one that had a substantial cost benefit," the company says on its Website. It says it provides job opportunities to "individuals seeking a second chance for a mistake or transgression they committed in their lives" and "minority and immigrant 'skilled' workers who had previously been excluded from the construction trade workforce."
In practice, most of TradeOff's workers are formerly incarcerated, according to Rosenblum and Williams, and get paid minimum wage or just over it. As many need to keep their jobs to avoid going back to prison for violating parole conditions such as paying fees and being "gainfully employed," they're particularly vulnerable to harassment and exploitation.
Many, says Williams, came from programs such as the Center for Employment Opportunities, which bills itself as "the largest re-entry employment provider in the country," and often works directly with parole officers. 
"They're not teaching them any real skills," she says. "They don't even teach you how to fill out the W-4 form."
At its peak, says Rosenblum, TradeOff had about 400 workers, but many were working only intermittently, with some put "on the wheel"—sent to different jobs that lasted only a day or two—as punishment for "disloyalty."
"There's a lot of surveillance of the employees to keep union contact from happening," he adds. 
Through the "open shop" model of using union labor for more skilled jobs and nonunion workers for general labor, says Rosenblum, TradeOff has supplied workers for major developments like the Related Companies' 55 Hudson Yards and Macklowe Properties' One Wall Street before it went fully union, as well as to general contractors such as Gilbane Construction. 
"They clearly were very well connected," he adds. TradeOff CEO Ronald Lattanzio was a high-ranking official at the city Department of Buildings before he was convicted of taking bribes in the late 1990s. He then went into business as an "expediter," helping clients navigate the department's complex permit process. 
The Attorney General's investigation, Rosenblum says, "is an important intervention to show how sordid this means of obtaining labor and exploiting black and brown workers is…. No one should be treated like this."
In her new job as a Laborers organizer, Williams says, she's learning a lot about the ways of "body shops." 
"For me, this is really the beginning," she says.