'Strike for Black Lives' Action Wins Victory for Seattle Transit Workers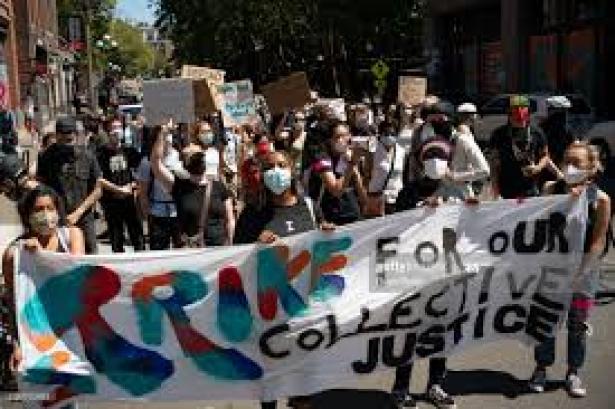 Seattle Strike for Black Lives,twitter.com
Rallying in sync with the July 20 "Strike for Blacks Lives," over 250 union and community activists picketed King County Executive Dow Constantine's offices in the heart of downtown Seattle. They called for immediate action in response to racist incidents at Metro transit bases and other county worksites, and the rollback of layoffs and wage freezes that hit hardest a workforce that is overwhelmingly people of color, immigrants, and women.
The action, called by Organized Workers for Labor Solidarity (OWLS), chalked up a victory the very next day. The County Council voted 8-1 to fund promised raises recently negotiated by Amalgamated Transit Union 587. Constantine had announced plans to renege on the agreement and asked the Council to vote down the raises.
OWLS mobilized broad support on this national day of action to ramp up the heat and demand that government officials "Root Out Racism at King County and Beyond!" Numerous local unions endorsed. Black Lives Matter activists joined unionists and youth organizations in powerful, multiracial labor and community solidarity. Washington Youth for Climate Justice, which had marched earlier in the day, joined the OWLS picket, swelling the rally into the street. Loud chants of "Black workers lives matter," and "Union-busting, that's disgusting," sprang upwards to Constantine's office.

Public workers unite with the communities they serve
The July 20 picket was part of an escalating campaign by OWLS to force Constantine, who oversees the transit authority, to address ongoing racist incidents, and to expose his anti-union plans to  freeze wages, cut bus service, and lay off more than 400 part-time bus drivers, a majority of them people of color. Such budget cuts diminish social services, the very lifeline for poor people.
Previous OWLS actions included an April news conference where transit workers launched a petition drive demanding Covid-19 protections on the job, followed by a May "Salute to Frontline Workers: Emergency Motorcade for Workers' Rights." In June, OWLS protested at a Metro public transit base to condemn a KKK-style death threat there, part of a pattern of racist harassment and bigotry aimed especially at Black workers.
The July 20 rally was endorsed by Amalgamated Transit Union 587, representing Metro employees.  Members spoke out against the King County's layoff plan, its refusal to finalize their contract, toothless "diversity" committees dominated by management, and its inadequate personal protection steps against the COVID-19 pandemic, which had claimed the lives of two Metro drivers. 
Concrete demands for change
Cheryl Jones, a Metro bus driver and one of the July 20 organizers, addressed the call to "Stop racist threats and harassment at County worksites."  She pressed Constantine, "Dow, your role in this toxic culture needs to be examined. Everyone responsible needs to be held accountable, including you! The healing cannot begin until this happens." Gil Veyna, a member of American Federation of Government Employees Local 3197, brought greetings from his union president Beverly Anderson, who sent an endorsement from their Local to "wholeheartedly back the demands" of the rally.
Other labor endorsers included Communication Workers 7800 and President Loretta Gutierrez of Washington Federation of State Employees (WFSE) Local 304, Paula Lukaszek and Salvador Castillo, President and Vice President of WFSE 1488, and Kevin Allen of Coalition of Black Trade Unionists. 
Eveline Graff-Mueller, a part-time bus driver at risk of losing her job, spoke to the call to "Stop budget cuts, lay-offs and austerity at city, county, and state levels." She warned that layoffs at the public transit agency will be "impacting a lot of single women and minority's worst."
Workers from Whole Foods carried a banner to support racial justice. They took the mic to tell of harassment and retaliation by management of the Amazon-owned grocery giant for speaking up and wearing face masks in support of Black Lives Matter. Employer retaliation, including firings, is common across workplaces and motivated OWLS' demand of "Restitution for all who have filed complaints on racism without satisfactory resolution."   
Other demands included: "Affirmative action in hiring, training, promotion, and an end to nepotism" and "Healthy worksites and protective equipment for frontline workers." Several speakers addressed the call to "Stop union-busting and honor workers' rights."
Anna Hackman, member of American Federation of Teachers Local 1789, who works at Seattle Central College, opposed "attacks on our lives and livelihoods."  Christina Lopez, representing the Comrades of Color Caucus of the Freedom Socialist Party and Radical Women, lambasted the Democrat-controlled city and county administrations, saying "Budget cuts? Layoff? That's your solution?"  Lopez, a member of Teamsters 763 and a city worker, met with cheers from the crowd when she said the "solutions go beyond the county – these are systemic problems of capitalism."  
Several people spoke at the open mic, addressing the need for urgent action, and keeping the movement going. Trae Holiday of King County Equity Now emphasized the need for solidarity.  "That's what the 'New Normal' is all about, you guys!"
The upbeat rally ended with photo shot of all the picketers gathered under the day's banners. Their message to Constantine: "Root out Racism at King County and Beyond!"
Steve Beck is a retired union representative for American Federation of State, County, Municipal Employees (AFSCME) 375.  Linda Averill is a King County/Metro transit worker. Both are members of Organized Workers for Labor Solidarity. They can be reached at OrganizedWorkersLS@gmail.com.