Media Bits and Bytes - August 25, 2020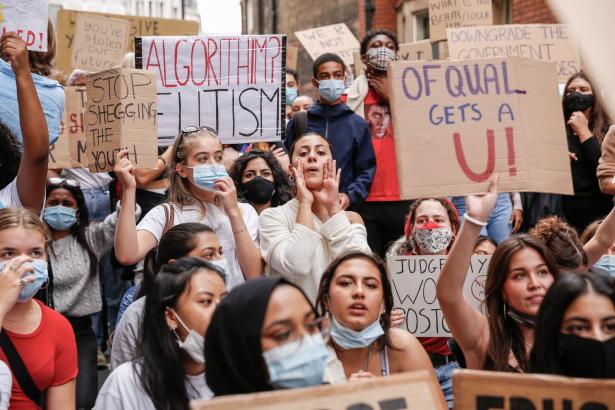 Youth protests in front of the Department for Education in London over algorithmic exam grades, August 16, credit: Dominika Zarzycka/NurPhoto/PA Images
By Charlie Nash
August 24, 2020
Mediaite
CNN cut off President Donald Trump's Republican National Convention speech on Monday, branding his comments "wrong, misleading, or outright lies."
The Digital Divide in Education
By Moriah Balingit
August 16, 2020
The Washington Post
As coronavirus forces many schools online this fall, millions of disconnected students are being left behind.
Facebook's Epidemic of Health Lies
By Emma Graham-Harrison and Alex Hern
August 19, 2020
The Guardian
Websites spreading misinformation about health attracted nearly half a billion views on Facebook in April alone, as the coronavirus pandemic escalated worldwide, a report has found.
By David Beer
August 21, 2020
openDemocracy
The backlash against how an algorithm was used to decide people's exam results and the unevenness of the outcomes for people from different backgrounds gives us an insight into the ongoing tussle over our algorithmic future.
By Jodi Xu Klein
August 24, 2020
South China Morning Post
TikTok sued the US government on Monday over an executive order that would ban the popular short-form video-sharing app in the United States. It was the app's strongest opposition yet in an escalating battle with Trump.
By Samuel Shen and Josh Horwitz
August 20, 2020
Reuters
As the U.S.-China "tech war" widens, investors are betting on China's efforts to replace U.S. technologies with indigenous applications to run networks in the state sector.
By Brian Steinberg
August 18, 2020
Variety
Several influential marketers have yanked their commercials off prominent social platforms, worried that lax rules about content mean their ads run alongside polarizing comments, distasteful screeds and social posts aimed at manipulating the masses.
By Bill Grueskin
August 18, 2020
Columbia Journalism Review
Calling out your colleagues on Twitter can get results. But it also has risks.
By Nan Rubin
August 14, 2020
Current
Lorenzo was in large part responsible for creating a national movement that launched hundreds of grassroots radio stations, touched thousands of lives and warped the shape of public broadcasting forever.