Global Left Midweek - Parties and Politics in Ebb and Flow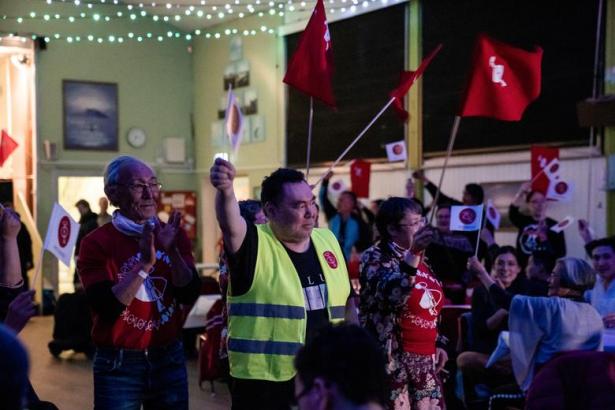 Supporters of Greenland's Inuit Ataqatigiit party celebrate their victory in a snap election. Credit,Ritzau Scanpix/via REUTERS
__________
Elections in the Andes
Bolivia: A Talk With Álvaro García Linera  / Jacobin (New York)   
Ecuador and Peru: Divided Electorates  / The Guardian (London)
Meet Peru Frontrunner Pedro Castillo  / Peoples Dispatch (New Delhi)
__________
Greenland: Inuit Party Takes the Lead
Scott Neuman / NPR (Washington DC)
Inuit Ataqatigiit, or "Community of the People," had campaigned against the Kvanefjeld project, which was granted preliminary approval under Prime Minister Kim Kielsen's Siumut party government.
__________
UK Labour: Starmer Against the Left
Jonathan Cook / Middle East Eye (London)
A year in, the British Labour leader is giving the Tories an easy ride while investing his energy in an all-out war on the party's left.
__________
Kerala, India: Can the LDF Do It Again?
R. Krishnakumar / Frontline (Mumbai)
The ruling Left Democratic Front (LDF)'s candidates in Kerala look strong as the campaign for the Assembly elections 2021 enters its last lap.
__________
Canada: 2021 NDP Convention
Christo Aivalis / Canadian Dimension (Winnipeg)
While the format of this convention didn't fully facilitate member participation, their energy still shined though. The NDP adopted a progressive policy on Palestine, endorsing sanctions on Israel, including a ban on trade with Israeli settlements and an arms embargo on Israel.
___________
Puerto Rico: US Bill Calls for Self-Determination
Natalia Renta / Jacobin (New York)
A new bill cosponsored by Alexandria Ocasio-Cortez would finally give Puerto Ricans the chance to decide their political relationship with the United States.
__________
Is Tanzania's New President a Feminist?
Khalifa Said / African Arguments (London)
President Samia Suluhu has already reversed some of her predecessor's stances. Now, many would like to see Tanzania's first female president break with the late John Magufuli's legacy on gender issues.
__________
Turning Point for Cuba
A Philosopher's Thoughts  Wilder Pérez Varona / OnCubaNews (Havana)
End of the Castro Era?  Bert Hoffman / BTI Transformation Index (Gütersloh, Germany)
__________
Video: Kenya's Communists
Booker Ngesa Omole / Peoples Dispatch
The vice-chairperson of the Communist Party of Kenya talks about the recent arrest and legal proceedings against their members, the unscientific approach to the COVID-19 pandemic by the Uhuru Kenyatta government, and the trajectory of the communist movement in the country.
__________
Book Review: Global Police State
Dawn Marie Paley / Roar (Amsterdam)
A global police state is emerging in response to poor and working class uprisings around the world. William I. Robinson's new book reveals its architecture.