Earth Day to May Day Point to a New America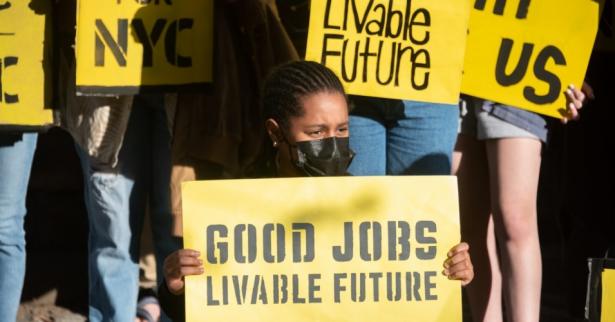 New Yorkers with Sunrise Movement take action In Brooklyn for an economic recovery and infrastructure package prioritizing climate, care, jobs, and justice, calling on Congress to pass the THRIVE Act on April 7, 2021,Noam Gala
As the calendar moves from April 22nd to May 1st, something significant is coming into view. Unions, working class organizations and activists in North America increasingly are leading the transition to a climate-safe economy.
Independently organized gatherings and protest actions coordinated through a new website, through the Labor Network for Sustainability, via the Greens, and among the unions of the North American Solidarity Project, show the possibility of a big win.
Framing this emerging wave of working class climate organizing is a "Declaration of the 2020s" issued by a network of twenty organizations united via EarthDayMayDay.org:

The Decisive Decade: Winning a World in Which Working People Thrive

This is the decisive decade. None of us can afford to wait for others to act. By 2030 we will be on our way to a global economy that provides a good life for all on a living planet. Or we will be on an irreversible path to global misery through ecological collapse. After a generation of warnings, amid mounting harms, continuing to rely on the powerful few to save us is an unacceptable mistake.

The great majority, our diverse and global multiracial working class—employed and unemployed, people of color and white, urban and rural, North and South, young and retired, Indigenous people and those on the front lines—must decide together. If we don't, global climate systems and global capitalism will decide for us.

We can win real democracy and change how we relate to each other and the world around us by immediately shifting to a stable and democratic energy grid, one providing 100% clean, renewable power. We can tread lightly on our planet by employing sustainable, green technologies and practices. In the process, and through our solidarity and unions, we will achieve full employment, meaningful incomes, high quality services, and dignified lives for all. With this economic conversion will come the huge gains needed to protect workers and communities in a just transition, to end personal and colonial debt, and to heal our most injured communities.

We can win real democracy and decide together to free ourselves from the endless and illegal wars that drive millions to flee our homes. We can replace the policing of people with a global system of collective security and world citizenship. We can make corporations and government institutions democratically accountable to workers, communities, and our common society.

We have the power to decide. At work we have the economic power—if we withhold it. In our numbers we have the social power—if we mobilize it. In our traditions, minds and hearts we have the cultural power—if we unleash it. Because these ten years belong to the future, to children, and to the next generations, we pledge to hold nothing back.
This declaration and the many Earth Day to May Day actions that give life to it are significant and important. A part of their significance is that they are happening despite the worst global pandemic in a century. Indeed, many of the leaders of these efforts are workers on the frontlines of the Covid-19 crisis.
Also significant is that these actions are upping the ante despite the fact that parts of the Green New Deal agenda have already been adopted by the Biden administration. That is notable given the historical tendency of social movements to back off in the early days of an incoming Democratic Congress and White House.
But beyond its significance, Earth Day to May Day 2021 is also vitally important. The Declaration of the 2020s is correct. We are out of time. The idea that the global working class can put all of our eggs in the White House basket is a terribly dangerous one. We can't. We know that. Transitioning to an economic system we can live with is going to take working class knowhow. Making it happen fast enough will take workplace and economic stoppages and a scaling up of mass action beyond anything we've already seen.
The good news on this May Day is that we're on our way. The fact that there are not one, two, three, but actually four separate sets of networks coordinating labor-climate actions from April 22 through May 1st tells us something. This wave has been building momentum for some time.
The 1970s-1990s jobs and environment coalitions led to the "Teamsters and Turtles" alliance in the streets of the Seattle 1999 WTO uprising. Wisconsin's Earth Day to May Day coalitions of the 1990s-2000s led directly to the Wisconsin Uprising and the joining of American workers with the global anti-austerity protest wave of 2011. And the climate justice organizing of the early 2010s grew into the People Climate March, climate convergences, and then the global youth climate strikes of recent years. All of these, together, made Earth Day to May Day an obvious project for multiple generations of organizers who share a common agenda.
Working people will save our home. Elon Musk can go to Mars. Like James Connolly said a century ago, "Our demands most moderate are: We only want the Earth."
Ben Manski is Assistant Professor of Sociology at George Mason University where he is building new programs in Next System Studies. Manski's work takes in social movements, law, politics, climate and ecology, and the corporation, focusing on democracy, democratization, constitutionalism, next system studies, and he has published widely on these themes. Manski is a lifelong union member. He was an instigator of many pro-democracy mobilizations and organizations, including the Democracy Teach-Ins (1996), 180/Movement for Democracy and Education (1998), Liberty Tree Foundation for the Democratic Revolution (2004), Move to Amend (2010), Wisconsin Wave (2011), and the Global Climate Strikes (2014).
Peter Knowlton was a member of the United Electrical, Radio and Machine Workers of America (UE) for 34 years until his retirement in 2019. He first became active in the labor movement in the late 1970's as a union cab driver, rank and file activist, and organizer in Minneapolis, MN and one of the leaders of an unsuccessful effort in the early 80's to transform the 600 worker Yellow Cab Company into a worker owned and operated cooperative. He joined the UE as a Field Organizer in the mid-80's, became President of the UE Northeast Region in 2001, and elected UE General President in 2015.