labor
The week in US unions, April 30-May 6, 2021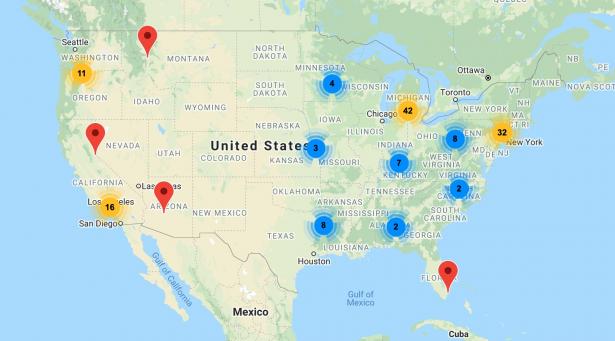 Labor Action Tracker map of strikes, Cornell ILR school
Cornell's Industrial and Labor Relations School has a great new tool, a strike and protest action tracker that goes back to mid-2020, and is just incredibly comprehensive. If you like the weekly roundup, you'll most certainly like this.
NEW ORGANIZING
New election filings at the NLRB: 202 educators at the Hiawatha Academies charter network of five schools in Minneapolis are organizing with Education Minnesota (NEA). 187 RNs at Virtua Willingboro Hospital in Willingboro, NJ are organizing with HPAE (AFT), alongside 123 support staff and technicians, in a separate vote. 158 workers at Metal-Matic in Bedford Park, IL, which makes steel tubing, are organizing with the UAW. 110 sanitation drivers and mechanics (and 6 welders, in a separate vote) for Waste Management DVN Hauling in Bristol, PA are organizing with Operating Engineers Local 542. 77 workers for Duke University Press in Durham, NC are organizing with the Washington Baltimore NewsGuild. 67 security guards at the Social Security Administration building in northwest Baltimore are joining either SPFPA or United Security Officers Association (yet another tiny security guards union). 56 heavy equipment workers for Imperial Crane Services in Bridgeview and LaSalle, IL and Griffith, IN are organizing with Operating Engineers Local 150. 52 workers at Cornish College of the Arts in Seattle are organizing with OPEIU Local 8. 48 bus drivers, mechanics, and dispatchers for Coach America in Winnemucca, NV are organizing with Teamsters Local 533. 40 concrete mixer drivers with GCC Concrete in El Paso are organizing with Teamsters Local 745. 39 skilled maintenance workers at the FBI Academy in Quantico, VA are organizing with Operating Engineers Local 99. 32 Military & Family Life Counselors with defense contractor Leidos across Washington State are organizing with Machinists Local 47. 
Dubious union watch: 350 child care workers at the Children's Village in Dobbs Ferry, NY have filed for an election with the Brotherhood of Amalgamated Trades Local 514, credibly accused of being a company union, with Teamsters Local 202 intervening to get on the ballot. 94 paramedics and EMTs for Eastern Paramedics in Syracuse, NY are organizing with the dubious United Professional and Service Employees Union, Local 1222. 72 grocery workers at kosher supermarket Pomegranate in Midwood, Brooklyn are unionizing with either International Brotherhood of Trade Unions Local 713 or United Production Workers Union Local 17-18; what's extremely interesting about this election is that a few months ago I would've said it's just squabbling between two company unions, but last fall, members of Local 17-18, which has had corrupt leadership for 30 plus years, ran against the incumbents and won, after beating an expulsion charge (for allegedly "abusing another member and circulating and posting on Facebook and Whatsapp anti-Semetic [sic] remarks"; a key detail here is that the long-time incumbents (and a number of the employers) are ultra-Orthodox Jews, while the members who ousted them appear to be mostly Latino and/or immigrant workers). All of which is to say, this election at Pomegranate might be the first foray into non-company unionism for a reformed Local 17-18, or not -- would love to read a profile of this local and this fight.
Food & beverage workers: 250 production employees for Refresco, which bills itself as "the world's largest independent bottler of beverages," in Wharton, NJ, are organizing with UE. 50 drivers for Imperfect Foods in Portland and Clackamas, OR are organizing with Teamsters Locals 162 and 206, after the recent win among California Imperfect Foods workers. 32 food service workers at Donut Friend in Los Angeles have moved from pushing for voluntary recognition to an NLRB election, in their efforts to form an independent union. 28 workers who make agricultural feed for Land O' Lakes in Massillon, OH are organizing with Teamsters Local 92 (after another Teamsters local filed for an election at a LoL-owned agricultural feed factory in California last week). 17 warehouse workers for High Desert Distributing, which delivers beer in Lancaster, CA, are organizing with Teamsters Local 896.
Small shops: 24 drivers at Ohio Ready Mix in Huntsville, OH are organizing with Teamsters Local 908. 21 maintenance workers at Keystone Food (a Tyson subsidiary) in Gadsden, AL are organizing with UFCW Local 1995. 12 workers at Tuality South Hillsboro Clinic in Portland, OR are organizing with AFSCME Council 75. Ten service writers at Winter Chevrolet-Honda dealer in Pittsburg, CA are organizing with Machinists Local 1173. Nine mechanics at construction supplier Komatsu in Pine Bush, NY are joining Operating Engineers Local 825. Seven painters with remodeling contractor RJ Ramos in Portland, OR are joining IUPAT Local 10. Seven warehouse workers and drivers for Champion Container, which makes steel drums and the like, are joining Teamsters Local 560. Six workers at construction equipment supplier Road Machinery and Supplies in Negaunee, MI are organizing with Operating Engineers Local 324. 
NLRB wins…: 1,967 nurses at Maine Medical Center in Portland, ME won the biggest NLRB election since 2018, with a 1,001-750 vote for the Maine State Nurses Association (NNU). 436 K-12 employees at the Propel Charter School network in and around Pittsburgh have voted 236-82 (that's nearly three to one) to join the Pennsylvania State Education Association (NEA). 114 ski patrollers at Vail Resorts in Breckenridge, CO squeaked out a 43-42 win to join CWA (presumably Local 7781, United Professional Ski Patrols of America), and 103 ski patrollers at Big Sky Resorts in Big Sky, MT voted 69-21 to do the same. 107 hospital techs at McLaren Lapeer Region Hospital in Lapeer, MI voted 51-34 to join Teamsters Local 332. 68 editorial workers at the Daily News voted 55-3 to join the New York NewsGuild, continuing the Guild's win streak (something like 50 NLRB election wins in a row, I believe). 37 hospital techs at St. Anthony's Community Hospital in Warwick, NY voted 24-2 to join 1199 SEIU. 23 workers at Veolia's Borderland sulphuric acid regeneration plant in El Paso voted 10-8 to join Operating Engineers Local 351. 11 legal workers at Public Defender of Marion County in Salem, OR voted 7-0 to join AFSCME Council 75. 9 workers at the Minnesota Council of Non-Profits voted 6-3 to join the Minnesota Newspaper and Communications Guild. 4 ready-mix drivers at Smyrna Concrete in Winchester, KY voted 2-0 to join Teamsters Local 89. 3 biomedical technicians at Mercy General Hospital in Sacramento voted 2-1 to join Operating Engineers Local 39. 
...and losses: Machinists Local 2018 lost a big vote, almost 2 to 1, at Howmet Castings in La Porte, IN, among 366 workers who make airplane parts and saw big layoffs last fall; tally was 105-200. After filing for an election in November, and having a date set for a vote all of three times, 38 workers at Datwyler Pharma Packaging in Middletown, DE voted 16-19 against joining CWA; we'll see if this is the end of the road for this six month NLRB saga. 19 clericals for DoD staffing agency Island Creek Associates in Coronado, CO voted 4-9 not to join Machinists District Lodge 725. 13 workers at All Fire Solutions in Greenwood, IN voted 0-4 to join Sprinkler Fitters Local 669 (UA) after filing for an election all the way back in October. 7 workers at dispensary The Verb is Herb in Easthampton, MA deadlocked at 3-3 and thus won't be joining UFCW Local 1459, ending a pretty serious winning streak.
Decertifications: Someone has filed for a decertification of UAW Local 3057 at Prysmian in Scottsville, TX, where workers have been on strike since late March. I haven't seen any reporting on it, whether it's actually more than the required 30% of the workers (the filing says it's 400 workers; I've seen numbers closer to 200) to even have the thing go to a vote, or if it's just a scare tactic that will be rejected by the board. 7 mechanics and drivers at heavy equipment dealer Titan Machinery in Davenport, IA voted 5-2 to drop their representation by Operating Engineers Local 150. 
Outside the NLRB: Around 900 residents at the UIC Hospital in Chicago filed authorization cards to join CIR SEIU. TV animators at Floyd County Studio in Atlanta are still pushing for voluntary recognition, but aren't getting it.
STRIKES & BARGAINING
Something like 2,000 graduate student workers with UAW Local 2110 are on strike at New York University. Uptown, fellow Local 2110 members at Columbia surprised their bargaining committee by voting down their tentative agreement, 1,093 to 970 (and I'm now hearing rumors that the committee has resigned). It's not clear what the next step is, whether Columbia will go back out on strike (I haven't seen much to that effect, but that's what voting down a TA tends to mean), or what kind of signal that sends to NYU administrators and grads.
1,100 UMWA coal miners in Brookwood, AL are still out on strike, having walked off on April 1st and rejected a tentative agreement in early April. Kim Kelly has some great dispatches from the strike, and you can contribute to the strike fund here (organized by the wife of one of the striking miners, a member of the UMWA's revived Women's Auxiliary).
Speaking of long strikes, telecom manufacturing workers with UAW Local 3069 at Prysmian Group in Scottsville, TX are still on strike. As mentioned above, they may be facing a decertification effort, and as far as I've heard, there's no end in sight, though coverage has been slim to say the least.
Speaking of even longer strikes, Massachusetts Nurses Association nurses at St. Vincent Hospital in Worcester are on day 60 of the longest nurses' strike in two decades. Signals are mixed; on the one hand, the two sides are talking, which for a while was not the case, and on the other hand, the Hospital is still beating its chest about being ready for a(n even more) prolonged strike.
650 refinery workers with USW Local 13-243 have been locked out by ExxonMobil in Beaumont, TX, in the first work disruption since 1988 and the first lockout ever at the facility. ExxonMobil decided they were done honoring the workers' seniority system -- a bedrock principle of workplace fairness -- and instead of waiting for the union to react, they just went ahead and locked them out. Reuters reports it's part of a industry-wide push to deskill and de-unionize refinery work in this country, and clearly ExxonMobil saw Marathon's more or less successful indefinite lockout of 200 Teamsters in the Twin Cities that began in January, and decided they could get away with it. This is what it looks like to go through an unjust transition.
About 70 mechanics and drivers who supply about 100 Shaw's grocery stores in New England are on strike in Scarborough and Wells, ME, in the state's first strike this year, with Teamsters Local 340. 
Two dozen workers in Brooklyn at United Metro Energy remain on strike with Teamsters Local 553.
Ten mechanics with 32BJ, who work for contractor Centera in Allentown, PA authorized a strike on Thursday, struck on Tuesday, and reached an agreement that night. 90 minutes east in Bloomfield, NJ, 32BJ members protested building services company Planned Companies, for cutting wages and benefits of formerly unionized employers; the large SEIU local has also targeted Planned Companies as part of a larger corporate campaign in deals in Hoboken, and probably elsewhere in New Jersey. In NYC, BJ is supporting food delivery drivers as they fight for the right to pee.
200 teachers in the Rincon Valley school district, outside Santa Rosa, CA, have authorized a strike, as negotiations hit an impasse, primarily over the fact that Rincon Valley teachers are paid 13% below the state average.
Meat, deli, and seafood department workers with UFCW Local 88 in the St. Louis area have authorized a strike; other Schnuck's employees with the Teamsters and UFCW Local 655 would likely honor the picket line, which would mean more than just deli trouble for the grocer.
The AAUP strike at Oregon Tech ended Tuesday, with a tentative agreement. Elsewhere in higher ed, undergraduate student workers organizing with UE at Kenyon College had their week-long strike met with threats of arrest, which they responded to by filing an unfair labor practice alleging wage theft for being paid 18 hours a week but essentially on the clock 24/7 as "community advisors."
The 2,900-worker strike at Volvo Truck in Dublin, VA by UAW Local 2069 has ended, but, as Freightwaves notes, members aren't particularly happy about ending the strike before the tentative agreement has been ratified, or the seeming reluctance to share the details of the tentative agreement. Freightwaves also points out that the strike has been somewhat convenient for Volvo, all things considered, coming during the rolling shutdowns associated with microchip shortages, allowing them to divert some of the small supply of chips to other plants while the workers walked out.
Around 3,400 workers at at least 33 Connecticut nursing homes with 1199 New England are ready to strike as soon as May 14th.
It looks like the 4,000-member Allina strike threat is off, after SEIU Healthcare Minnesota reached a tentative agreement.
13 valets (with a hard "t," apparently) with SEIU Local 541 in Louisville, KY got right up to the edge of striking the Kentucky Derby, and then… didn't. I haven't seen details on why not, but it sounds like Governor Beshear intervened in some way that moved the needle. I thought this short reflection from local socialist labor activist Robert Bell was really worth reading.
For no discernible reason, NYC's many city agencies are forcing their workers back to in-person working, with all the COVID risk and none of the presumed benefits, considering workers will be coming in one day a week (just enough to spread the virus), will not be allowed to have in-person meetings, and have been encouraged to snitch on their coworkers for not wearing masks. You can read what six of those workers think about the move here.
UPS Teamsters with Local 251 in Warwick, RI protested outside an 1,800-worker hub that is apparently no longer following COVID-19 protocols, despite the county having a higher than average per capita case rate, and just generally still working in a pandemic. Elsewhere in UPS Teamsters land, Local 804 continues to protest the firing of 10 workers in Queens, NYC for (unknowingly) "refusing" "voluntary" overtime work, also known as "going home at the end of their shift." Outside of UPS, members of Teamsters Local 377 put up a "practice picket" at medical waste processor Stericycle in Warren, OH, having worked under contract extensions since October.
Hollywood unions including SAG-AFTRA and the Teamsters have agreed to extend their back-to-work protocol they agreed to last fall, that includes expanded leave provisions among other things, to June 30th.
UFCW Local 21's campaign to get worker representation on the PCC Co-op board (an effort that included informational pickets against anti-union electioneering) was successful.
As I've mentioned before, the hospitality industry is beginning to reopen, and the worst of the worst employers are seeing a disaster capitalism opportunity to bust unions. In Boston, UNITE HERE Local 26 is on an all-out boycott of the Copley Marriott for firing workers last fall and simply never hiring them back, despite renewed operations. Nia Winston with UNITE HERE Local 24 in Detroit gave an interview on the wider problem, and days later, the Detroit City Council passed a right to recall ordinance, though its fate is a bit unclear against Michigan state law.
The staff union (a unit of the Washington Baltimore NewsGuild) for UFCW international staff is asking for public support, as the UFCW proposes cutbacks.
Teamsters Local 456, who represent municipal employees for the city of Greenwich, CT, one of the richest towns in the world, are protesting again, as they reach nearly 2 years without a contract.
POLITICS & LEGISLATION
In Biden administration news, several signals have recently come down that his DOL will be taking a harsher stance against the Uberification of the US economy. David Weil, known for his vocal stance against the misclassification crisis is being put forward to return as head of the Wage & Hour Division. Before that's even been made official, the DOL has rescinded a more expansive definition of independent contracting, in a step in the right direction for enforcement. On top of that, Marty Walsh had Uber and Lyft quaking in their boots/stock prices, as he voiced his personal view that they probably are widely misclassifying their workers, and that should be remedied.
Proposition B, the ballot measure to end collective bargaining for San Antonio police, failed by 2 percentage points. That leaves unresolved one of the core sticking points of that collective bargaining, namely how police discipline should be handled. Elsewhere in the wonderful world of police unions, Chicago's Fraternal Order of Police says recent shootings that have caused public outrage (including that of a 13 year old boy) were justified. On the other end of the police union spectrum, cops in New York state say they support the efforts to diversify the departments, but are going to need some extra funding to do so. Hamilton Nolan at In These Times has obtained a copy of an AFL-CIO memo that rejects calls to disaffiliate police unions from the Federation, let alone defund the police.
The mayor of Houston continues to wage what seems like an ill-advised war against the local firefighters union, but the IAFF had a court win today, as a judge rejected the mayor's plan to have their collective bargaining system ruled unconstitutional.
UNION LEADERSHIP
James Hoffa, Teamsters President since 1998, says the union had a Zoom call about their "secret plan" to organize Amazon, which involves UPS drivers telling Amazon drivers why they should join the Teamsters. Aside from the 54% of UPS Teamsters who voted down the last contract but were overruled by Hoffa, this is clearly not really a plan, and must be understood in the context of a lot of media hype about Amazon organizing and it being an election year in the Teamsters. Both slates vying to replace Hoffa are claiming the mantle of organizing Amazon as a central campaign plank, and they might do it, too. But "organize the unorganized" is like the union equivalent of US presidential candidates talking about jobs; it's something people say to win elections, whether or not it actually ends up happening (which it sometimes does!). But a secret plan to organize the second-largest private employer in the country is not, in fact, a plan. Here's hoping they've got a list of (and budget for) the 100 staffers and 10,000 member organizers who are actually going to make it happen.
The FMPR, one of Puerto Rico's K-12 unions, is seeking an election to represent 20,000 teachers who are currently with AMPR, the AFT K-12 affiliate in PR. Under Puerto Rican public sector labor law, when a contract expires, other unions can seek representation elections. These teachers have gone back and forth between AMPR and FMPR, and, separately, AMPR and FMPR have each at times been AFT affiliates. FMPR most recently lost their certification to represent these workers as a penalty for a strike in 2008.
Teachers in Falmouth, MA protested retaliatory targeting of their local Massachusetts Teachers Association union president by the superintendent.
AAUP-AFT Local 6075, Wayne State faculty, have a new President, Danielle Aubert (congratulations, Danielle!). Petal Robertson, the leader of the Montclair Education Association, who led one of the strongest campaigns against unsafe reopening in the country, has been elected Secretary-Treasurer of the 200,000-member New Jersey Education Association. The 40-year incumbent of the Buffalo Federation of Teachers has a challenger in upcoming union elections.
Speaking of incumbents and their challengers, Fast Company (of all places) has a glowing profile of AFA-CWA's Sara Nelson, adding a cherry on top of the absolute mountain of speculation on whether she's running for AFL-CIO President next year.
* * * 
Who Gets the Bird? is a free weekly newsletter. Subscribe here.