24 House Dems Say Infrastructure Bill Shouldn't 'Throw Money at the Pentagon'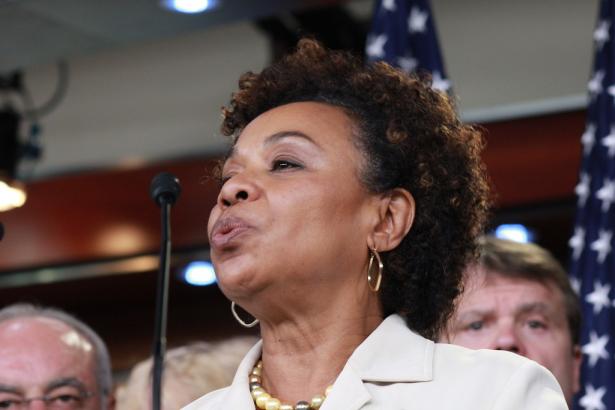 "Barbara Lee (D-CA)" by Talk Media News Archived Galleries is licensed under CC BY-NC-SA 2.0
Two dozen Democratic lawmakers in the U.S. House sent a letter on Friday urging their party's leaders to prevent any funding in emerging infrastructure and jobs legislation from going to the Pentagon, which—if President Joe Biden gets his way—is set to receive a $715 billion budget for the next fiscal year.
Spearheaded by Reps. Barbara Lee (D-Calif.), Cori Bush (D-Mo.), and Mark Pocan (D-Wis.), the new letter (pdf) states that "it makes poor economic and security sense" to use an infrastructure package "to funnel more money into the Pentagon, on top of the three quarters of a trillion dollars per year that it already receives."
"Doing so will not provide the jobs that Americans need; build a better, greener economy; or make people in this country safer," reads the letter, which is addressed to House Speaker Nancy Pelosi (D-Calif.) and Senate Majority Leader Chuck Schumer (D-N.Y.). "Specifically, as we consider how best to create well-paying jobs for the people of the United States, we must reject attempts to use the American Jobs Plan to fund military industrial facilities."

To make their economic case against boosting Pentagon funds for the purpose of job creation, the lawmakers point to a 2019 study by the Brown University Costs of War Project showing that while $1 billion in military spending creates roughly 11,200 jobs, the same amount of spending on clean energy yields 16,800 jobs. The study also shows that $1 billion in spending on healthcare and education would create 26,700 and 17,200 jobs, respectively.
"Each additional dollar poured into the defense industry's coffers is another dollar stripped away from the other urgent priorities in the American Jobs Plan," the lawmakers write. "We cannot ignore that weapons makers—some of the most profitable yet unaccountable corporations in the world—have demonstrated time and again a propensity to mismanage, squander, and profiteer off the large sums of taxpayer money they receive. This was made abundantly clear during the pandemic, as weapons contractors reaped ample revenues and massive profits."
"This bill must not be an excuse to line defense contractors' pockets," they add. "We should not throw more money at the Pentagon or weapons companies to continue the status quo."
Wasteful spending at the Pentagon will do nothing to help our country recover from this pandemic.
@RepCori, @repmarkpocan, and I led our colleagues in calling on House & Senate leadership to leave defense spending out of the American Jobs Plan. pic.twitter.com/W7PUXCxCjd

— Rep. Barbara Lee (@RepBarbaraLee) July 2, 2021
The Democratic lawmakers' letter came as members of Congress continue to haggle over the details of a $579 billion bipartisan infrastructure deal that Biden has endorsed as well as a larger, separate package that Democrats hope to pass through the budget reconciliation process, which is exempt from the Senate's 60-vote filibuster.
As Politico reported last week, some Democratic and Republican lawmakers are clamoring for the inclusion of "funding for a host of defense industrial facilities into a potential multitrillion-dollar package."
"Reps. Cheri Bustos [D-Ill.] and Blake Moore [R-Utah], who co-chair the House Military Depot, Arsenal, Ammunition Plant, and Industrial Facilities Caucus, are gathering support for a planned letter to Speaker Nancy Pelosi urging money for long-deferred upgrades for military industrial facilities as well as defense labs and test facilities and ranges be incorporated into an infrastructure proposal," Politico noted. "The latest move also comes after boosters of shipyards... pressed for including the Navy's $21 billion plan to modernize its four public shipyards over the next 20 years."
It's unclear whether such requests are gaining any traction with congressional leaders or Biden, whose original American Jobs Plan called for investments in research and development to "out-compete China"—funds that would, in part, go to the Pentagon.
In their letter on Friday, the 24 Democratic lawmakers write that "while we do not deny that in some cases the need for military infrastructure modernization exists, funding for these projects should be debated and determined through the regular defense budgeting process, as it is every year."
"Given that spending on the Pentagon is already at one of its highest levels since World War II," the letter reads, "there should be ample funding within the department's budget to address any issues with military facilities by cutting waste and eliminating unnecessary weapons systems, without tapping into the administration's infrastructure plan."
Writing for The Nation on Thursday, Mandy Smithberger of the Project on Government Oversight and William Hartung of the Center for International Policy echoed the House Democrats' support for prioritizing green-energy spending and other priorities over adding to the Pentagon's bloated coffers.
"If managed properly, President Biden's initiatives on rebuilding domestic infrastructure and combating climate change would be far more central to keeping people safe than throwing more money at the Pentagon and related agencies," Smithberger and Hartung argued. "A shift in spending toward these and other urgent priorities like addressing the possibility of future pandemics would clearly be a far better investment in 'national security' than the present proposed Pentagon budget."
---
Our work is licensed under Creative Commons (CC BY-NC-ND 3.0). Feel free to republish and share widely.