Global Left Midweek - August 18, 2021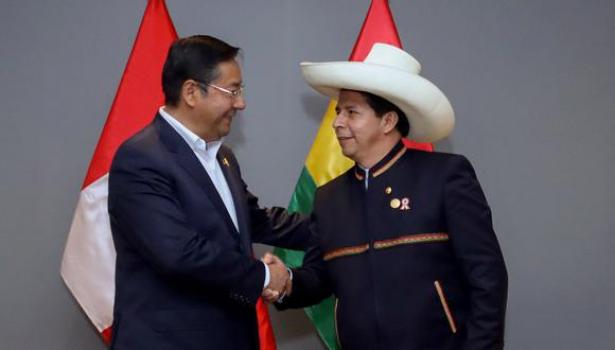 President Luis Arce of Bolivia and President Pedro Castillo of Perú. Credit,The Rio Times
__________
Nuclear Arms: Still an Existential Threat
World Conference Against Atomic and Hydrogen Bombs / Japan Press Weekly (Tokyo)
Let us take action for the elimination of nuclear weapons to ensure the survival of the human race and our future. We must establish a world where all countries cooperate with one another on an equal footing and for peace as set out in the UN Charter.
__________
Internationalism Today: Defend Sovereignty? Oppose Nationalism?
In Support of Sovereignty  Eoghan O'Neill / Socialist Voice (Dublin)
What Would Rosa Do?  Michael Löwy / New Politics (New York)
__________
Pan-Africanism for the People
Mary Serumaga / The Elephant (Nairobi)
Solidarity conferences have been replaced by aid conferences called by "donors". What we need is a Pan-African conference organised by movements and individuals committed to human development.
__________
Latin America: New Pink Tide Busts Grupo de Lima
Yves Engler / Canadian Dimension (Winnipeg)
It could be a death knell to a coalition including Brazil, Canada, Chile, Colombia and Perú (along with several other smaller Latin American nations). Perú's newly appointed Foreign Minister called the Lima Group the "most disastrous thing we have done in international politics in the history of Perú."
[Moderator's note: Since this article appeared, Héctor Béjar resigned as Foreign Minister; details here]
__________
Myanmar: Is People's War Ahead?
Anthony Davis / Asia Times (Hong Kong)
The people of Myanmar are on their own with their military jailers and face a simple choice: roll over or fight back. As a countrywide campaign of bombings, targeted killings and armed clashes launched by local "People's Defense Forces" indicates, many of the country's youth made that choice some time ago.
__________
Don't Panic! European Left Perspectives on the Rising Right
Duroyan Fertl / Rosa Luxemburg Stiftung (Brussels)
Analysts from the political Left in Germany, Sweden, and Denmark present three examinations of the developments in far-right populism, three analyses of the strategies and tactics deployed by the Left to counter far-right influence, and three visions for building a stronger Left.
__________
The Heat is On in Hong Kong
Teachers' Union Folds  Jeffie Lam / South China Morning Post (Hong Kong)
Who Will Fill the Gap?  Amelia Chan / Hong Kong Free Press
__________
Mass Action in Ecuador and Paraguay
In Quito  / Peoples Dispatch (New Delhi)
In Asunción  / teleSUR (Caracas)
__________
France: Health Care or Anti-Vax Populism?
John Mullen / The Left Berlin
There are plenty of reasons to be angry with Macron and with capitalism. But left organizations here have a responsibility, too, and have been making dangerous concessions to vaccine skepticism which will help the far-right to build up more of a following.
__________
How the Tables Were Turned in El Salvador
Hilary Goodfriend / New Left Review (London)
As the FMLN underwent a complex transition from clandestine guerilla army to political party, the Salvadoran elite followed US directives to implement far-reaching neoliberal reforms. Factions of Salvadoran capital swung behind Nayib Bukele, along with shadowy military and narcotrafficking interests.