Mayor Janey and Health Officials Ban Evictions in Boston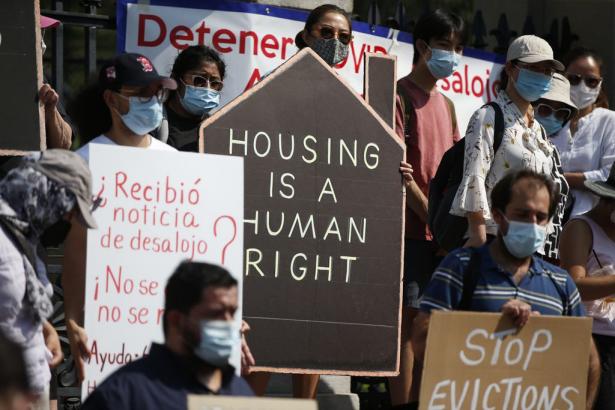 A group called Homes for All Massachusetts hosted a rally outside the State House Aug. 12 to support a measure that would temporarily pause evictions and foreclosures for 12 months,Jonathan Wiggs/Globe Staff
In the latest move to protect vulnerable residents in Boston from the pandemic, Acting Mayor Kim Janey and health officials on Tuesday banned evictions in the city, just days after the Supreme Court struck down a nationwide eviction moratorium.
The Boston Public Health Commission will keep the moratorium in place as long as necessary, according to Janey's office. Under the ban, landlords will be prohibited from pursuing eviction proceedings, though details of how it will be enforced were not immediately clear.
"The loss of federal eviction protections and the ongoing pandemic has put our most vulnerable neighbors at risk of losing their homes," said Janey, who also announced a $5 million fund to help homeowners avoid foreclosure. "I am implementing a housing stability agenda to continue Boston's public health recovery with emergency assistance for renters and homeowners who need help."

Janey's move comes as such eviction moratoriums are drawing increasing fire at the state and federal levels.
Governor Charlie Baker let a statewide ban on evictions expire last October after the judge overseeing a lawsuit filed by landlords expressed skepticism over the ban's legality. Last week the Supreme Court overturned a federal ban imposed by the Centers for Disease Control and Prevention, saying the move exceeded presidential powers and should be enacted through legislation.
In the wake of that decision, top officials with the Biden administration encouraged local governments to launch eviction bans of their own. And on Monday, City Councilor Andrea Campbell, who is running against Janey for mayor, called on Janey to enact one in Boston. Late Tuesday, Campbell applauded the move.
"Housing stability is essential to keeping Bostonians safe and healthy, especially as the deadlier Delta variant spreads, which is why yesterday I called for immediate action by the acting mayor and public health officials to implement an eviction moratorium," Campbell said. "I'm glad Acting Mayor Janey followed our lead to protect families during this difficult time."
Boston housing chief Sheila Dillon said city officials began discussing a local moratorium on Friday after the Supreme Court's ruling. The city has focused on helping struggling tenants obtain rent relief — some 12,500 households in Boston have received about $72 million in state and local aid, she said — but officials are also worried about an immediate spike in evictions now that the federal ban is gone.
And despite the potential for lawsuits challenging the ban, Dillon said, they decided to do what they could now.
"We anticipate that there may be some legal challenges to this," Dillon said. "We felt it was really important to try. We do think evictions are a public health issue."
Epidemiologists say evictions can increase the spread of COVID-19 because tenants often become transient or double up with relatives or friends in tight quarters. And with the current surge in cases tied to the Delta variant, advocates say now is no time to push tenants out of their homes.
An analysis by economists with Goldman Sachs estimated that 750,000 renter households nationwide could be evicted in the coming months without the protections, and that tenants owe as much as $17 billion in back rent due to pandemic-related job loss.
Massachusetts has more protections in place than most states; lawmakers here passed a measure blocking eviction of tenants with a pending application for rent relief, and the Baker administration has boosted funding for housing counseling and mediation designed to avoid eviction. As of the end of July, state agencies have doled out $225 million in relief funds to roughly 35,000 households.
Still, advocates here worry a surge is coming. And the ability of local governments to legally stop it is unclear.
In Massachusetts, evictions are overseen by state-run housing courts and typically enforced by county sheriff departments or constables. The most likely place for a local government to intervene is at the very end of the process, by which point many tenants facing eviction — especially the most vulnerable ones — may have already given up.
"Even when there was a state moratorium and a federal moratorium in place, we heard anecdotally that in immigrant communities, the landlord might say, 'I don't care about the moratorium, you're moving out,' " said Angie Liou, executive director of the Asian Community Development Corp., a housing nonprofit in Chinatown. "Especially if you're talking about people who are undocumented. They can be very worried about other negative repercussions. Who's going to enforce that, right?"
Still, Liou and others say a local moratorium, coupled with rent relief programs and broad outreach to vulnerable communities, can help keep evictions in check. That's been the case in Somerville, which has had a local moratorium in place since the pandemic began in March 2020.
According to state courts data, only five eviction cases in Somerville have reached execution — the final step in the legal process — and city officials say they know of no tenants who have been forcibly removed from their homes.
"So far the moratorium has worked really well in Somerville," said Ellen Shachter, who heads that city's Office of Housing Stability. "But it has to be part of an overall strategy to keep people in their homes, not just an isolated one-off thing."
That's the goal in Boston, Dillon said, where the city has beefed up staff at its Office of Housing Stability and worked for more than a year with owners of affordable-housing properties, in particular, to avoid evictions. Now, with the federal moratorium falling by the wayside, they're adding a local eviction ban to the arsenal, too.
"The City of Boston is doing everything it can to help keep people in their homes," she said.
Two other candidates for mayor used the announcement to criticize Janey, saying the city has done too little, too late.
City Councilor Michelle Wu said the move may bring "some temporary relief," but "there is so much more the city must do to keep our residents in their homes in the long term and address our housing crisis."
City Councilor Annissa Essaibi George had even stronger words.
"Nobody should lose their home right now," Essaibi George said in a statement. "Boston has received the federal funding — in historic sums — to recover from and manage this crisis. But with a lack of leadership and slow execution in getting these critical funds into programs that will help those facing housing instability, we are instead scrambling to put a band-aid over a bullet hole."
Stephanie Ebbert of the Globe staff contributed to this report.
Danny McDonald can be reached at daniel.mcdonald@globe.com. Follow him on Twitter @Danny__McDonald. Tim Logan can be reached at timothy.logan@globe.com. Follow him on Twitter at @bytimlogan. Zoe Greenberg can be reached at zoe.greenberg@globe.com. Follow her on Twitter @zoegberg.