AOC Urges New Student Debt Relief From Biden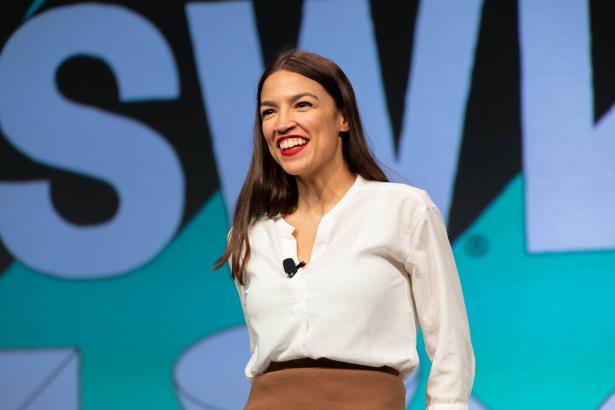 , "Alexandria Ocasio-Cortez @ SXSW 2019" by nrkbeta
Hours after President Joe Biden called on Democrats to support a social spending package drastically scaled back from what progressives have pushed for, Rep. Alexandria Ocasio-Cortez signaled that the party's left wing should continue pressuring the White House to deliver far-reaching initiatives that will benefit working people—namely, student debt relief.
The New York Democrat posted about the issue Thursday night on her Instagram account, saying advocates for debt relief—many of whom are among the 45 million student borrowers who owe a collective $1.73 trillion—must "bring the heat on Biden to cancel student loans."
"He doesn't need [Sen. Joe] Manchin's permission for that," said Ocasio-Cortez, referring to the corporate Democrat from West Virginia whose objections to investing in lower- and middle-class families contributed to the elimination of paid family leave, a clean power program, reforms to Medicare, and other provisions.

"Now that his agenda is thinly sliced he needs to step up his executive action game and show his commitment to [delivering] for people," she added.
Progressives in Congress have spent months calling on Biden to completely or partially cancel student loan debt, but as Common Dreams reported last week, the U.S. Department of Education is preparing to restart monthly payments in February 2022, after a moratorium that was extended by the president expires.
Legal experts have confirmed that the Biden administration has the authority under Section 432(a) of the Higher Education Act to cancel student debt. The law states that the education secretary has the authority to modify loan terms and "enforce, pay, compromise, waive, or release any right, title, claim, lien, or demand, however acquired, including any equity or any right of redemption."
The Education Department said in April that it was examining whether it could cancel student debt beyond the $11.5 billion it has already canceled for certain students, like those defrauded by for-profit institutions, and Rep. Ilhan Omar (D-Minn.) earlier this month demanded to know the status of the administration's investigation of the issue. This week, Education Secretary Miguel Cardona said only that "conversations are continuing" regarding broad cancelation.
Three progressive Massachusetts Democrats—Sens. Elizabeth Warren and Ed Markey and Rep. Ayanna Pressley—released a report Thursday showing that efforts to cancel student debt for public servants have resulted in "bureaucratic torture" for borrowers, with 98% of applicants to the Public Service Loan Forgiveness (PSLF) program due to "major structural flaws."
"[President Biden] can and must cancel student debt to bring immediate relief," said Pressley on Friday.
A major overhaul to the PSLF program that's planned by the administration "will be a huge help to public servants," said Warren, adding, "to really fix this broken system, [President Biden] should cancel student debt."
Ocasio-Cortez urged advocates to "organize and prepare actions now," months ahead of the end of the student loan repayment moratorium.
"The showdown will be in late January when payments are 'supposed' to kick back up," said the congresswoman.
---
Licensed under Creative Commons (CC BY-NC-ND 3.0). Feel free to republish and share widely.
Julia Conley is a staff writer for Common Dreams.