labor
Longshoremen Seek Workers' Comp Law Change for COVID-19 Coverage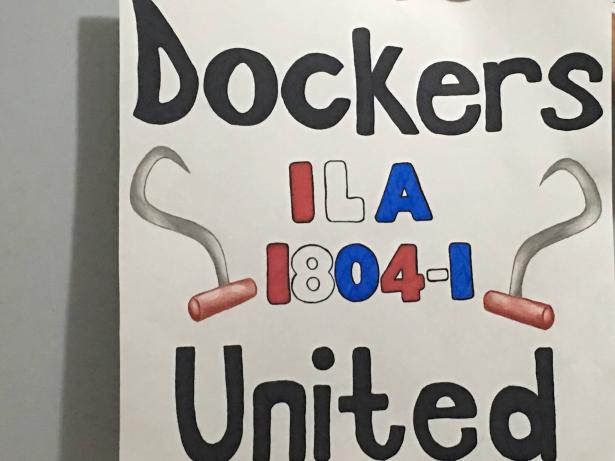 Between Dec. 29 and Jan. 14, Mark Bass, president of the International Longshoremen's Association Local 1410 in Mobile, Ala., watched as COVID-19 cases swept through the maritime workforce, ultimately infecting about 20 percent of it.
With workers packed in tight quarters, loading and unloading ships and often interacting with seamen coming in from different countries, infection was unavoidable. "There are just some jobs where you can't stay 6 feet apart," he said. 
And getting workers' compensation for missing shifts because of the disease wasn't easy. They and other workers had to prove they contracted the illness while on the job.

While the 2021 COVID-19 relief law made it far easier for federal workers diagnosed with COVID-19 to receive workers' compensation, and some 28 states and Puerto Rico have taken action to extend workers' compensation to cover the illness, longshoremen, ship repairers, shipbuilders and harbor construction workers are governed by a separate law, the 1927 Longshore and Harbor Workers Compensation Act. That means they still have to meet a higher burden of proof to receive COVID-19-related workers' compensation, including proving they were infected on the job. 
According to the Transportation Trades Department, AFL-CIO, while the Department of Labor has accepted 86 percent of the COVID-19 claims for federal workers, it accepted only 7 percent of the COVID-19-related claims from longshoremen and other harbor workers between April 2020 and October 2021. 
Last week, the House Education and Labor Committee approved 27-21 a measure that aims to ease the standard. The bill, introduced by Rep. Frank J. Mrvan, an Indiana Democrat, would "create a conclusive presumption" that maritime workers contracted COVID-19 on the job if their work involves close contact with co-workers, the public or others. 
It would provide medical benefits, lost wages or survivor benefits retroactive to Jan. 27, 2020, and could be applied to workers who have already filed claims. The bill reimburses employers or their insurers for the cost of claims covered by the legislation. 
'Misses the mark'
Still, some lawmakers dismiss the bill as unnecessary. Speaking at the bill's markup, Rep. Virginia Foxx, R-N.C., ranking member of the Education and Labor Committee, said the bill "misses the mark and takes away important oversight in federal workers' compensation programs."  
Rep. Fred Keller, R-Pa., said the bill "operates on the false assumption that workers who contract COVID-19 must have contracted it while working on the job."
"This could cripple business owners," he said, adding that "with so much uncertainty surrounding the transmission of the virus, it is reckless to lay every COVID case at the feet of employers and taxpayers." 
In a March letter to chairs and ranking Republicans on the relevant House and Senate committees, a coalition of groups led by the National Association of Waterfront Employers argued that the proposal "violates long-established law, re-writes existing employer/insurer contracts, and raises constitutional issues."
"A no-fault workers' compensation system is effective only if it is limited to illness and injury 'arising out of and in the course of employment,'" the letter stated, adding that the bill "would convert workers' compensation from a system that provides benefits to workers suffering workplace injuries to a form of guaranteed income replacement for non-injured workers." 
The group wrote that "it has not been shown that individuals in maritime employment are at greater risk of exposure to COVID-19 in the course of employment or that they are more likely than others in the general public to the risk of infection and illness due to COVID-19."
The bill is the latest attempt by the House to ease the standard. Previous attempts by the Senate, included in the 2020 and 2021 COVID-19 relief bills, did not include the House language. The 2021 attempt to add the language covering the group was stripped by the parliamentarian. 
Without federal action, longshoremen argue that it's hard, if not impossible, to prove where they were infected. 
They said some of the nation's busiest ports were nearly shut down during the height of the pandemic, and because workers know they won't be reimbursed for staying at home, they've often tried to muscle through their own infections, putting their colleagues at risk.
"It's so difficult to get compensation," said Kenny Riley, president of the International Longshoremen's Union Local 1422 in Charleston, S.C. "So if a worker is asymptomatic, they're not going to tell you. They'd rather just mask up if they're not feeling too bad because they can't afford to be out two weeks and go through all these hurdles just to get compensation." 
And that in turn has contributed to the labor shortage, said Bass, whose local represents about 800 workers. 
"There's a certain group of people who are afraid because they've got health problems," he said. "They're trying to wait it out." Others, he said, just opt to find a job that permits more social distancing. 
His local has seen four deaths related to COVID-19 since the beginning of the pandemic. 
One, he said, was a cancer survivor, "one of the best longshoremen." He got sick and left work to go to urgent care. "The urgent care immediately sent him to a hospital," Bass said. "He went to the ICU. He never made it home." 
As port workers taking goods from overseas ships, "we are the first contact to anything," he said.
Greg Regan, president of Transportation Trades Department, AFL-CIO, said the bill needs to pass in case a new variant once again hobbles the industry.
"The Senate could take up the House bill and pass it under UC [unanimous consent] as soon as they want," he said. "Right now, they're the ones preventing it from passing."