"Be Like Children. Repeat: 2+2=4. Black Is Black. White Is White." – The Last Word of Alla Gutnikova, of the Doxa Four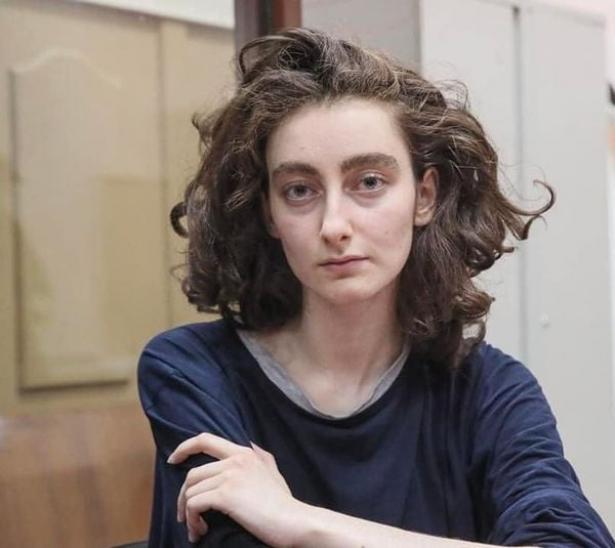 Alla Gutnikova, one of the DOXA Four, sentenced at the Moscow Dorogomilovsky court this week.,
[Translated by Clementine Cecil]
I won't talk about the case, the searches, the interrogations, the tomes, the trials. It's boring and pointless. Recently I've joined the school of tiredness and frustration. But even before the arrest, I managed to join the school of being able to talk about truly important things.

I would like to talk about philosophy and literature. About Benjamin, Derrida, Kafka, Arendt, Sontag, Barthes, Foucault, Agamben, about Audre Lorde and Bell Hooks. About Timofeeva, Tlostanova and Rakhmaninova.
I would like to speak about poetry. About how to read contemporary poetry. About Gronas, Dashevsky and Borodin.
But now is not the time or place. I will hide my little tender words on the tip of my tongue, at the bottom of my larynx, between my stomach and heart. And I'll just say a little.
I often feel like a little fish, a little bird, a schoolboy, a baby girl. But recently I found out with amazement, that Brodsky was also put on trial at 23. And in so far as I am also part of the human race, I will say the following:
In the Kabbalah there is the concept of Tikkun olam – the repairing of the world. I see that the world is not perfect. I believe that, as Yehuda Amichai wrote, the world was created beautiful, for the good and for peace, like a bench in a garden (in a garden, not in a courtroom!) I believe that the world was created for tenderness, hope, love, solidarity, passion, joy.
But in the world there is a terrible, unbearable amount of violence. And I don't want violence. Not in any form. Not teacher's hands in schoolgirls' knickers, not the fists of a drunken father on the bodies of his wife and children. If I decided to list all the violence around, not a day, not a week, not a year would be enough time. In order to see the violence around, you just need to open your eyes. My eyes are open. I see violence and I don't want violence. The more violence there is, the more I don't want it. And the greatest and most terrible violence is the one I don't want most of all.
I love to study. And so now I will speak with the voices of others.
At school, in history lessons, I learned the phrases: "You may crucify freedom, but the human soul knows no chains" and "For freedom, yours and ours."
In secondary school, I read "Requiem" by Anna Andreyevna Akhmatova, "Journey into the Whirlwind" by Yevgenia Solomonovna Ginzburg, "The Vacated Theater" by Bulat Shalvovich Okudzhava, "Children of the Arbat" by Anatoly Naumovich Rybakov. From Okudzhava, most of all I loved the poem:
Conscience, nobility and dignity
Here it is, our sacred army.
Hold out your palm to it.
No fear for him, even in the fire.
His countenance is imposing and wondrous.
Dedicate to him your humble age:
Maybe you won't become a victor,
But you will die like a man! [from Sacred Army – Святое воинство]
I studied French at MGIMO and learned a line from Edith Piaf: "Ça ne pouvait pas durer toujours" ("It couldn't last forever"). And from Marc Robin: "Ça ne peut pas durer comme ça" ("It can't go on like this").
At nineteen, I went to Majdanek and Treblinka and learned how to say "never again" in seven languages: never again, jamais plus, nie wieder, קיינמאל מער, nigdy więcej, לא עוד.
I studied the Jewish wise men and most of all fell in love with two bits of wisdom. Rabbi Hillel said: "If I am not for myself, who will be for me? If I am only for myself, what am I? And if not now, when?" And Rabbi Nachman said: "The whole world is a narrow bridge, and the main thing is not to be afraid at all."
Then I entered the School of Cultural Studies and learned a few more important lessons. Firstly, words have meaning. Secondly, you need to call a spade a spade. And finally: sapere aude, that is, have the courage to use your own mind.
It is ridiculous and absurd that our case is connected with schoolchildren. I taught children the humanities in English, worked as a nanny, dreamed of being a part of the 'Teacher for Russia' programme and going to a small town for two years to sow seeds of reason, kindness, and the eternal. But Russia – through the mouth of state public prosecutor Tryakin – considers that I involved minors in life-threatening actions. If I ever have children (and I will, because I remember the central commandment), I will hang a portrait of the procurator of Judea, Pontius Pilate, on their wall so that the children grow up to be decent people. The Procurator Pontius Pilate standing up and washing his hands – that's the kind of portrait it will be. Yes, it is now life-threatening to not be indifferent in one's thoughts and way of life. I don't know what to say about the essence of the charge. I am washing my hands.
But now it is the moment of truth. The time when the books are interpreted. Neither I nor my male and female friends can find a place that is away from horror and pain, but when I go down into the metro, I do not see tear-stained faces. I do not see tear-stained faces.
None of my favourite books – neither children's book nor book for adults – taught indifference, disinterest, or cowardice. Nowhere have I been taught these phrases:
we are insignificant
I'm a simple person, everything is not so clear, no one can be trusted, I'm not really interested in all this
I'm not into politics, this does not concern me, nothing depends on me, competent authorities will sort it our what could I do on my own
On the contrary, I know and love completely different words.
John Donne, via Hemingway, says:
No man is an island entire of itself; every man
is a piece of the continent, a part of the main;
if a clod be washed away by the sea, Europe
is the less, as well as if a promontory were, as
well as any manner of thy friends or of thine
own were; any man's death diminishes me,
because I am involved in mankind.
And therefore never send to know for whom
the bell tolls; it tolls for thee.
Mahmoud Darwish says:
As you prepare your breakfast, think of others
(do not forget the pigeon's food).
As you wage your wars, think of others
(do not forget those who seek peace).
As you pay your water bill, think of others
(those who are nursed by clouds).
As you return home, to your home, think of others
(do not forget the people of the camps).
As you sleep and count the stars, think of others
(those who have nowhere to sleep).
As you express yourself in metaphor, think of others
(those who have lost the right to speak).
As you think of others far away, think of yourself
(say: If only I were a candle in the dark).
Gennadii Golovaty says:
The blind cannot stare in anger, the dumb cannot cry out furiously. Those without arms cannot hold weapons, those without legs cannot take a step forward. But- the dumb can stare in anger, But – the blind can cry out furiously. But – those without legs can carry weapons. But – those without arms can take a step forward.
Some people, I know, are scared. They choose silence.
But Audre Lorde says: Your silence will not protect you. In the Moscow metro they say: Passengers are forbidden to travel on trains going to dead ends. And St. Petersburg's "Aquarium" add: this train is on fire. Lao Tzu says via Tarkovsky: The main thing is that they believe in themselves and become helpless, like children. Because weakness is great, and strength is nothing. When a person is born, he is weak and flexible, and when he dies, he is strong and hard. When a tree grows, it is tender and elastic, and when it is dry and hard, it dies. Brittleness and strength are companions of death. Weakness and flexibility express the freshness of existence. Therefore, what has become hard will not be victorious.
Remember that fear devours the soul. Remember the character in Kafka, who saw "how they set up a gallows in the prison yard, mistakenly thought it was for him, escaped from his cell in the night and hanged himself."
Be like children. Don't be afraid to ask (yourself and others) what is good and what is bad. Don't be afraid to say that the king has no clothes. Do not be afraid to cry out, to burst into tears. Repeat (to yourself and others): 2+2=4. Black is black. White is white. I am a man, I am strong and brave. I am a strong and brave woman. We are strong and brave people.
Freedom is a process, in the course of which you develop the habit of being insusceptible to becoming enslaved.
Listen to Alla's original here
Today, Our Words Must Be Strong Enough to Stop Bullets: The Closing Statements of the DOXA Four
By Jan Surman
April 11, 2022
LeftEast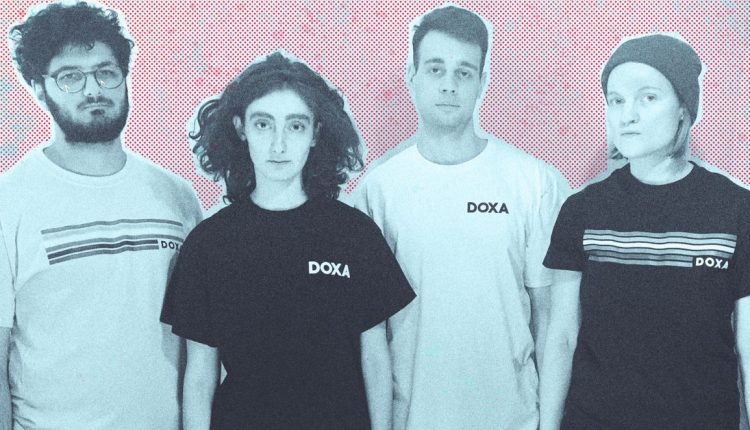 Here, as part of an international solidarity campaign, are the closing speeches the DOXA four, Armen Aramyan, Alla Gutnikova, Vladimir (Volodya) Metelkin, and Natalia Tyshkevich, gave on April 1, 2022. The prosecution has asked for two years of corrective labor (each day of their current house arrest should count as 1.5 days of corrective labor, meaning that effectively around half a year corrective labor should be served) and ban from administering websites for three years. On April 12, the judge Anastasia Tatarulia will deliver her verdict. For more on the case against DOXA, please also see this article published on LeftEast at the end of March.
.....
[Jan Surman is a historian of Central and Eastern Europe currently based at the Masaryk Institute and Archives of the Czech Academy of Science. Previously he worked at the Higher School of Economics in Moscow, where he also led an independent educational project Anti-University.]