A New Effort in San Francisco Aims To Debate Rent at the Bargaining Table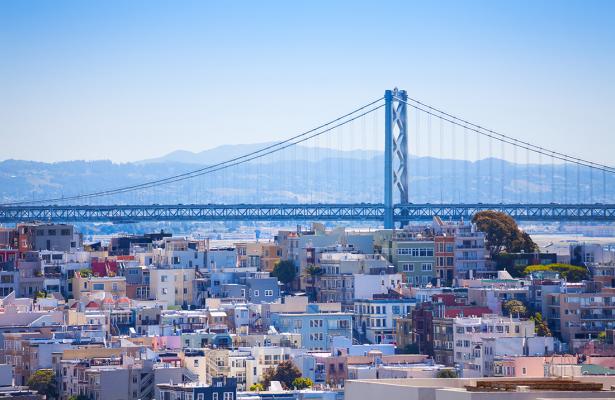 The Oakland Bay Bridge in San Francisco., Photo: SerrNovik.
On April 11, tenant representatives from the Veritas Tenants Association gathered at the mailbox at 150 Larkin St. across the lawn from San Francisco City Hall. They dropped 15 letters to their landlord, Veritas Investments, the largest landlord in San Francisco and the subject of lawsuits alleging tenant harassment, into the mailbox.
"We will show what it means to unionize the biggest private landlord in S.F.," tenant Madelyn McMillian said. "We will be bargaining on a full range of issues affecting our lives."
 
The letters presented majority approval of tenant associations in 15 Veritas buildings and asked that Veritas formally acknowledge the unions under a new San Francisco "Right to Organize" ordinance, which went into effect April 11. It requires landlords to recognize tenant associations in their buildings, attend meetings on request at least four times a year and bargain with tenant unions in good faith. Failing to comply with the ordinance will result in rent deductions. The ordinance was approved unanimously by the San Francisco Board of Supervisors on March 1 and signed into law by Mayor London Breed in March.

The law, the first of its kind in the country, solidifies the place of the booming American tenant union movement among labor victories of the 2020s. "It's a union at home," says Lenea Maibaum, a Veritas tenant and an organizer of the VTA who is also an employee of the San Francisco's Housing Rights Committee, which has played an active role in organizing the union. "We're all workers who can unionize at work. Now we can unionize at work and at home."
  
San Francisco Supervisor Aaron Peskin drafted the ordinance after facilitating negotiations between Veritas and its tenants over the cancellation of rent debt accrued in the pandemic. "As a baseline, we needed to build a framework for better communication between landlords and tenants, and especially as real estate consolidates," says Lee Hepner, an aide to Peskin.
After a five-month rent strike, the VTA announced that Veritas Investments had agreed in writing to waive rent increases in 2022, cancel rent debt for tenants and also to negotiate canceling  "shadow debt" — rent already paid to Veritas by tenants, but paid with debt taken out by credit lenders. That's unlike typical pandemic-accrued rent debt, which is money the landlord never received in the first place. Organizers count such an agreement from Veritas as one of their more significant achievements.
"Tenants organized behind what is usually an individual source of shame — debt — and leveraged it as a group to win concessions from Veritas that would not otherwise have been possible," says Brad Hirn of the Housing Rights Committee of San Francisco.
"The VTA is fully intending to bring rent to the table as a bargainable, negotiable subject, and we imagine that will get the most pushback," he says.
Veritas CEO Yat-Pang Au acquired his empire by purchasing much of the rent-controlled housing portfolio of Walter Lembi following the "Lembi Empire" collapse in the Great Recession. "Au patiently spent over a year talking to Lembi before closing a roughly $500 million deal for over 2,000 units," the San Francisco Business Times wrote in a profile of the Veritas CEO. After closing the deal, Au and Lembi continued to get dinner once a year, Au said. Like successor Au, Lembi was sued by tenants accusing him of acquiring rent-stabilized buildings and harassing tenants out of their units so they could be replaced with market rate renters.
 
One hundred and six tenants have sued Veritas for tenant harassment, alleging that the company harasses rent-stabilized tenants by driving buildings into severe disrepair, failing to address mold growth and asbestos issues, invading tenants' privacy and disrupting their lives through relentless construction. In 2019, Veritas expanded to Los Angeles, where tenants now complain of similar tactics.
Despite saying that it would cancel rent debt, Veritas has refused to provide legal documents confirming the agreement. With the right-to-organize ordinance in effect, the VTA can bring Veritas to the bargaining table in an official process.
"The problem is they say one thing and do another," says VTA organizer Maibaum. "We still haven't gotten it in legal writing, and they still haven't met and talked with us. That's why April 11 is such a big deal. We are trying to get them to come to the table and acknowledge [their agreement]."
The Veritas Tenant Association formed in 2017, when rent-stabilized tenants began visiting advocacy groups with complaints that Veritas was passing on construction costs to them. The loophole, called a passthrough, allows landlords to charge tenants for building repair or remodeling in the form of rent increases, and it was legal in San Francisco; in Veritas buildings, passthroughs could raise rent up to 10% for ostensibly rent-stabilized tenants. The VTA led a successful campaign to eliminate the law in San Francisco, but certain Veritas buildings remained outside of the new ordinance's scope, and Veritas continued its rent increases at those properties.
For months, the VTA fought the passthroughs before the San Francisco Rent Board, which oversees disputes between tenants and landlords, but the rent board consistently sided with Veritas, says Hirn.
Fed up with ineffective government agencies, the VTA organized a protest in the streets of San Francisco in 2019. Veritas ceased the passthroughs.
 
Toward the end of 2019, the VTA was on the verge of an even bigger victory. When Veritas put up 76 of its buildings for sale, the VTA demanded a say in who would buy them. San Francisco Supervisor Dean Preston stepped in to oversee the discussions, and even identified a buyer willing to negotiate with the union over the conditions of the sale. Then the pandemic began, and the buyer pulled out, according to Hirn.
Supervisor Aaron Peskin, who later drafted the Right to Organize ordinance, also oversaw negotiations between Veritas and the VTA.
"When Veritas was refusing to meet with their tenants, or saying there was no way they were going to meet with tenants if there was an advocate in the room, that's when we cried foul," says Peskin aide Lee Hepner. "And ultimately that did fuel language in the legislation that says you can't refuse to meet with tenants if they bring their own advocates."
Because the right-to-organize ordinance is the first in the country, it's unclear to organizers how Veritas will respond. Will it take up union-busting tactics deployed by corporations against workers? Will it refuse to recognize the legitimacy of a union of renters?
When asked by Capital & Main if Veritas would bargain with the VTA, a Veritas spokesperson quoted San Francisco Apartment Association official Charley Goss in the Wall Street Journal: "We're wary that the legislation will bring some misconceptions that things are on the table and up for negotiation that aren't," Goss said, citing rent forgiveness in particular as "not something that's productive."
 
Copyright 2022 Capital & Main
Jack Ross is a writer based in Los Angeles.