Mayor Bowser Requests D.C. National Guard To Support Migrants Being Bused Into Union Station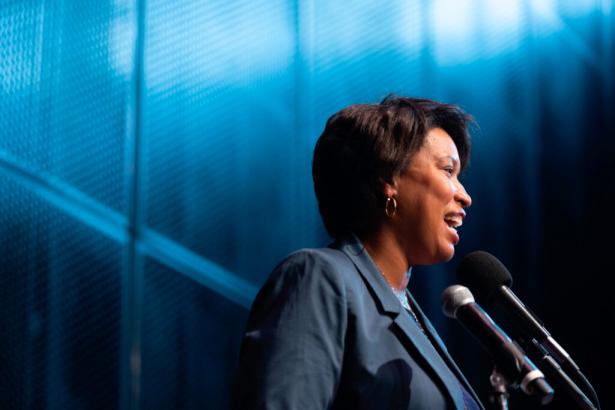 Mayor Bowser wants to deploy the D.C. National Guard to support the influx of migrants to the city,Tyrone Turner / DCist/WAMU
Mayor Muriel Bowser announced Thursday that she requested the D.C. National Guard to support migrants who are being been bused into D.C. by Republican governors, after receiving criticism about her lackluster response so far.
"We continue to be very focused on having the federal government do its part and take the lead in addressing what we see as a growing humanitarian crisis with people who are seeking asylum," said Bowser at a press conference on Thursday.
Bowser had to make the request to the U.S. Secretary of the Army to deploy the city's National Guard because D.C. is not a state.

In a letter dated July 19 to the Office of the Secretary of Defense, the Bowser administration requested 150 national guardsmen per day to assist the international nonprofit SAMU First Response, which receives federal dollars and supports the thousands of migrants bused to Union Station alongside local volunteers. The Bowser administration also requested the use of a  federal location in the region where SAMU could offer immediate assistance to migrants, as well as transportation to that facility. Currently, nonprofit staff and volunteers meet one-on-one with migrants to go over their needs at Union Station's food court.
"Immigration is a federal issue, one that needs to be addressed by the federal government with federal resources," said D.C. Homeland Security and Emergency Management Agency Director, Christopher Rodriguez, in the letter to the Office of the Secretary of Defense on behalf of the mayor.
The mayor has so far not received a response to her administration's letter. The federal defense department did not immediately respond to request for comment.
Volunteers with the Migrant Solidarity Mutual Aid Network have welcomed and supported migrants for months, and have repeatedly said their current setup is unsustainable, especially because SAMU does not provide long-term support to the growing number of asylum seekers who decide to stay indefinitely in D.C. On Thursday, the group criticized the mayor's decision to request the National Guard. "Instead of recognizing that the DC community has responded beautifully in recent weeks to show that a community response is possible, she's choosing to further traumatize people arriving to DC after fleeing for their lives with a militarized response," the group said in a statement to DCist/WAMU. "It's despicable, and part of the ongoing militarization of humanitarian aid."
Amy Fischer, who works as the advocacy director for Amnesty International but volunteers her time with the Migrant Solidarity Mutual Aid Network, suggested that the D.C. government apply for the same federal grant that SAMU did. She says San Antonio used these dollars to fund a local humanitarian effort for welcoming migrants. The Washington Post's Editorial Board also recommended something to this effect.
Notably, a couple from Venezuela, seeking asylum in the U.S. told DCist/WAMU on Saturday that they preferred D.C. to Texas because they've received a warmer welcome from local volunteers here, and not military. They arrived to Union Station on Friday and had been staying at a volunteer's house and breaking bread with them. "It was tougher because in the border there are military, so they treat you like military," Ronald said of his experience in Texas.
Bowser says this is a federal issue because Arizona Gov. Doug Ducey and Texas Gov. Greg Abbott are busing migrants to the nation's capital to protest President Joe Biden's immigration policies. The governors said the federal government should be responsible for supporting people seeking asylum in the U.S. because their states do not have the bandwidth to do so. Ducey tweeted on Thursday that he too deployed their National Guard in response to influx of migrants. "Arizona has called on the Biden admin since April 2021 to declare a national emergency and deploy the powers of the federal government. No response. So we deployed the National Guard on our own, with state resources."
Local volunteers, who have welcomed new arrivals with food and shelter for months, started drawing comparisons between the response from Republican governors and the D.C. mayor because they similarly punt towards the Biden administration. "Washingtonians, as people, are here, present, but their government is not here," Isaias Guerrero, told DCist/WAMU over the weekend, as he welcomed and offered support to 70 migrants at Union Station who arrived Saturday.
"We don't see anybody from Mayor Bowser's office here. We don't see anybody from the Office of Latino Affairs here to say 'Welcome, how can we support you' even if it's with like waters," he continued. "People just want to wash their hands because this is seen as a hot potato. But what it should be seen as is an opportunity for us to actually create a model of being welcoming."
The Migrant Solidarity Mutual Aid Network has been sending volunteers like Guerrero  to Union Station to greet migrants since April, when Abbott first started busing migrans to D.C. The grassroots network is led by Black and brown people, as well as immigrants, and represents over 20 local, social justice groups. Several nonprofits, including Catholic Charities and CARECEN, joined volunteers over the last several months in welcoming migrants.
Catholic Charities and CARECEN scaled back their support for migrants when SAMU First Response received a federal grant in June to support migrants with transportation, a 50-bed  emergency shelter, and meals. Bowser has said she worked with the federal government to secure the FEMA grant, which SAMU confirmed to DCist/WAMU. "But our ongoing response was not sustainable from a staffing and resource perspective, given our many other programs and services," said president and CEO of Catholic Charities, John J. Enzler, in a July 15 statement. "We strongly encouraged local and federal government to step up."
SAMU also says its small team of 20-25 workers cannot keep up with the number of migrants coming into the city, or the frequency at which they arrive. Abbott alone has sent over 5,400 migrants into D.C.  Buses arrive six days a week at all hours of the day. "It is not the expectation of FEMA that we take care of everybody — it is to provide support to as many [people we can]," SAMU's director of operations, Tatiana Laborde, told DCist/WAMU. This is partly why the nonprofit has been splitting labor and resources with the Migrant Solidarity Mutual Aid Network.
Locals arrange transportation for migrants leaving the city after getting dropped off at Union Station, buying bus and airplane tickets, and sheltering those who decide to stay local indefinitely. While most people leave for other cities and states, volunteers and nonprofit staff say 10-15% of migrants decide to settle in the region. Many of these people have no one to sponsor or support them, they say, and they are not allowed to legally work until their immigration papers are squared away.
Laborde said SAMU does not offer resettlement services to migrants, because that's not what the nonprofit's grant enables workers to do. One migrant couple that DCist/WAMU met in May, Caro and Alejo, are still staying with a volunteer in her 750-square-foot, two-bedroom apartment. The Bowser administration has not yet appeared to publicly acknowledge the increasing number of migrants staying locally, while the Montgomery County Health Department said last Friday they've helped dozens of migrants who settled in the region.
Amanda Michelle Gomez is interested in covering the health and well-being of local residents, as well as the working conditions they face on a daily basis. As a general assignment reporter, she reports on all that and much more. Amanda has written and reported on a variety of topics, from housing to homicides, having worked at Kaiser Health News and Washington City Paper. When she is not working, Amanda is probably practicing yoga or biking around. She is originally from East Los Angeles, so is always in search of the best tacos.
DCist is the unofficial homepage of the District. We cover what matters to Washingtonians, whether that's the latest piece of legislation before the D.C. Council or the best thing to order at the new restaurant around the corner.  DCist is supported by a community of members … readers just like you. So if you love the local news and stories you find here, don't let it disappear!  We depend on your support...DONATE