Eric Adams Can't Be Allowed To Scrap New York's Right To Shelter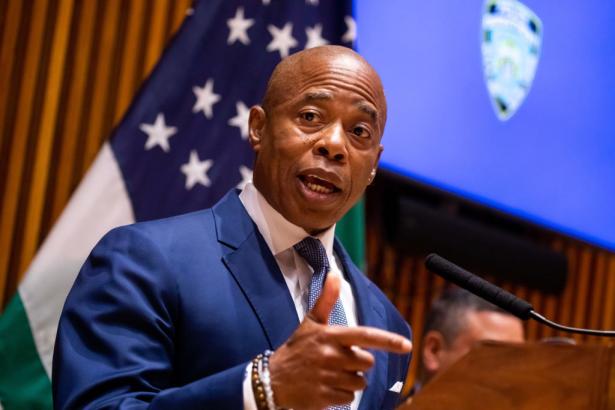 Mayor Eric Adams speaks during a news conference in New York on August 3, 2022.,Michael Nagle / Bloomberg via Getty Images
New York City mayor Eric Adams ignited a firestorm last week when, in the wake of the arrival of thousands of migrants to the city bused in by Republican governor Greg Abbott, he called for New York's shelter policies — including its "right to shelter" that established a legal right for all New Yorkers to have a bed to sleep in — to be "reassessed." His statement followed a report that his officials failed to offer shelter beds to at least sixty individuals on a single night.
What was meant by a "reassessment" remains unclear. At a press conference on September 15, the city's chief attorney stated that the influx of migrants and refugees from Central and South America required reassessing not the right to shelter, but the specific policies and practices the city has in place to comply with that right. And Adams himself seems to have backed off his initial call. Still, it appears the city's legal right to shelter may be in jeopardy.
Adams's initial announcement marked the latest in his continuation of right-leaning municipal policies, coming after months of vicious sweeps targeting homeless people in public places, forced closures of hotels offering private rooms to disabled homeless individuals, and austerity measures that have left housing and homelessness agencies without adequate staffing to find people stable housing.
Adams's policies are rolling back critical wins established during the 2020 Black Lives Matter uprisings. The aim is to narrow the right to shelter, paired with increased enforcement of "broken windows"–style policing sweep operations, reestablishing the primacy of the police, and policing in New Yorkers' everyday life.
Adams's first year in office is characterized by putting new spin on old ideas. Former New York City mayor Bill de Blasio imposed broken windows policing relentlessly prior to the 2020 uprisings, despite its widespread discrediting and association with abusive policing. And there is nothing new about denying shelter to homeless individuals and families: de Blasio rejected families applying for shelter space at unprecedented rates. What we are seeing is not fundamentally new — but there are some changes in the direction of eroding fundamental housing rights that matter.
Creating a Crisis
The Adams administration's initial comments about a right to shelter were made as hundreds of people seeking asylum are now arriving each week on buses from Texas at the direction of Governor Greg Abbott, a rabidly right-wing politician seeking political opportunity in his shuttling of migrants — without their informed consent — to blue states and cities in order to score points with his base as he runs a November reelection. In the spring of 2022, he cruelly began transporting migrants from Texas to Washington, DC.
Abbott's heartless actions have no doubt aided in stretching the existing resources of New York's shelter systems, though the Homeless Services shelters are still far below their 2019 peak. While Mayor Adams has coordinated some resources for newly arriving asylum seekers, many find themselves stuck in a shelter maze, given moldy food and little direction or support. Or much worse: on Sunday a woman who had been separated from her husband at the border committed suicide in a Queens shelter.
But rather than meet Abbott's vicious stunt with adequate resources and prioritizing strategies focused on moving people into housing to help open capacity, Adams has responded to the influx by targeting a key right for the homeless.
As officials with New York's Department of Homeless Services (DHS) sought to manage increasing numbers of people showing up for aid, in late July, they tried to hide that multiple families were being left to sleep overnight on the floor of a city intake center. Unexpectedly, on July 21, Mayor Adams held a press conference condemning the inhumane practices of Texas's and Arizona's governors (though to date there is no evidence Arizona's government sent people to New York). Homeless Services officials continued to scramble for beds as the politically sensitive DHS shelter census was rapidly rising.
Homeless advocates argued it was unlikely that migrants made up the majority of new entrants to the city shelters. Politico reported Sunday that even among the eleven thousand migrants that have entered the New York City shelter system since May, only twenty-five hundred of them have come from buses sent by Abbott.
A growing eviction crisis following the lifting of an eviction moratorium in January 2022 has been looming, and there are routine increases in families applying for shelter each summer. For months, the Adams administration had been criticized for failing to rehouse homeless people with unnecessary bureaucratic obstacles to housing aid and a lack of commitment to confronting pervasive discrimination by landlords and brokers against those with rental vouchers. The municipal "right to counsel," which guarantees tenants have access to an attorney during eviction proceedings, is faltering with the increased volume of cases in housing court.
Some argued that Adams's choice in July to focus on asylum seekers as the cause of the homelessness crisis functioned as a way to divert attention from his administration's failure to meet their legal obligations, while amounting to a dare to Governor Abbott: send more migrants to New York. The decision had the impact of catapulting Adams — who is currently courting the Democratic National Committee to hold their next convention in New York City — into a political fight on the national stage with one of the country's most powerful right-wing governors.
Two months later, the Adams administration's plans to tinker with the right to shelter have raised questions about their strategic use of a crisis for regressive policy objectives. Last week, they announced a task force to examine flexibility in complying with the right to shelter.
Everything Old Is New Again
Most of what the Adams administration has done about homelessness during its eight months in office is not new. Some things, however, are different, including the rhetoric used by Adams and his officials to discuss homelessness, the expanded role of police in sweeps, and the renewed focus on tightening sheltering policy.
New York's right to shelter dates back to a 1981 consent decree, which affirmed that the New York State constitution required that the government provide shelter for destitute individuals. Separate litigation required that families deemed "eligible" be temporarily housed. Both mayors Rudy Giuliani and Michael Bloomberg moved to narrow or eliminate the right.
While former mayor de Blasio did not move to end the right to shelter, he did make it much harder for families to get approved after assessments and sought to impose additional standards of "personal responsibility" on homeless individuals. By the end of the de Blasio years, families with children arriving at the Homeless Services intake center were being rejected at historically unprecedented rates, forcing three out of four applicant families to reapply. Others exited the system entirely after their applications were denied following months of invasive investigative processes.
Police sweeps have also been a part of homeless policy in New York dating back to at least Mayor Ed Koch in the early 1980s. But during de Blasio's years in office, sweeps increased every year, reaching more than six thousand in 2021. The Department of Social Services arranged and coordinated sweeps, their outreach teams conducted surveillance of "encampments" and homeless individuals for the city, and they flanked the New York Police Department (NYPD) and Department of Sanitation teams who tossed homeless people's belongings during sweeps. As a result, some homeless people came to refer to them simply as the "outreach police," which decimated any chance of a trusting relationship.
Early on, Mayor Adams said his plans for unsheltered homelessness would mirror those of previous administrations' but with renewed emphasis on the role of the police. His "Subway Safety Plan" called for heightened police enforcement of petty crimes, creating an "omnipresence" of police in the city train system where many unsheltered homeless people take refuge. Now, homeless people would either accept shelter or find themselves evicted from the subway cars. There would be zero tolerance for stretching out on the trains, and people would be forced off at "end of line" stops across the system.
In the future, there would be more specialized beds, according to the plan. But for now, people needed to leave the trains. They could accept a traditional shelter bed or they could disappear. Staying wasn't an option.
Meanwhile, in March 2022, Adams launched an above-ground encampment clearance initiative. Following the legacy of de Blasio's sweep blitz of 2021, teams of sanitation crews, homeless outreach workers, and cops dismantled encampments and forced people to move. Since then, more than fourteen hundred sweeps have been conducted; less than one hundred people caught in the sweeps have accepted shelter.
In August, Mayor Adams formally put the NYPD in charge of his encampment sweeps, while keeping municipal outreach teams as a key part of the process of moving homeless people from sight. Adams's decision to place the NYPD in charge of sweeps is likely only to increase the use of criminality to move people out of sight.
The impacts of the Subway Safety Initiative are also becoming clear. According to an administration report, summonses for "quality of life" issues — the core of broken windows enforcement — are trending upward toward where they were in pre-pandemic years under de Blasio, increasing by nearly ten thousand since last fiscal year, and transit summonses have increased by 68 percent since fiscal year 2021. In a bewildering August 30 announcement, Mayor Adams declared he had won his battle to end homelessness in the subways, though many homeless people, finding the municipal shelters too dangerous, still seek shelter in the trains.
Fighting Back
Since his sweep initiative was announced, Mayor Adams has faced significant resistance, primarily led by homeless people working alongside mutual aid groups in a number of high-profile defense efforts against the sweeps in Lower Manhattan earlier this year. Similarly, mutual aid groups have been key in both supporting migrants and meeting their immediate needs, as well as pushing back against the mayor's response.
If Adams continues moving to loosen his obligations under the right to shelter, it's plausible that a purely legal strategy to defend that right will meet its limits. This is particularly frightening because there is not a grassroots effort to maintain the right to shelter — an absence which the Adams administration is likely aware of. Up to this point, only the political right has bluntly called for ending the right to shelter entirely, but it's conceivable that a wider range of New Yorkers will find sympathy with the demand.
Many have, correctly, argued that we need a "right to housing." Such a right requires housing's de-commodification and an end to evictions entirely, which is a question of organizing a mass movement and developing working-class power to those ends. The "right to shelter," however, is a technical legal right overseen by the courts and upheld by lawyers, without a recent history of grassroots organizing behind it.
The most serious indictments of New York's shelter system are the testimonies of people who have sought refuge in it. Municipal shelters are often brutal places that function to warehouse poor people, treating them as disposable rather than supporting them to quickly get out of homelessness and into housing. For decades, homeless people have pointed out the harms they face in the shelters and have organized for New York City to provide long-term housing. In New York City, anti-shelter efforts have typically been the domain of "not in my backyard" (NIMBY) groups, local tabloids, and right-wing politicians.
Still, given that the right to shelter lacks a grassroots base and the specifics of the moment, it is vulnerable to attacks from the political right, NIMBY groups, and others. While ending the right to shelter would not produce the more generous right to housing, doing so would achieve a long-sought neoliberal policy objective of reducing the safety net. It would also throw tens of thousands of people onto the streets.
Rather than bluntly fight to end the right to shelter entirely, at least for now, it is more likely that the Adams administration will move to introduce new limits, and use bureaucratic tools that make it harder and more painful to enter or stay in shelter. Former administrations have paved the way for this approach — from Mayor Bloomberg's punishing Next Step program, to Mayor de Blasio's efforts to mandate savings accounts.
It is clear that the Adams administration is moving the needle toward cuts, shifting the conversation to legitimize and normalize providing less support to those with the fewest resources. With an end to the right to shelter, the responsibility of someone's homelessness will fall squarely on the individual or family with nowhere to go. That would be a devastating loss, which would wreak devastation on tens of thousands of people and weaken the floor from which left movements can struggle. New York's right to shelter must be defended.
======
Craig Hughes is a researcher and social service worker based in New York City.