labor
Yale Agrees to First Graduate Union Election in Three Decades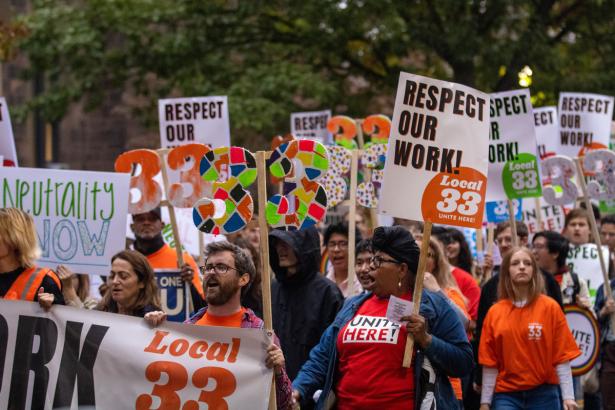 Gavin Guerrette, Yale Daily News
Yale will recognize a union election for graduate workers for the first time in history, marking another significant step forward in Local 33's three decades of organizing efforts.
The move, announced on Oct. 28 by University Provost Scott Strobel, came days after Local 33 leaders submitted an election petition to the National Labor Relations Board in Hartford. The petition was backed by authorization cards signed by over 75 percent of the graduate and professional school workers with full time or part-time jobs. In accordance with federal labor law, Yale was granted two weeks to respond to the petition and begin negotiating election parameters with Local 33 and the NLRB. 
"The petition serves as a formal request for a union election that will be conducted and overseen by the NLRB Regional Director to ensure a fair, inclusive, and democratic election," Strobel wrote in his statement. "Yale will honor this request for a secret ballot election."

In this election, all Graduate School and professional school full time and regular part-time workers will have the chance to vote. Unionization will be determined by a simple majority vote, and Local 33 has already received election authorization support from at least 3,000 of the 4,000 graduate and professional school employees who would form a bargaining unit, according to Local 33 organizer Abigail Fields GRD '24.
The Graduate School has emphasized that graduate workers must approach the union question with careful and extensive consideration. GSAS Dean Lynn Cooley reiterated to the News that "the results of that election will determine the next steps and be binding on all eligible students, whether or not they choose to vote."
Updates on election agreements can be found on the NLRB website. If workers vote in favor of unionization, it is unclear how long negotiations will take. 
"It's nice to see the Yale administration finally acknowledge us as workers with a right to have a union election, something that they have not done until recently. The National Labor Relations Board did that six years ago, and we have known for a long time that our work makes Yale work," Fields wrote in a statement to the News. "However, it's disappointing to see university leaders pass up the opportunity to make a real commitment to leave union-busting tactics in the past."
Strobel's statement, aside from the landmark announcement, drew such criticism over perceived "union-busting" language. 
In response to recent calls for the University's neutrality on the union question, Strobel wrote that neutrality "could be understood" to mean barring faculty members from expressing their opinions to the public and the graduate students they supervise, which Yale opposes. The statement did not address Local 33's specific definition of neutrality, which they previously argued would entail an end to explicit anti-union sentiments shared in the past by President Peter Salovey and the University, as well as an end to the alleged discouragement of "yes" votes through communications with the student body. 
In response, Fields shared an Economic Policy Institute report on employers' common anti-union intimidation tactics with the News. The report repeatedly references a national survey naming "management pressure" as the top reason employees vote against unionization, often prompted by the threat of job losses and employers encouraging supervisors to have one-on-one conversations about unionization with their subordinates. 
Strobel's statement encouraged graduates to "educate" themselves through communication with "peers, faculty and leaders of [their] school" before they "vote [their] conscience." 
Strobel's statement comes on the heels of widespread debate online over faculty's rights to express opposition to graduate worker unions, prompted by a series of critical tweets by Nicholas Christakis, Sterling Professor of Social and Natural Science. After Christakis speculated that unionization could result in faculty hiring postdocs instead of graduate workers and force PhD students to pay tuition, many academics and students accused him of making threats and resorting to intimidation.
After receiving thousands of comments in backlash, Christakis amended the tweets' settings so only people he follows and/or those he mentioned in the thread could reply. 
He also added to the thread over the following hour, explaining that he was "not anti-union as an omnibus political or philosophical stance," but rather believed that "being a grad *student* is a different sort of thing." He refuted allegations that he was making threats as an employer, most notably after labor economist Aaron Sojourner '95 wrote that he hoped the NLRB would investigate Christakis' "evident attempt to coerce [his] subordinates." 
Local 33 also responded to Christakis on Twitter, naming an independent grievance procedure toward employers as one reason to unionize. 
Graduate student unionization efforts have colored the school's history since the early 1990s. 
In early 2017, Local 33 held individual elections across nine departments in an NLRB-approved "microunit" approach. Eight departments voted yes, but the Graduate School legally challenged their elections, arguing that it was inappropriate for select departments to unionize while others did not.  
Soon after, the union withdrew its petition for election authorization, citing the new Trump-appointed NLRB's "hostility to workers' rights" and its reversal of the previous board's approval of microunits. The Biden-appointed NLRB's 2021 affirmation of the board's 2016 ruling, which concluded that graduate workers at private institutions have the right to organize, has given the union renewed avenues toward a school-wide election and ultimate recognition, according to Local 33 organizers.
According to the NLRB website, Yale will be represented by Proskauer Rose LLP. Local 33 will be represented by McCracken, Stemerman & Holsberry LLP throughout the election agreement process.