tv
I Loved Seeing Black Characters in Wednesday — But They Deserved Better
PHOTO: COURTESY OF NETFLIX.
Wednesday Addams, like so many other characters from the cinematic past, has been reimagined. Netflix's new original series, Wednesday, debuted last week and the eight-episode saga follows the only daughter in the Addams Family (created by Charles Addams in 1938) as she navigates Nevermore Academy and the secrets that come with it. While burgeoning scream queen Jenna Ortega sports Wednesday's signature pigtails and dance moves, the character now has a Kubrick stare and her own twisted storyline. 
The 1991 fantasy comedy The Addams Family and its 1993 sequel Addams Family Values (with Christina Ricci as Wednesday) were a bit before my time so my knowledge of the Addams Family universe consists of ABC Family's 30-second movie marathon promos and Instagram nostalgia accounts, I didn't know what to expect going into Netflix's reimagining. However, after a Thanksgiving break binge-watch, the show exceeded my expectations, leaving  me, and so many other viewers (it has quickly become the platform's most-watched series) hungry for more.
This thirst for more led me to social media to partake in the discourse surrounding the show. While my TikTok feed was filled with comparisons of Wednesday throughout the years and the cast's behind-the-scenes moments, people were also sharing valid critiques and hopes for the show's future — specifically when it comes to the show's Black characters. TikTok user @aiyanaishmael recently went viral for a short video about Bianca Barclay, played by Joy Sunday. The video was narrated by the popular TikTok sound, "love a Black woman from infinity to infinity." The video is sitting at 44.6K likes and it's proof that fans love the character, but the comments indicate that viewers want more Bianca content in the future such as a comment made by @queermessiah saying, "Her and her mom better be the main storyline of s2."

"
As a Black woman and a fan of supernatural stories, I was excited to see Black representation in Wednesday, but I was also wary of the way these Black characters would be perceived.
"
We first meet Bianca while Wednesday's roommate, Enid Sinclair (played by Emma Myers), is giving a Clueless-esque introduction to Nevermore's social scene. Enid informs Wednesday that Bianca is a siren and "the closest thing Nevermore has to royalty" and sets her up to be the show's resident mean girl. It isn't until Wednesday and Bianca face off in a fencing duel that we see that Bianca may not necessarily be the main villain of the show, but it's quickly established that she's a thorn in Wednesday's side. This scene insists that Bianca needs to be knocked down a peg, as Wednesday calls her a "self-appointed queen bee," and states that, "Interesting thing about bees: pull out their stingers, they drop dead."
Bianca wins their first battle, but Wednesday succeeds in somewhat of a coup d'état after she defeats Bianca in Nevermore's annual Poe Cup. We are soon given Bianca's backstory, which began to paint her as a more complex character. Bianca has a hard time trusting people and their intentions, and she's dealing with a troubled past. Her real name is Brandy Jane, and she "sirened" her way to Nevermore in hopes of seeking refuge from her mother's cult-like business. Her past issues resurface when her mother surprises her with a visit during parent's weekend.
In the end, Bianca ends up helping Wednesday, and proves that she was actually meant to serve as a perfect match for the titular character.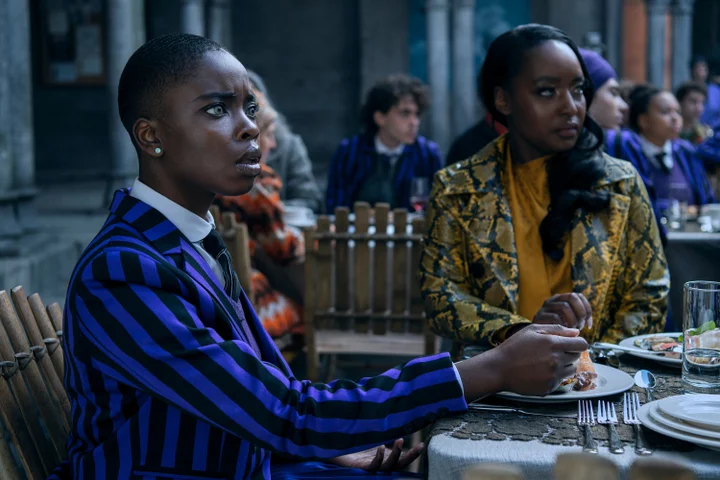 PHOTO: COURTESY OF NETFLIX.
We are in a renaissance of reboots. These reimaginings can elicit dueling emotions: excitement or trepidation. On one hand, revisiting the past can serve as an opportunity to present a classic story in a more imaginative way. In the case of Wednesday, for example, the Addams are a Latine family, and we get to see Wednesday as a fully-formed individual, as opposed to solely being reduced to the part she plays within her family.
These spinoffs have often taken the opportunity to include more diverse characters in their storylines. As a Black woman and a fan of supernatural stories, I was excited to see Black representation in Wednesday, but I was also wary of the way these Black characters would be perceived. While Bianca's character has generally been viewed as a favorite among fans, it makes me a bit apprehensive that these creators would be responsible for expanding Bianca's storyline (yes, I'm hoping for a full deep dive into her mother's "cult.")
Bianca's characterization reminds me of Monet de Haan (played Savannah Smith) from the first season of the Gossip Girl reboot. As someone who grew up in the era of 2008's The Clique, it satisfies my inner child to see Black women as queen bees. Bianca isn't nearly as nasty as Monet, but both characters have mothers that play into the way they navigate the world, while also constantly working to maintain their place at the top. While season 2 of Gossip Girl recently premiered, and we're starting to see more of why Monet is the way that she is, I can't 100% put my faith in the fact that Bianca's story will be fully explored in future installments.
Wednesday was created by Alfred Gough and Miles Millar, co-directed and executive produced by Tim Burton (he also directed four of the eight episodes). The creators have been criticized for their portrayal of not only Bianca, but of other Black characters such as Lucas Walker, (Iman Marson). Critics have taken issue with the fact that both characters are portrayed as "bullies." There have also been complaints raised against  the fact that Lucas' father, Mayor Noble Walker, (played by Tommie Earl Jenkins), owns Pilgrim World (a theme park that is exactly as it sounds — it's more than a little strange to have a Black man own an homage to murderous colonizers). While these critiques are valid, they offer a primitive review of the show and its characters (both Bianca and Lucas help Wednesday in the end). The concerns over the show's portrayal of Black characters have brought up past comments by Burton about the inclusion of Black characters in his work. 
"
The Black characters in Wednesday don't feel like there was any intention behind their Blackness.... they feel like they weren't written to be Black, just to check a diversity box so Burton wouldn't have to deal with questions about the show's lack of it. 
"
In a 2016 interview with Bustle, Burton defended the fact that his past projects have been extremely white by saying, "things either call for things, or they don't,' when asked about diversity. The quote gets so much worse. "I remember back when I was a child watching The Brady Bunch and they started to get all politically correct, like, OK, let's have an Asian child and a black," he said. "I used to get more offended by that than just — I grew up watching blaxploitation movies, right? And I said, that's great. I didn't go like, OK, there should be more white people in these movies." Burton's quotes were referencing his film Miss Peregrine's Home for Peculiar Children in which the sole Black character, played by Samuel L. Jackson, is also a villain. The quotes give us a glimpse into the way Burton has approached Black characters in the past – that it's offensive to him to include nonwhite people in his stories and that he apparently thinks his movies are the white equivalent of the Blaxploitation genre. It's not surprising then that the Black characters in Wednesday don't feel like there was any intention behind their Blackness. As much as I loved seeing them included, they feel like they weren't written to be Black, just to check a diversity box so Burton wouldn't have to deal with questions about the show's lack of it. 
There's nuance to the discussion surrounding Blackness in Wednesday because for so long, having significant Black characters in supernatural stories was all I ever wanted to see. My earliest introduction to the world of the supernatural was not through a telekinetic prom queen covered in pig's blood, nor was it from a teenager that slayed vampires. Believe it or not, my earliest segue into supernatural lore was through Raven Baxter (played by Raven-Symoné) one of Disney Channel's famed fashionistas and the main character of That's So Raven. While I would get my weekly dose of Raven and her comical navigation of the world as a Black girl with visions, I sought after a world where these ideas were at the forefront, with minimal comedic undertones. This led me to the classrooms of Hogwarts and the homes on Fear Street. While these gave me my supernatural and thrilling fix, I rarely saw myself in any of the main characters, even if Hermione was known to have "bushy hair." When I do get to see myself in Black supernatural characters, they are still leaving something to be desired. 
I was introduced to Rochelle (played by Rachel True) in The Craft years after Raven, but even then she's seen as a force that turned against the film's main character, Sarah. It can be argued that her storyline, while groundbreaking at the time, the movie still does her dirty. We know that Rochelle is dealing with a racist mean girl named Laura (played by Christine Taylor), and that after casting a revenge spell, her hair starts to fall out. We see Laura approach Rochelle at a party after losing her hair, and it is somewhat implied that she may offer her an apology, however that's about where Rochelle's story ends. Rochelle and Bianca are from different generations and yet, they are both Black girls in supernatural worlds who deserve more than what we got… so far.
Despite her slightly disappointing story in season 1, Bianca serves as a beacon of hope for Black girls in supernatural stories. There's still time to get it right (I have high hopes for the upcoming film Darby and the Dead about a Black girl who can see ghosts). While it hasn't been confirmed that Wednesday will return for a second season, I hope that the fan reaction shows creators that there is an intense demand for thoughtful and thorough storylines for Black characters in supernatural stories. Dare I say there's demand for full installments featuring them as main and titular characters, and not solely as forces that work against the protagonists while we wait with bated breath for the promise of a season 2.
UNPACKING THE BLACK CHARACTERS IN WEDNESDAY ON NETFLIX
ORIGINALLY PUBLISHED ON DECEMBER 2, 2022, 7:03 AM
UNBOTHERED • ENTERTAINMENT • THE LATEST • TV SHOWS
PHOTO: COURTESY OF NETFLIX.