'This Is Big': Oregon Gov. Commutes Death Sentences, Dismantles State Execution Chamber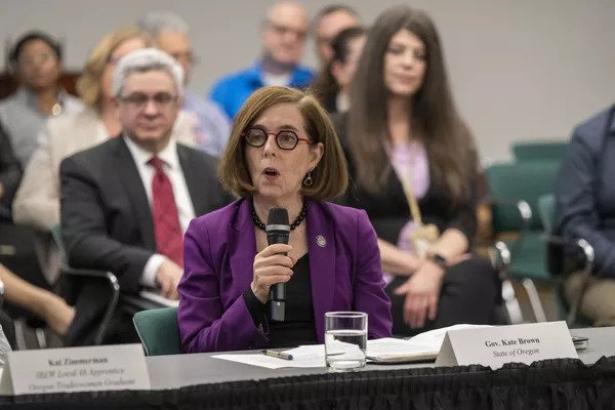 Oregon Gov. Kate Brown, US Department of Labor
Human rights advocates are applauding Oregon Gov. Kate Brown, a Democrat, after she announced Tuesday that she would commute the sentences of all 17 of the state's death row inmates and shut down its execution chamber.
Brown told Oregon Public Broadcasting that she believes the death penalty is "both dysfunctional and immoral."
"Justice is not advanced by taking a life, and the state should not be in the business of executing people—even if a terrible crime placed them in prison," said the governor, who is term-limited and will be replaced by Gov.-elect Tina Kotek, also a Democrat who opposes capital punishment, next month.

The sentences of the 17 people on death row will be commuted to life prison sentences without the possibility of parole.
Maurice Chammah of The Marshall Project praised Brown for taking decisive action to end a practice she opposes and compared her announcement to less far-reaching decisions made by other Democrats in recent years.
Previously, Brown granted clemency to nearly 1,000 people during the coronavirus pandemic and allowed dozens of people convicted of crimes they committed when they were under the age of 18 to apply for clemency.
Oregon officials have taken several steps in recent years to end the use of capital punishment in the state. No one has been executed by the state since 1997, and Brown has continued a moratorium on executions that was established in 2011 by then-Gov. John Kitzhaber.
State legislators narrowed the definition of what constitutes a capital offense in 2019, and in 2020 the Oregon Department of Corrections began housing people with death sentences in special maximum security housing units and among the general prison population instead of on death row.
A public referendum is needed to remove capital punishment from the state Constitution.
Bobbin Singh of the Oregon Justice Resource Center noted that death sentences have been overturned in the state due to new evidence being uncovered.
"By all objective metrics, the death penalty is a failed policy," said Singh. "It risks executing innocent people and Oregon is not immune to the causes of wrongful conviction seen around the country."
"Oregon enters a new era today where the values that make our state better come to the forefront and we leave behind the death penalty of a cruel past," he added.
Julia Conley is a staff writer for Common Dreams.