Democracy Is on the Line in Peru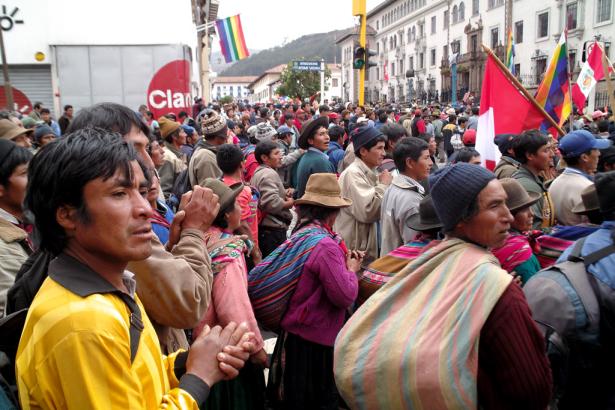 Protest in Cusco, Peru,Photo by illuminaut
With all eyes on the fight for democratic government in Brazil, with its obvious parallels to events in the United States, it's easy to miss another equally alarming struggle in the region. Peru has been shaken by protests and violence since the Peruvian Congress removed President Pedro Castillo from office on December 7 following his own attempt to shutter Congress. As of this writing, 55 people have died so far in the unrest, with 18 killed in the town of Juliaca on January 9 alone. 
The deepening crisis is a cautionary tale about the risks of democratic governments' failure to do their jobs and deliver for ordinary people.
Since its independence from Spain in 1821, Peru has been riven by severe economic inequality and systemic racism. A third of the population lives in Lima, where the bulk of government services and wealth are concentrated, while rural areas and Indigenous populations in general have significantly higher rates of extreme poverty and social exclusion. Inequality, including the lack of access to health services in many rural areas, contributed to Peru experiencing the world's highest reported death rate from COVID-19. 

Poverty has shot up in the last three years, including in rural areas where it was already most acute. Food insecurity has doubled since the start of the pandemic. The UN Food and Agriculture Organization reported in 2022 that more than half of Peruvians are food insecure — the highest rate in South America. 
Meanwhile, Peru has experienced unrelenting political turmoil. In part, that's due to corruption scandals touching nearly every president in the last decade. But it's also because so many members of Congress seem more interested in horse-trading, partisan gains, and pursuing petty personal agendas — such as an unpopular law weakening the university accreditation system — than in addressing the country's problems.
Since Keiko Fujimori, the daughter of the autocratic and now imprisoned former President Alberto Fujimori, lost the 2016 presidential election, her party and others aligned with it in Congress have repeatedly sought to undermine whoever held the presidency. In 2020, they successfully ousted President Martin Vizcarra on questionable legal grounds. Several members of Congress, as well as Keiko Fujimori, are themselves under criminal investigation for various offenses. In a January poll, 88 percent of Peruvians disapproved of Congress's performance.
The ousted President Castillo, a rural school teacher, was never widely popular either. But in some rural areas, he was able to gain support from communities who identified with him and believed his promises of greater inclusion.
When Castillo took office after eking out an electoral victory over Keiko Fujimori in 2021, it was clear from the behavior of some members of Congress — including false claims of electoral fraud — that they would seek to remove him as they did Vizcarra. When Congress finally did remove Castillo for what was effectively an attempted coup and Vice-President Dina Boluarte assumed the presidency, to some Peruvians this read as an effort to wrest power from them. As a result, protesters' main initial demand was for new elections in the short term.
While thousands have protested peacefully, reports of violence, arson, vandalism, and attacks on journalists have been common. Many police officers have been injured and one killed. Protesters have blocked roads, in some cases interfering with ambulances and contributing to deaths. The government has a responsibility to provide security and ensure accountability for violent acts.
At Boluarte's request, Congress voted on December 20 to move elections up from 2026 to 2024, but that decision needs to be confirmed in a second round of voting. Meanwhile, the government's brutal response to the protests is only compounding the indignation many feel. 
President Boluarte has failed unequivocally to call on security forces to respect protesters' rights, even in the face of reports of excessive use of force and mass detention. The pervasive lack of accountability for police violence, and successive governments' failure to reform the police to ensure respect for human rights, amounts to a blank check for abuse. 
Instead, administration officials have blamed the protesters for causing "chaos" or dismissed them — without offering evidence — as under the control of "foreign agitators" like former Bolivian President Evo Morales. 
In a January 13 speech, Boluarte apologized for protesters' deaths, but further incensed many by stating that those "truly responsible" for the violence needed to be held accountable — and suggesting that "terrorism" played a role. In Peru, the "terrorism" label is often used in reference to the Maoist Shining Path insurgency, which killed thousands in the 1980s, to stigmatize protesters, activists, Indigenous people, or left-leaning political actors. 
Protests have kept spreading, affecting more than a quarter of the country on January 19, with many protesters traveling to Lima. Increasingly, their calls are for Boluarte to resign, or for a constituent assembly to review the constitution.
Democracy is very much on the line in Peru. The protesters' demand for new elections is, ultimately, democratic. But repression and denial are likely to breed more anger and despair, playing into the hands of would-be autocrats across the political spectrum. 
National and regional leaders need to rise above the petty politics, corruption, and personal interests that have marred Peru's political system. Broad, genuine, and constructive dialogue that takes people's needs and aspirations into account, along with positive outcomes secured through democratic institutions and effective action to protect the right of peaceful assembly, should be the priority.
Peru is far from the only democracy where the political system is increasingly divorced from the problems of its people. Others should take heed.
Maria McFarland Sánchez-Moreno, a Peruvian-American, is acting deputy program director at Human Rights Watch.