New Poll: Voters Prioritize School Basics Over Culture Wars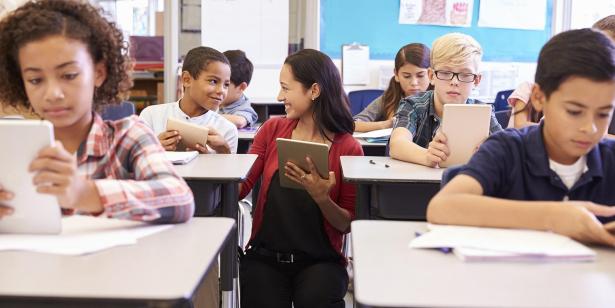 The AFT released a poll on Jan. 13 and the message is clear. Voters are rejecting the culture war that has recently saturated education policy and instead want to see political leaders prioritize what kids need to succeed in school: strong fundamental academic skills and safe and welcoming school environments. 
Poll participants are not interested in an agenda prioritizing political fights over things like book bans and limitations on how to teach about race and gender—an agenda favored by House Speaker Kevin McCarthy—"and instead support real solutions, like getting our kids and teachers what they need to recover and thrive," says AFT President Randi Weingarten.
"Rather than reacting to MAGA-driven culture wars, voters overwhelmingly say they want lawmakers to get back to basics: to invest in public schools and get educators the resources they need to create safe and welcoming environments, boost academic skills and pave pathways to career, college and beyond," Weingarten says.

"One key weakness of the culture war agenda is that voters and parents reject the idea that teachers today are pushing a 'woke' political agenda in the schools," says Geoff Garin, president of Hart Research Associates, the organization that conducted the poll. "Most have high confidence in teachers. Voters see the 'culture war' as a distraction from what's important and believe that politicians who are pushing these issues are doing so for their own political benefit."
The poll was conducted from Dec. 12-17, 2022, among 1,502 registered voters nationwide, including 558 public school parents, and shows that support for and trust in public schools and teachers remains strong: 
93 percent of respondents said improving public education is an important priority for government officials.
66 percent said the government spends too little on education; 69 percent want to see more spending.
By 29 points, voters said their schools teach appropriate content, with an even greater trust in teachers.
Voters who prioritized education supported Democrats by 8 points.
Top education priorities for voters include providing: 

students with strong fundamental academic skills;
opportunities for all children to succeed, including through career and technical education and greater mental health supports, as examples; and 
a safe and welcoming environment for kids to learn.
According to voters, the most serious problems facing schools include teacher shortages, inadequate funding, unsafe schools and pandemic learning loss. Voters and parents are looking forward to finding solutions: By 85 percent to 15 percent, they want Congress to focus on improving schools through greater support, rather than through McCarthy's investigation agenda.
"COVID was terrible for everyone," says Weingarten. "Educators and parents took on the challenges of teaching, learning and reconnecting and are now asking elected officials to focus on the building blocks of student success. Instead, legislators in 45 states have proposed hundreds of laws making that harder—laws seeking to ban books from school libraries; restrict what teachers can say about race, racism, LGBTQIA+ issues and American history; and limit the school activities in which transgender students can participate. Voters are saying that not only are these laws bad policy—they're also bad politics."
In state after state in the November midterms, voters elected pro-public education governors and school board candidates and rejected far-right attacks on teachers and vulnerable LGBTQIA+ students. 
Click here for a slide deck further describing the poll, here for a summary and here for sample questions from the summary.