State Legislators Can Finally Make Billionaires Pay What They Owe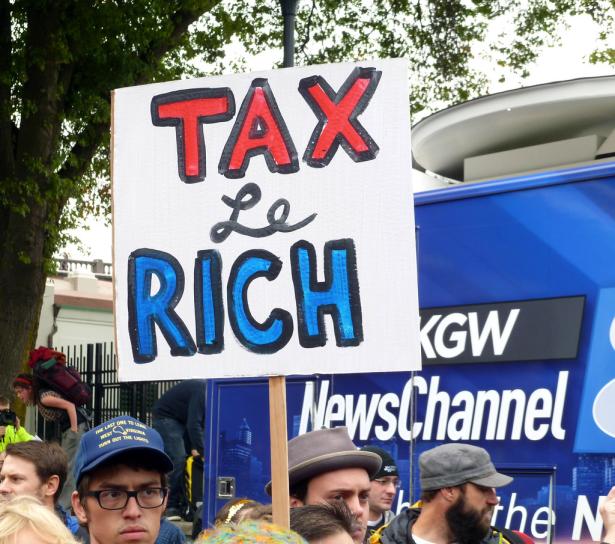 Occupy Portland rally on October 6, 2011,Photo by badlyricpolice
For decades, billionaires have rigged the rules in their favor at the state and federal level to avoid paying what they owe in taxes while working people have paid the price. With the active support of politicians who depend on them to fund their campaigns, the rich just keep getting richer. During the Covid-19 pandemic alone, the world's ten richest men vastly expanded their fortunes to $1.5 trillion by gouging prices, taking advantage of a global crisis, and denying fair wages to workers.
Last month, state legislators and grassroots organizations from eight states banded together to say "enough" and launched the first-ever multi-state effort to pass wealth tax bills across the country, and foster a fair shake economy where all families from all backgrounds have the freedom to thrive. In California, Connecticut, Hawaii, Illinois, Minnesota, New York, Maryland, and Washington, they introduced legislation to finally make billionaires pay what they owe toward making healthcare, education, and many other essential needs accessible to all of us. We're now calling on lawmakers in the remaining 42 states to join this nationwide effort and do the same in their own legislatures. No longer should a handful of billionaires be able to rig the rules to redirect resources from our communities to their country clubs, from our classrooms to their ballrooms, and from our public parks to their private jets.
We're seeing the results of rising income inequality every single day — in overcrowded classrooms, car-sized potholes on our streets, a healthcare system that puts people in debt at the most difficult times of their lives, and communities that have become unlivable due to rising costs and generations of underinvestment. The solution to this is obvious: unrig the rules and tax the ultrarich. But with Congress in gridlock, states must assume the responsibility of putting a check on billionaires and wealthy corporations.

Make no mistake: this collective effort cannot and will not stop at eight states.
Through the Fund Our Future campaign spearheaded by our two organizations — SiX Action and the State Revenue Alliance — state lawmakers, advocates, and grassroots organizers have been working together for over a year to establish a first-of-its kind network of tax justice leaders, build public support and political power for wealth taxes, and introduce legislation that will best address the unique needs of their communities.
This community-led wealth tax effort will help alleviate deep inequalities from coast to coast. Today, in Washington state, low-income households currently pay six times more in taxes compared to high-income households. California, where more billionaires reside than any other state in the country, faces the starkest homelessness crisis of any state, with affordable housing becoming farther out of range for many of the state's residents. In Hawaii, the extreme effects of tourism have placed a deep strain on public services and the economy for decades, threatening the livelihoods of people living on the islands. Meanwhile in New York, the state with the highest income inequality in the nation, residents struggle to pay their heating bills in the winter while the ultra-wealthy buy and sell apartments to the tune of tens of millions. Wealth taxes in these states would tip the scales and raise billions of dollars to reinvest right where it's needed the most: in our communities, in our schools, on our roads, towards our healthcare system, and so much more.
There is no justifiable barrier to these bills becoming law. A vast majority of voters across the country and political spectrum say they support tax increases on the ultra-wealthy. According to new polling, this includes 67 percent of voters in Washington, 68 percent in California, 70 percent in Connecticut, 75 percent in New York, 74 percent in Maryland, among other states. In all eight states, the same party controls both chambers of the state legislatures as well as the Governor's mansion. We know that people across this country want the ultra-rich to pay what they owe and legislators in the majority have the power to make that a reality.
Make no mistake: this collective effort cannot and will not stop at eight states. Our communities depend on this campaign being replicated in every single state across the nation and we're ready to work hand in hand with all legislators and voters alike who wish to join us in this movement.
Jessie Ulibarri is co-executive director of SiX Action.  Kristen Crowell is the executive director of the State Revenue Alliance.