Senate GOP Offers D.C. 'Adult Supervision,' Pushes To Overturn Criminal Code Bill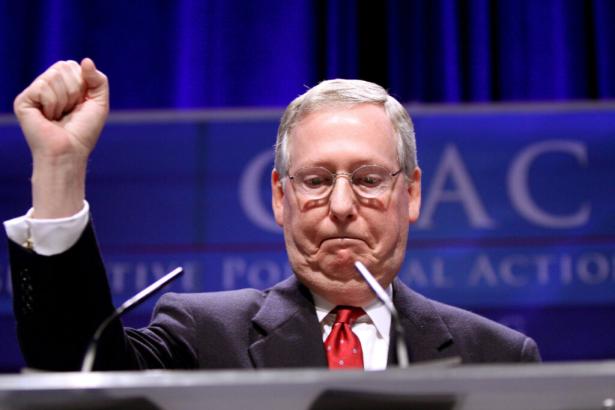 Senate Minority Leader Mitch McConnell is pushing a measure to block a D.C. bill that overhauls the city's criminal code.,Gage Skidmore / Flickr
Senate Republicans are mounting a full offensive against a bill passed by the D.C. Council overhauling the city's criminal code, pushing to follow the Republican-led House of Representatives' move last week to block the bill from taking effect.
Speaking on the floor of the Senate this morning, Minority Leader Mitch McConnell said D.C.'s "radical local government" has failed to control crime in the city. McConnell cited the attack last week on Rep. Angie Craig (D-Minnesota), who was assaulted in the elevator of her H Street NE building.
"The D.C. Council has responded to the crime wave, listen to this, with a new bill to make the city even softer on crime. It lowers maximum penalties for violent crimes and creates new ways to shorten the sentences of incarcerated felons. Well, the good news is the Constitution actually gives the Congress final say over issues in our nation's capital," he said.

"When the soft-on-crime local government has become this completely incompetent, when members of Congress cannot go about their daily lives without being attacked and families cannot come visit our Capitol in safety, then it's about time our federal government provides some adult supervision," he added.
That supervision, said McConnell, would come in the form of a disapproval resolution of the sweeping bill passed by the council last year that modernizes and updates the city's century-old criminal code, which prosecutors and defense attorneys alike say is outdated, inconsistent, and difficult to work with. The House passed its own disapproval resolution last week, and Sen. Bill Haggerty (R-Tennessee) has introduced a companion measure in the Senate. Should both pass and be signed into law, the bill would be overturned.
According to Haggerty's office, the disapproval resolution could be debated and voted on in the Senate by early March. The measure would take only a simple majority to pass, and with Democrats holding a mere two-vote majority, there are concerns that some will vote with Republicans. In the House, 31 Democrats joined Republicans in supporting the disapproval resolution. The White House says it opposes the disapproval resolution, but has not said whether it would veto it should it pass the Senate. (The last successful disapproval resolution passed in 1991.)
"Congress shouldn't be bigfooting decisions made by the elected representatives of the people of the District. I will be talking with [Democrats] about this general principle," Sen. Chris Van Hollen (D-Md.) told Politico this week.
Speaking last week, House Democrats defended the city's ability to make its own decisions, and pointed out that some of the provisions in the revised criminal code would impose harsher penalties for some crimes than in places like Kentucky, which is represented by McConnell. Additionally, they argued that Republicans would be apoplectic if Congress tried to interfere in local affairs in GOP-led states.
But it's not just on Capitol Hill where the drama around the bill has mounted. While it passed with unanimous support in the council, Mayor Muriel Bowser vetoed the bill, saying that provisions reducing some maximum penalties for certain offenses would "send the wrong message." Lawmakers voted to override her veto, decrying what they called "fear-mongering" around the changes to the criminal code. Bowser has since introduced her own bill proposing some penalty increases, but has shown less vigor than some have hoped for in pushing back on a possible congressional disapproval.
Other officials, though, have more aggressively defended the council's bill and fought the Republican-led attempts to block it.
"Politicians from other states don't know more or care more about how to make D.C. safer than the nearly 700,000 people who live here and whose democratically elected officials worked closely with local law enforcement, national legal experts and community members for more than a decade to streamline and clarify our archaic, confusing criminal laws," wrote D.C. Attorney General Brian Schwalb this week in an op-ed in The Washington Post.
"Let's be honest. Congressional interference in local affairs is not about an earnest desire to improve public safety or democracy in D.C. It's political theater: hyperpartisan combatants in our divisive, national discourse seeking to score points for their next hometown election cycle," he added.
The political theater has been on full display in recent weeks, with Republican leaders and conservative media taking full aim at the revised criminal code bill and another measure that would allow non-citizens to vote in local elections starting in 2024. (That bill was also disapproved by the House, but is on a slower track in the Senate.) This week, the editorial board of The Wall Street Journal hailed Congress's move to overrule what it called the "District of Crazy."
Crime in D.C. has often spurred Congress to intervene in local affairs, so much so that in the early 1990s federal lawmakers ordered the city to hold a referendum on whether to reinstate the death penalty after a congressional aide was killed in the city. (D.C. voters rejected it.) Members of Congress also pushed the council to pass its own bills ramping up penalties from certain crimes; critics now say it was those bills that helped fuel mass incarceration of Black men.
Some D.C. lawmakers point out that despite McConnell's claims about the revised criminal code, it does not go into effect until Oct. 2025 — meaning any crimes committed until then will be prosecuted under the existing code and be punished with existing harsh penalties. Additionally, while homicides and carjackings are up from last year, overall violent crime is down 19% compared to the same time last year, and has generally trended downwards in recent years. Speaking last month at a summit on public safety, D.C. Police Chief Robert J. Contee III noted that a disconnect exists between the number of violent crimes and how people generally feel about public safety.
Speaking earlier this month, D.C. Council Chairman Phil Mendelson raised another concern: if Congress does overturn the bill revising the criminal code, it will leave D.C. with an existing code that most agree is outdated and ineffective.
"Don't override the legislation," he said. "If you do, you're setting back the District… you're putting back in place an outdated and archaic criminal code that's considered the worst in the country."
Martin Austermuhle is a reporter in WAMU/DCist's newsroom. He covers politics, development, education, social issues, and crime, among other things. Austermuhle joined the WAMU staff in April 2013 as a web producer and reporter. Prior to that, he served as editor-in-chief for DCist.com. He has written for the Washington City Paper, Washington Diplomat and other publications.
DCist is the unofficial homepage of the District. We cover what matters to Washingtonians, whether that's the latest piece of legislation before the D.C. Council or the best thing to order at the new restaurant around the corner.  DCist is supported by a community of members … readers just like you. So if you love the local news and stories you find here, don't let it disappear!
BECOME A MEMBER.  We depend on your support...DONATE