food
What Is a 'Dark Grocery Store' and How Does It Work?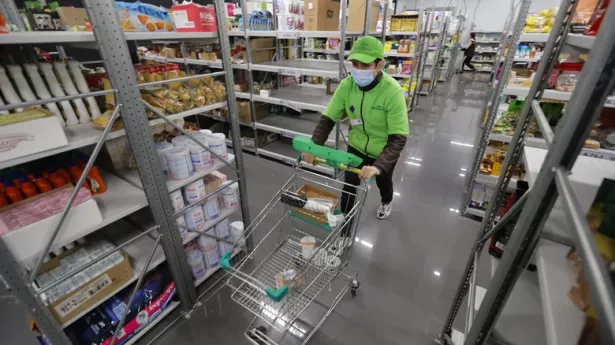 Integrated technology and a small facility makes delivery faster,Bloomberg/Getty Images
Here's a bit of an experiment for you. Go to your local grocery store, walk around for a little bit, then drive to the grocery store the next town over and do the same thing. Do you notice anything different? Sure, the layout of the stores may not be exactly the same, but aside from that, are there any fundamental, noticeable differences? They have the same aisles of similar products, the same long lines of shoppers, the same squeaky grocery carts, and even the same music playing over the speakers. All these little things make a grocery store feel like just that: a grocery store.
Is it possible to run a grocery store without any customers? Without the shopping carts or sales displays? Without any clerks or shelf-stockers? According to Forbes, such a thing is possible and seems to be gathering momentum. This type of place is known as a "dark store," which exists solely for delivery purposes. There are no customers to shop the aisles, and there are no checkout lines since every transaction occurs digitally. Think of it less like an ordinary grocery store and more as a shipping center hidden under the façade of a grocery store. Some of these dark stores, suggests Locus Robotics, may even be partially automated, cutting out a good number of the average grocery store employee pool.

But how can a dark store operate? What makes such an operation tick?
In 2022, Mara Weintraub of The Kitchn did an in-depth look at the operations of Gorillas, an online grocery delivery company in New York. Weintraub's main goal was to discover how the company could manage such quick delivery times, as her order had been delivered just under 10 minutes after she placed it.
Weintraub discovered that the grocery store of Gorillas is actually very small, roughly 3,000 square feet. The interior is more or less industrial, with products on metal shelving in a very particular way — such as cans of chickpeas next to pasta and condensed milk, something credited to helping delivery drivers (called "riders") to cut down on shopping time. These riders also use a special scanning tool that tells them what kind of product to grab and alerts them if it's the wrong product, which helps ensure accuracy. The Gorillas company serves only small pockets of New York (Weintraub claims the area of this location has a 1.5-mile radius in her Brooklyn neighborhood), so the small area allows for drivers to quickly deliver the order right across town rather than hop on the expressway to deliver it.
Peerless-Assigns explains that the use of no-frills stocking, a focus on supplying goods rather than making room for the customer, and innovative technologies like automated delivery mechanisms help to give dark stores an edge over the usually crowded and compartmentalized grocery stores.
While ordering groceries and getting them in just ten minutes sounds convenient, some worry that this futuristic type of grocery shopping may not bode well for all of us.
According to The Guardian, some have shown a bit of apprehension about the idea of dark stores in general, as they believe it will negatively affect communities and those who live in them. Some, such as Shelly Steward of Aspen Institute's Future of Work Initiative, are concerned that grocery employees in these stores may be mistreated or seen as "... just another expense on a spreadsheet," as these types of stores seek efficiency and profit above all else. Others believe that these dark stores may drive out local small businesses, as they would be unable to compete with the low costs the dark store can offer.
Food Logistics also notes that the advent of dark stores showcases that supermarkets must begin to focus more on online sales rather than brick-and-mortar transactions. If a store cannot offer delivery or online services, dark stores may be seen as a more acceptable alternative. A small business may find itself cutting down to try and match the speed and cheapness of a dark store, which in turn may make the business lose even more customers.
Whether one is for or against dark stores, they mark a new era in how we shop for groceries.