labor
Serving $66 Entrees for $18 an Hour: The Union Push at an Upscale New York Restaurant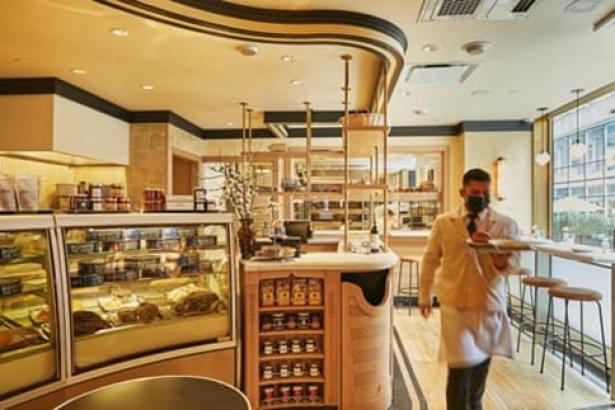 Lodi, the Italian-style cafe where workers are unionizing.,Colin Clark
At an Italian-style cafe in New York City's Rockefeller Center, workers move seamlessly between tables draped in white tablecloths dotting the covered patio. This is Lodi, where everything is business as usual, except for a new addition to some workers' uniforms: a small button with gold lettering pinned to the lapel of their chore coats, announcing they back the restaurant's first-ever union.
They are part of a surprising movement. It has been increasingly common in recent years for workers at chain restaurants and coffee shops, like Starbucks and Chipotle, to start union drives, but it is far rarer for this to happen at higher-end, independent restaurants – the Balthazars and Gramercy Taverns of the world.
If the workers at Lodi succeed, they could be a leader in a new labor organizing movement at higher-end eateries – but the union's supporters say they are encountering fierce pushback from management.

Some workers at Lodi make only $18 an hour, according to the union, which – at 40 hours a week, 52 weeks a year – comes out to roughly $37,000, hardly enough to afford a typical one-bedroom in Manhattan. (And many restaurant workers cannot count on regular hours.)
But Lodi workers aren't just unionizing over pay – they also want adequate staffing and training, and for management to provide better, safer equipment. They mention dull knives in the kitchen and stairs without slip covers.
"The cost of living in New York is quite high," Osvaldo, a dishwasher at Lodi, said through a Spanish-language interpreter, adding that inflation hasn't helped. (He, like other workers at Lodi, asked only to use a first name out of fear of employer retaliation.)
"Living on $18 an hour leaves you feeling squeezed. It's better to be paid a wage that allows you to survive, to live without worry." It's all the more jarring because of what customers pay to eat there – the breakfast chia pudding with blueberries and almonds is on the menu for $16, and the pork loin with roasted squash is $66.
Lodi workers are part of a larger trend of US workers seeking better conditions in food and hospitality.
"The big story of the last couple of years really is the rise of worker-led unionizing, particularly since the beginning of pandemic," said Eric Blanc, an assistant professor at the Rutgers School of Management and Labor Relations.
Food service workers have one of the lowest unionization rates in the country – at less than 2%. But that wasn't always the case: restaurants in the US have a unique history of labor organizing. In the 1950s, trade unions were particularly successful in organizing hotel restaurants, and touted the chefs and waiters behind white-tablecloth dinners as "equal and respected members of society".
These efforts not only raised wages and standards, but also the public's perception of those who served them - in the heyday of restaurant organizing, having a union sticker in the window was akin to a good marketing strategy.
Today, however, larger trade unions tend to ignore standalone restaurants because the number of people who work there is so small – compared to, say, a factory. High turnover rates also make it hard to build and sustain worker power. And fine dining restaurants are often highly compartmentalized, including such disparate professions as sommelier and dishwasher, and this can alienate workers from one another.
"I'm just working on my own, [but] what are the other people complaining about?" said Yi, who works bar at Lodi. The fact that workers from so many corners of the restaurant have signed union cards shows "that there is a problem in the management that makes us all want to join," he said.
"A lot of workers have expressed that they would have left the job if it weren't for the union effort," said Diego, an organizer on the Lodi campaign. He does not work at the restaurant and asked to be identified by first name only to avoid retaliation via his own employer. "If people have an opportunity to fight for their own interests, they will stay."
Workers at Lodi are organizing with the Restaurant Workers Union (RWU), a new, independent union, and will vote in an upcoming election conducted by the National Labor Relations Board. If a majority of workers vote yes, the board will formally recognize their union.
But as workers prepare for the vote, they say management has been behind several attempts to union-bust at Lodi and sow doubt among the staff. Union-busting is not uncommon when workers in the US organize. Starbucks, for instance, illegally fired two workers involved in union drives in Philadelphia, the NLRB found this month.
Mattos Hospitality, the restaurant group that runs Lodi along with other NYC restaurants Estela and Altro Paradiso, deny that there have been any efforts from anyone associated with the group to intimidate or pressure workers.
In a statement emailed to the Guardian, chef and owner Ignacio Mattos said, "I have always strived to create a positive work culture, where talented and caring people feel supported. As an immigrant, I place particular importance on everyone's opportunity for advancement," adding that ultimately the choice of whether or not to unionize lies with the workers. "I am committed to preserving their right to make an informed decision," the statement read.
But in interviews with eight workers at Lodi, all asserted that management had been working to create an atmosphere of fear and intimidation at the restaurant.
Two workers, who asked to remain anonymous, said a customer appeared to photograph the staff without their consent (Mattos Hospitality denies any knowledge of this incident). This customer has since become a regular presence in the restaurant, returning to Lodi to hold meetings in which unions are criticized. (Mattos declined to comment on the identity of this customer or his relationship to the group, and has said these meetings are voluntary). One worker said his hours had been cut.
Several union supporters said they believed that management had recruited other workers to spread misinformation about the legality of the union effort, including that it could pose legal risks to some staff. (Asked for comment, Mattos Hospitality said no one affiliated with the group in any way has insinuated it is illegal for anyone to join a union.)
This behavior "fills me with pity, and shame," said Luis, a busser at Lodi who also spoke through a Spanish-language interpreter, "and for this reason, I'm even more committed to our fight."
Osvaldo, the Lodi dishwasher, said the purpose of this "dirty tactic" was to make workers doubt themselves. "They're trying to individualize us," he said, "to get information out of each one of us and have us abandon this effort."
If the Lodi workers succeed, the effort could serve as a model for other restaurant workers. Rather than wait for a bigger, established trade union to come along, workers at Lodi chose to self-organize and to work with the smaller, independent RWU. Unionizing a place like Lodi would help buck the notion that restaurant jobs are unremittingly difficult work that cannot be made better.
"Even if you do try and organize [restaurants], oftentimes, the level of attrition – people moving on to another employer – can sap your organizing," said Blanc. "All of that being said, it's remarkable that you have started to see – over the last year really – some initial victories of unionization efforts and a broader spread of efforts to unionize the restaurant industry."