Who Wants To Teach in Florida?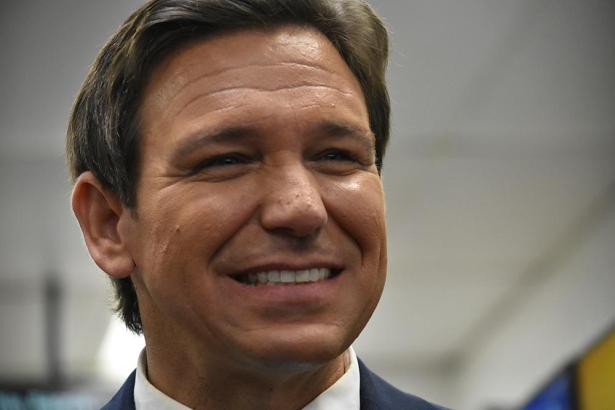 Governor of Florida Ron DeSantis visits Pio Hot Bagels in Staten Island, New York on February 20, 2023.,Kyle Mazza/NurPhoto via AP
Gov. Ron DeSantis wants Florida's K-12 educators to do as they're told. On top of low pay, difficulties in securing long-term contracts, the stress of high-stakes testing, and increases in student mental health issues, public school teachers must stick to the governor's conservative script or risk being fired. That script includes the Parental Rights in Education Act, colloquially known as the "Don't Say Gay" law, the Stop WOKE Act, and the recent statewide ban on College Board's Advanced Placement African American studies curriculum.
These developments have contributed to the highest teacher vacancy rate in the country by creating a climate of paranoia that has exasperated many teachers, chased others out of the profession entirely, and deterred aspiring educators. Culture-war turmoil combined with the pandemic era's tight labor market means that Florida and most Deep South states have struggled to recruit teachers. When the far-right Republican became governor in 2019, there were 2,217 vacant teacher positions in Florida. As of early January, there were about 5,300 openings statewide, with an additional 4,631 support staff openings (excluding Miami-Dade County), the Florida Education Association told the Prospect.
In 2022, Florida allocated an additional $250 million over the previous fiscal year to increase teacher salaries. While the funding boosted the base salary for new teachers to $47,500, the pay increase for experienced teachers did not even cover cost-of-living increases. Overall, the pay raise bumped the state up from 49th to 48th in average teacher pay nationwide, according to the National Education Association. DeSantis has proposed $200 million in more funding for teacher pay in his fiscal 2023-2024 budget, which according to the FEA, will hardly move the needle. "Pay in the third-largest state can and should rank in the top 10 nationally," FEA President Andrew Spar said in a statement.

Florida's vacancy issue has its roots in the state's decades-long role as a laboratory for the right's assault on public education, with its Republican governors playing key parts. Former Gov. Jeb Bush made school choice and high-stakes standardized testing his signature issues in the 2000s, before his brother President George W. Bush took "reforms" like the No Child Left Behind Act to the White House. DeSantis's predecessor, Rick Scott, now the state's junior senator, also expanded charter schools and voucher programs while chipping away at long-term contracts for teachers. But DeSantis has not only built on his predecessors' devotion to privatization and exploitative salaries, he has also squelched teaching, learning, and productive dialogues on American history, race, and gender.
The teacher shortages exhaust the remaining educators, and buttress DeSantis' conservative takeover of public-school curriculums by whittling down institutional resistance to his culture-war inspired edicts. Educators are "frustrated to the point where they don't have a sense of hope anymore," said Steve Frazier, Executive Director of the Florida League of Middle Schools, who worked as a teacher and principal in Broward County for over three decades. "It's like anything, you keep getting beat down, eventually you just wave the white flag and say I can't do it anymore."
Tawanda Carter, a literacy coach in Broward County for 23 years, took a classroom position this year because of the shortages. To support her students in the long run, Carter realized that she must pick and choose her battles to avoid burnout, especially when a parent objects to certain topics like learning about the experiences of other racial and ethnic groups. "At the end of the day, I recognize in myself and others that you just do what you can do," she says.
Teacher vacancies also give DeSantis and Florida state lawmakers an opportunity to seed schools with instructors whom they believe would be more amenable to far-right positions. Under Florida's Military Veterans Certification Pathway program, which came into effect on July 1 of last year, veterans with at least four years of service, an honorable or medical discharge, 60 college credits, and a minimum 2.5 GPA can apply for a temporary teaching certificate after passing a subject-area exam of their choice.
Florida teachers should have the leeway to design appropriate lesson plans for their students and not be shackled to politically imposed curriculums.
New teachers hired under the program are assigned a mentor teacher for at least two years, and will have five years to fulfill the requirements for permanent certification, including obtaining a bachelor's degree. Many experienced educators worry that the program will not help fill vacancies but instead lower the standards for people entering the profession. DeSantis has also proposed offering bonuses to veterans and retired first responders who agree to teach full-time for at least two years. Such recruitment drives are a disservice to veterans and first responders seeking second careers, as well as to current students and teachers. The state has processed hundreds of applications, but only twelve veterans have been hired so far, the Florida Department of Education told the Prospect.
Herman Bennett, a historian of the African diaspora at the City University of New York, helped the College Board draft the African American Studies AP curriculum. He says the Florida moves remind him that fifty years ago a teacher's credentials were irrelevant for some schools. "It's reminiscent of what history teaching once was in my generation, there was the idea that the historian could be the football coach," he says. "Because it really didn't matter. You could have a knucklehead who was responsible for the civics course."
For Bennett, DeSantis's rejection of the College Board's African American studies course signals the debasing of teaching and learning loud and clear. "If the AP course was simply Black names, dates and facts, DeSantis wouldn't have a concern about it because that would just produce an inert and passive citizen." Bennett said. "Afro-American studies demonstrate that there are histories of struggle, and if you don't have those understandings, then you see the possibility of change as limited."
With the College Board caving into DeSantis's demands, the state's educators can only do so much to get around these obstacles. By removing African American and other racial, ethnic, and gender studies topics from public school curriculums, and diluting discussions of contemporary issues like Black Lives Matter, another Republican governor is once again trying to export new limitations on learning across the country. Florida teachers should have the leeway to design appropriate lesson plans for their students and not be shackled to politically imposed curriculums. Stifling creativity in classroom instruction ultimately means that teachers can only teach exactly what they are told to teach and nothing more—if they decide to stay in the profession at all.
===
Luca GoldMansour is an editorial intern at the Prospect.