labor
South Korea U-Turns on 69-Hour Work Week After Youth Revolt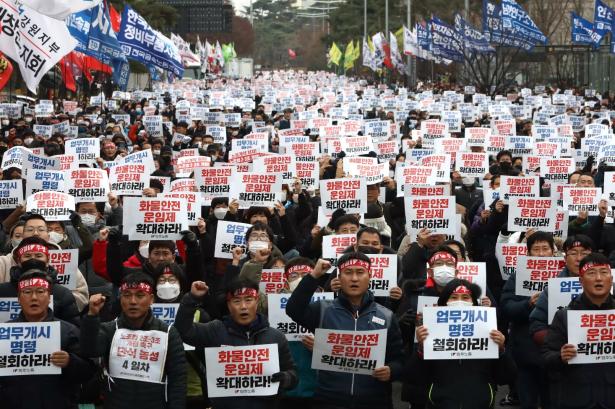 Labour union members from the Korean Confederation of Trade Unions participate in a rally in front of national assembly on Dec. 3 in Seoul, South Korea.,Chung Sung-Jun
An intense backlash from younger workers in South Korea – after the government proposed a 69-hour work week — has prompted a dramatic backflip.
The move, which could have been introduced as early as July, sparked protests from trade unions and employees, with younger workers arguing it would destroy their work-life balance and put their health at risk.
South Korea's conservative government had proposed raising the work week from 52 hours to a whopping 69 hours.

Its plan was at odds with many other countries around the world and is well above the average 38-hour week in Australia.
But protests from Millennials and Gen Z in South Korea forced its President Yoon Suk Yeo to order government agencies to reconsider the measure.
He called on the agencies to "communicate better with the public, especially with Generation Z and Millennials", said his press secretary, Kim Eun-hye.
"The core of [Yoon's] labour market policy is to protect the rights and interests of underprivileged workers, such as the MZ generation, workers not in a union and those working in small and medium-sized businesses," reported the Korea Herald.
Already known for its workaholic culture, South Korea's plan was heralded by the government as a way to combat an ageing population and declining workforce.
Known for being pro-business and at a time when companies were complaining the 52-hour weekly cap made it difficult to meet deadlines, President Yoon had tried to convince the community that the new rules could ultimately give workers more free time and flexibility.
But unions labelled the move "toxic" with the Federation of Korean Trade Unions accusing the government of "forcing workers into ultra-long hours of intensive work".
"It will make it legal to work from 9am to midnight for five days in a row. There is no regard for workers' health or rest," the Korean Confederation of Trade Unions said in a statement.
The move would have also overturned South Korea's current system, which is already punishing, with employees allowed to work for 40 hours regularly and 12 hours of overtime per week.
President Yoon was helped into power in 2022 with support from disaffected men and the backlash may have spooked him as National Assembly elections loom next year.
With the world's lowest fertility rate, the government's Labour Minister Lee Jung-sik had also argued the 69-hour work week would have allowed working women to accrue more overtime that could be later used for caregiving responsibitlies.
"We'll introduce bold measures to help cut working hours during pregnancy or while raising children," Mr Lee said last week
But the Korean Women's Associations United argued it would place even more of a burden on women.
"While men will work long hours and be exempt from care responsibilities and rights, women will have to do all the care work," it said.
South Koreans already spend far longer at work compared to other countries – working on average 1915 hours a year, compared to 1791 for Americans and 1614 in Australia, according to figures from the Organisation for Economic Co-operation and Development.
Australia moving towards a shorter working week
South Korea is at odds with many nations, including Australia, which are looking at the benefits of a four-day working week.
Australians could soon be paid their full-time wage to work just four days a week should sweeping proposals from a senate inquiry be adopted.
The landmark report by the select committee on work and care backed a raft of changes, including a year of paid parental leave and the right to disconnect from work outside of hours.
Greens Senator Barbara Pocock, who chaired the inquiry, called on the government to seriously consider the "ambitious" reforms to boost the quality of life.
The report recommended the Albanese government trial the 100:80:100 model. Workers would continue to be paid a full-time wage and maintain productivity despite working 80 per cent of the week.
Another key recommendation from the report was restricting employers from contacting employees outside of work hours unless it's an emergency.
Research shows dramatic impact of four-day week
This all comes as recent research has found that staff on a four-day work week are more productive, with companies which took part in the experiment seeing their revenue dramatically increase.
The first large-scale study of its kind, released in December, is the latest in the push to reduce the mandatory five-day working week.
Australia was one of the countries involved in the study, which also included New Zealand, the US, Canada, the UK and Ireland.
Over 10 months, nearly 1000 employees at 33 different companies took part in the trial.
Their hours were cut down by an average of six hours and they worked one less day a week, while still receiving their regular full-time salary.
The report found that revenue rose 8 per cent during the trial, but it was up a whopping 38 per cent from the same period a year earlier.
Employee absenteeism also dropped and 67 per cent of employees said they were less burnt out.
Staff also reported less fatigue, with levels going down from 66 per cent before the trial to 57 per cent after the trial. Insomnia and sleep problems for employees also went down by 8 per cent.
It was such a success, that two-thirds of the firms decided to retain the four-day work week, including the Australian offices of Unilever.