There Is Power in a Pantry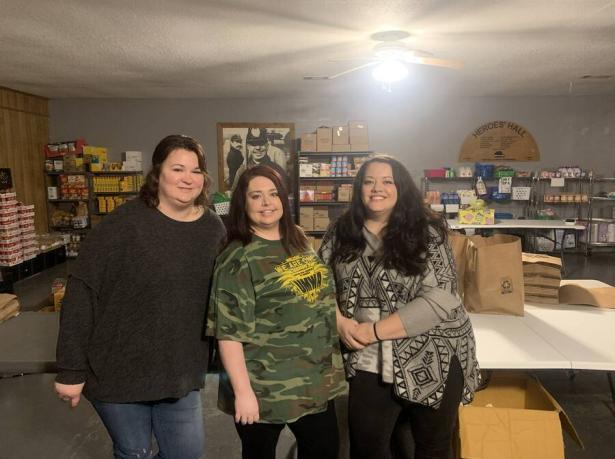 Connie Jones, Haeden Wright and Cheri Goodwin in the pantry that kept the Warrior Met strike going for nearly two years.,Kim Kelly
If you're one of the people who's been following the Warrior Met Coal strike over the past 23 months, it's almost certain that you've heard the name Haeden Wright. The 35-year-old mother of two is a teacher, an activist, an elected official, a coal miner's daughter and a boss's worst nightmare. She's a vocal presence on social media, has given countless interviews, and has participated in panels and other public events in an effort to direct attention to the strike. 
But the first time I met Wright was before all that. It was April 2021 and we were standing in a forest clearing in Alabama's Tannehill Ironworks Historical State Park, surrounded by 1,000 striking coal miners and their families. Wright had her four-month-old baby, Everly, on her hip, and was keeping one eye on her rambunctious six-year-old, Averi, who was ping-ponging around the field with a gaggle of other kids. 
Her husband, Braxton, had just gone on strike, walking out of the mines in Brookwood, Ala. on April 1 when contract negotiations between the United Mine Workers of America (UMWA) and the coal bosses broke down. Wright introduced me to her friends, Cheri Goodwin and Connie Jones, whose husbands were also part of the strike. The three women had only just begun thinking about ways they could support the strike; they, like many others, assumed a resolution couldn't be that far off. No one knew that coal prices were about to skyrocket, dampening the intended economic impact of the strike, or that the conflict would ultimately drag on for nearly two years. At that point, Wright was just excited to see UMWA president Cecil Roberts speak and to brainstorm ways she could get involved. She had no idea just how involved she would become, and how much of the strike's survival would come to rest on her shoulders.

When it became apparent that the strike would not be over in a matter of weeks, Wright, Goodwin and Jones put their heads together and came up with a plan. The Warrior Met mine is served by four UMWA union locals (2245, 2368, 2397 and 2427), and at that time, only one of them, Local 2397, had an auxiliary set up. An auxiliary is a union affiliate group made up of spouses, family members and union retirees; auxiliaries traditionally perform various functions, from fundraising to event planning to strike support. The union's strike fund was providing the strikers with health insurance and biweekly strike checks, but it had already become abundantly clear that the miners' families, especially those with young children, would need some extra support. 
The women decided that the best course of action would be to set up a pantry to provide strikers' families with groceries and other essential items. They reached out to that auxiliary's president, Evelyn Berryhill, for guidance on how to get things rolling. ​"We asked some questions, like ​'What did you do? How do you get started? How does it work?'" Wright explains. 
"I don't want this to go down in history as us just being housewives ... We've fought hard, and we've organized things."
"We were just building an airplane while it was flying, and on fire," says Wright, who was elected president of the auxiliary for Locals 2368 and 2245. The women themselves had no prior experience in community organizing or food banking, so they learned on the job. One of the union locals offered space in their hall to house the pantry and serve as the base of auxiliary operations, and in a few weeks, the auxiliary was holding fundraisers and handing out weekly grocery bags. The auxiliary also established a bank of hygiene items, baby products and clothing that would be made available to striking union members' families. Additionally, auxiliary members prepared and served food at rallies, and would continue to do so for every single strike rally for the next 23 months; they cleaned up afterwards and took any leftovers to Grace Klein Community, a local nonprofit food rescue organization. 
While they may have drawn upon their own experiences with meal preparation and coupon-cutting to keep the pantry running smoothly, auxiliary members bristle at the idea that what they were doing was mere ​"women's work." ​"I don't want this to go down in history as us just being housewives," Goodwin tells me. ​"There's nothing wrong with leading the life of a homemaker," she adds, but running the auxiliary took ​"a lot more than just domestic skills. We've fought hard, and we've organized things." 
Auxiliary members emphasize all the steps that went into keeping the operation running: planning, organizing, execution, perseverance and patience — a lot of patience. For instance, they had to establish an auxiliary bank account, begin the process of registering as a nonprofit and start holding monthly meetings. ​"Our finance stuff is pretty easy as far as us managing it, because literally everything that comes in goes right back out to the people," Goodwin, the auxiliary's chief financial officer, tells me. It was extremely important for them to be transparent about every dime that came in, and Goodwin says she has kept every single receipt from every supply run and grocery order as well as meticulous records on every donation that's come in.
And there have been a lot of donations — in the ballpark of $185,000 over the course of 23 months. ​"The main thing that really made the pantry work was that … lots of different people who are involved in unions [supported it]," Goodwin says. While a number of UMWA locals sent regular collections, many of the donations came from individuals or small groups, and Goodwin says that social media support also played a huge role. ​"Seeing somebody send in $5 from Ohio, or send a message like, ​'Hey, we're cheering you on from England!' That was a huge part of keeping the pantry going, because without feeling like we had moral support from people, it would have been really dark and really heavy times." 
"People that did not know us, didn't know our families, cared and loved us enough to make sure they were provided for," Wright says. ​"When we lived that, we really started to understand what it means when someone talks about solidarity, when they talk about mutual aid and loving each other."
Wright estimates that it took about $8,000 per month to keep the pantry running, a task that required a lot of ingenuity on the auxiliary's part. ​"When we didn't know any better, we were actually going to about eight different grocery stores every single week and clearing out shelves of items," Wright recalls. ​"It would literally take about 16 hours a week to go and get everything from Tuscaloosa, from Hoover, to bring it back, to unload it, organize it, to check out individually one item at a time." But they soon realized there might be a better way — approaching local grocery stores to ask about ordering in bulk. ​"And they let us start doing that about four months into the strike," Wright says. ​"They wrap it up in pallets for us and then it takes five or six trucks to carry those pallets."
Cracking the bulk ordering code was a godsend, but the auxiliary members still had to be creative — and thrifty — about how they actually stocked the pantry. Since they didn't have access to a refrigerator or freezer for most of the strike, the shelves were always full of canned goods, shelf-stable items and meal mixes; pallets of flour, ramen noodles and pudding packs sit alongside cans of Manwich and instant ranch flavoring. When musician and activist Tom Morello came down to the pantry for a visit, I vividly remember how seriously he took his assignment — he was on Jell-O duty and made sure each bag had its allotted ration of gelatin. 
"We knew that we couldn't afford to buy meat for everyone, so we thought if we can give you the things to make the meal except for that, that still would be a help to families," Wright explains. ​"And things like peanut butter and jelly that everybody eats. Taco kits were really popular." Wright says stocking the pantry also required keeping an eye on sales: ​"When muffins are on sale for 89 cents apiece, you go ahead and you buy 200 packs of muffins, or when mac & cheese was down to 99 cents a box, you go ahead and buy more of that."
It's now been nearly two years since the strike pantry was established, and when I chatted with Wright and Goodwin last week, they were preparing for their last couple of grocery pickups after the company accepted the union's return-to-work offer on February 17. With Warrior Met contesting the reinstatement of 41 strikers, auxiliary members have decided they won't be shutting the project down because there will still be families needing help, but the effort will probably start looking a little different than it has. Going forward, one of their group's big dreams is to put together a mobile strike pantry — one that travels to picket lines and uses their accrued knowledge to aid workers across the country. 
The women now dream of putting together a mobile strike pantry—one that can bring their knowledge to picket lines across the country.
The women involved have new dreams, too. Though she's worked as a high school English and theater teacher for the past 11 years, Wright has been job-hunting since before the strike ended — she wants to take a greater role in the labor movement. She is also getting involved in local Alabama politics. Part of Wright's drive to be a force for change comes from politicians' reaction — or rather, the lack thereof — to the strike. She describes a feeling of ​"being so isolated — feeling that we're in Alabama, we're in the Deep South, no one cares about us." Both Republicans and Democrats largely ignored the strike: there were no picket line visits, no high-profile shout-outs and no acknowledgement given to their struggle (though Sen. Bernie Sanders (I-Vt.) and Sen. Elizabeth Warren (D-Mass.) invited Braxton to Washington, D.C. to testify in a hearing about private equity's impact on the strike).
"One group sees us as coal miners and one group sees us as union radicals — where do we fit? We fit because we're workers, we fit because we're people," she says. She particularly points to the deafening silence from Alabama's Republican politicians, from local officials up to and including Gov. Kay Ivey, who ignored a demonstration that UMWA miners held in front of the state capitol and continued allowing state troopers to escort scabs through their picket line. 
Wright says the only way things will change is if people like her start participating. ​"It's really easy for us to get in this bubble of ​'this is bad, this is bad, I wish this would change,'" she explains, ​"but sometimes we have to take a leap of faith and say, nothing's going to change if all of us just talk about it." In 2022 she was elected to the State Democratic Executive Committee (SDEC), to which she was recruited by State Rep. Chris England, a former chair of the SDEC and one of the only Alabama politicians who showed up to support the strike. 
For now, though, she's happy to give advice to other workers who may be facing down a long strike of their own; just don't expect her to sugarcoat it. She tells me not everyone in the community was up to the challenge. Because most of the people running the auxiliary had full-time jobs as well as children, they ​"had people scab or people decide it's too hard to keep helping," Wright says. ​"So then you have to be willing to take up more of a load." Goodwin adds,"you have to get a core group of people that are committed — people that, no matter what differences of opinions there are, have the same goal of providing for the people that you want to provide for." 
The women of the UMWA auxiliary in Brookwood, Ala., never lost sight of their goal, and as a result, hundreds of union families were able to make it through the longest strike in Alabama's history. It was a Herculean effort for them to have undertaken. ​"Growth and beautiful things don't come from things that are easy, those things are cultivated," Wright says. ​"Throughout this, a lot of us have experienced that growth within ourselves. Before [the strike], we might have whispered, but now we have accepted that it's okay to speak out against things that we think aren't right." 
==
Kim Kelly is a freelance journalist based in Philadelphia. Her work on labor, culture and politics can be found in Esquire, Teen Vogue, The Baffler and the Washington Post.