Dispatches From the Culture Wars – April 25, 2023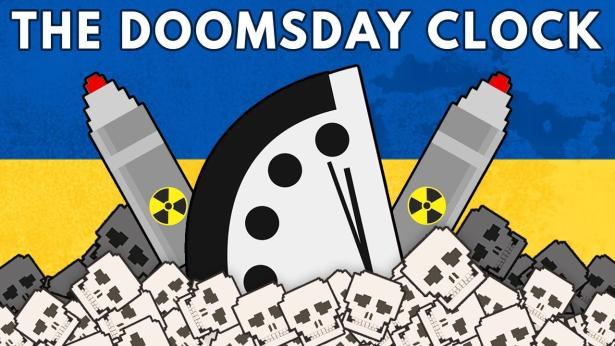 Lifeboat Foundation
By Frida Berrigan
TomDispatch
Amid all the tweens trying to jumpstart the next viral craze, a 30-second video features five representatives of the Bulletin of the Atomic Scientists' science and security board frozen in place as a voice intones: "We move the clock forward, the closest it has ever been to midnight." On TikTok, versions of this video got hundreds of thousands of "likes" and thousands of comments. 
Community Stands With Ralph Yarl
Fox4 News Kansas City
Hundreds of protesters descended upon downtown Kansas City over what they said was racism displayed by 84-year-old Andrew D. Lester, who has been charged with two felony counts in the shooting of Ralph Yarl, a Black 16-year-old who rang his doorbell. Protesters said law enforcement's handling of the shooting showed a double standard in the criminal justice system.
Who's Afraid of the Big Bad Cities?
By Colin Woodard
Politico
Listen to the southern right talk about violence in America and you'd think New York City was as dangerous as Bakhmut on Ukraine's eastern front. In reality, the region the Big Apple comprises most of is far and away the safest part of the U.S. mainland when it comes to gun violence. Florida and Texas have per capita firearm death rates three to four times higher than New York's.
Christians Against Christian Nationalism
By Ruth Braunstein
Religion News Service
A sitting member of Congress has sold "Proud Christian Nationalist" T-shirts on her website. Books defending Christian nationalism are given serious discussion. And according to a recent survey, nearly one-third of Americans now hold Christian nationalist attitudes. But there is another, relatively untold, side of this story: The most recent rise of Christian nationalism has ignited a wave of resistance.
By Emily Drabinski 
Truthout
In response to pushes to censor materials, a group of Lincolnwood residents organized under the name Library Defense. They drew on existing community networks of interest and influence. Alongside rallies and letter-writing campaigns, the group also looked to the library board. Library Defense supported a slate of four anti-censorship candidates for the open seats on the Lincolnwood board.
By Mark Joseph Stern
Slate
In a unanimous opinion, the Oklahoma Court of Criminal Appeals waved away overwhelming evidence of innocence and decided that, Richard Glossip is guilty—and must be put to death on May 18. Glossip was charged with murder in 1997. The decision makes a sadistic mockery of the judiciary's supposed role as a guardian of individual liberties. 
Rutgers Faculty Hit the Bricks
By Sudip Bhattacharya
Protean
A week-long strike was heretofore unheard of at Rutgers. Now, it'll be easier to call on one another, and workers across the state, in future acts of solidarity—they've witnessed the power of a strike, both its efficacy and its joyfulness. Public universities should be prioritizing the education of their students. That requires a well-paid and secure workforce.
Transphobia in the Wake of Nashville Shootings
By Anthony DiMaggio
CounterPunch
The Nashville mass shooting by the 28-year-old Audrey Hale has been seized upon by the reactionary right to intensify the campaign of hate against the trans community. Even as her motives were unknown and pending an investigation, rightwing officials and pundits pounced, blaming the shooting on trans-identity politics. This outcome is unsurprising for a party that treats hate as a family value.
Black Electeds: It's Always Open Season
By David A. Love, JD
The Black Commentator
America has a long history of removing Black lawmakers from office, quelling dissent and subverting the will of the voters — all for the sake of raw power, resisting demographic change and maintaining White dominance through antidemocratic and dictatorial means.
South Korea's 4B Movement Leaves Patriarchy Behind
By Anna Louie Sussman
New York magazine
"4B," a small but growing movement among Korean women, is shorthand for four Korean words that all start with bi-, or "no": The first no, bihon, is the refusal of heterosexual marriage. Bichulsan is the refusal of childbirth, biyeonae is saying no to dating, and bisekseu is the rejection of heterosexual sexual relationships.