labor
Labor Organizers Launch a New Model for the Fight Against Private Equity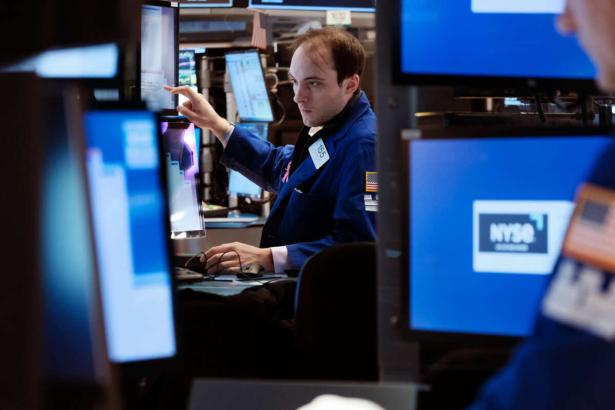 Traders work on the floor of the New York Stock Exchange on May 3, 2023, in New York City.,Spencer Platt
On May Day, a small group of labor advocates and  workers weaved through midtown Manhattan, stopping at the shiny corporate headquarters of several firms with names like KKR, Sycamore Partners, Apollo Global Management, BC Partners and Roark Capital Group.
Most people don't recognize these names, or if they do, know very little about them. But these are some of the wealthiest and most influential firms on Wall Street, behemoths within the ultra-powerful but opaque financial sector known as private equity — the arm of Wall Street that oversees trillions in assets and specializes in buying out, restructuring and selling off privately owned businesses to turn a big profit.
As the group skipped from one corporate lobby to another, they demanded that these firms respect workers' rights by honoring a new initiative called the Private Equity Labor Rights Platform. The platform lays out "a set of standards to improve working conditions" at private equity-owned companies that will ensure workers' rights around everything from wages and scheduling to a greater voice on the job.

The platform was produced by two groups, the Private Equity Stakeholder Project, which does research and progressive advocacy work around the private equity industry, and United for Respect, a national nonprofit group focused on raising working standards in the retail industry. Both groups have long-standing partnerships with a range of labor unions and worker organizations.
Prior to the May Day action, members of the United Food and Commercial Workers (UFCW) Local 400 and United Electrical, Radio and Machine Workers of America (UE) joined an April 14 online town hall that introduced the platform. Workers from UE Local 115 have been engaged in a years-long struggle at the Refresco bottling plant in Wharton, New Jersey, which is owned by private equity giant KKR.
The May Day action was the debut of an effort that organizers hope can provide a hub to better unite, educate and coordinate labor's struggle against the growing power of private equity — in no small part by working with investors who manage workers' retirement funds to demand that private equity firms abide by the platform's planks.
"Sounds Like It Should Be Illegal"
Private equity firms invest billions in private companies, often purchasing controlling stakes in those companies, usually with the intention of restructuring and selling them off in several years. Private equity has a reputation for being perhaps the most ruthless arm of Wall Street, with a single-minded focus on stripping and flipping companies to make a profit.
Private equity firms typically create funds that big investors — the super-wealthy, pension funds, university endowments — can partner with, and those funds acquire stakes in companies. It's important to note that private equity firms are mostly investing other people's money, especially the retirement funds of many workers.
Private equity firms get wealthy by charging big fees for managing the fund's investments and aggressively working to strong-arm big profits — typically a 2 percent fee on the funds managed plus 20 percent of any gains, known in industry parlance as "two and twenty." Whereas huge asset managers like BlackRock and Vanguard, which represent another major sector of Wall Street, largely oversee so-called "passive" investment funds that track stock indexes, private equity firms are often much more aggressive stakeholders.
The May Day action was the debut of an effort that organizers hope can provide a hub to better unite, educate and coordinate labor's struggle against the growing power of private equity.
It's a huge industry, with around $7.5 trillion in assets under management. The biggest private equity firms, such as Blackstone, Carlyle Group, Apollo and KKR, oversee hundreds of billions of dollars in investments across every imaginable sector, from housing and hospitals, to fossil fuels and retail, to pet shops and music catalogs.
Private equity's leading barons are extremely powerful. They are some of the world's wealthiest people. They advise U.S. presidents and chair major universities and cultural institutions. Buildings across the nation bear their names.
Private equity's overarching goal is to extract as much profit as possible from the companies it acquires. Many argue that its impacts are overwhelmingly destructive — gutting nursing homes, propping up coal plants, price-gouging on health care and decimating the print media, for example.
"The story that private equity wants to tell is that they're investing in these companies and making them better," said Justin Flores, a senior campaign and research coordinator with the Private Equity Stakeholder Project. "But oftentimes, they're really saddling those companies with debt and then pulling money out of them to immediately pay themselves."
To many ordinary people, said Flores, private equity "sounds like it should be illegal."
Private equity as a sector is a huge employer, with around 11.7 million workers in the U.S. working for private equity-owned firms. One report found that private equity killed more than 1.3 million jobs between 2008 and 2018, including around 600,000 retail jobs, hitting women and people of color the hardest. The report claimed that Wall Street firms had "destroyed eight times as many retail jobs as they have created" during that time.
A big reason for this is that, as private equity acquires companies, a low-hanging area to cut costs is the company's workforce — firing workers, slashing wages and benefits, and making anyone who remains work harder and faster and with less safety protections.
"The private equity industry is really infamous for this model of buying, cost cutting, saddling a company with debt, flipping and selling at a big profit," said Flores. "And workers often bear the brunt of that."
For example, advocates claim that Cerberus Capital Management has gone after Albertsons-Safeway workers' pension funds. THL Partners loaded Art Van Furniture with debt, sold off assets and fired workers and ultimately bankrupted the company. Brand name restaurants owned by Roark Capital have seen rampant wage theft. A Blackstone-owned sanitation company was recently fined $1.5 million for illegally employing over 100 minors.
In one of the most notorious examples of a private equity raid, KKR and Bain Capital, along with real estate firm Vornado Realty Trust, acquired Toys "R" Us in 2005 and proceeded to load the toy company with debt, strip away millions in assets, fire 30,000 workers and ultimately drive it into bankruptcy.
Private equity's … impacts are overwhelmingly destructive — gutting nursing homes, propping up coal plants, price-gouging on health care and decimating the print media.
"They basically gutted the company," said Bianca Agustin, director of Corporate Accountability at United for Respect. "They stopped buying inventory and they sold off all of the real estate assets, which were millions of dollars, and then forced the company to lease back those exact same properties."
"We really see this parasitic approach to investment that characterizes private equity firms as simply detrimental to a fair economy and true democracy," said Agustin.
Labor's Fight at KKR-Owned Refresco
One current flashpoint for labor and private equity centers around the Refresco bottling factory in Wharton, New Jersey. Refresco is the largest independent bottling company in the world, producing brand name drinks from Gatorade to Arizona Iced Tea.
In June 2021, around 250 workers at the plant, many of them immigrants from Latin America, voted in an NLRB election to unionize, affiliating with UE Local 115. Grievances around low wages, long shifts and worker safety had been brewing for years, but a breaking point came in March 2020, when workers staged a walkout over a lack of COVID-19 protections.
"The pandemic played a big role because it showed workers that this company couldn't care less if workers dropped dead," John Ocampo, an organizer with the UE, told Truthout.
Refresco challenged the workers' victory, and there was a second vote in May 2022 that the union won by an even larger margin. During the union drive, Refresco paid huge sums to notorious anti-union consultant firms.
Shortly before the second NLRB victory, Refresco was acquired by KKR, the world's second-largest private equity firm. KKR has over half of a trillion dollars in assets under management. Henry Kravis, the firm's famous co-founder and co-executive, is worth $7.4 billion and owns a personal art collection that includes "Louis XIV furniture and paintings by Jean Renoir and Claude Monet."
Anthony Sanchez is a machine operator who has worked at the Wharton plant for over 16 years. He told Truthout that working conditions at the plant — especially the 12-hour shifts the company imposed, he says, to avoid paying overtime — have had ruinous impacts on his life. He's also suffered injuries that he says are work-related but that Refresco won't take responsibility because they want to avoid paying workers' compensation.
Wages and health care are also major issues for Sanchez, who said that the company health insurance is so bad that he needs to buy his own insurance through the Affordable Care Act. After more than a decade-and-a-half at the plant, he still only makes a base hourly wage of $18.20 per hour (which goes up to $19.30 when he works the night shift).
The union is determined to make sure that the kind of anti-worker, cost-cutting measures that KKR oversaw at Toys "R" Us are not further replicated at Refresco. They've visited KKR's headquarters twice but say that the firm has yet to meet with them. They've also been talking directly to KKR's investors, including pension funds.
The workers at the Wharton plant are currently trying to negotiate their first contract. A key demand is an end to obligatory 12-hour shifts. "Workers are demanding something that was a demand over a century ago, which is an eight-hour workday," said Ocampo.
Ocampo says the union is making progress at the bargaining table but that there's no agreement yet on the issues that matter most to workers, such as wages, benefits, and work hours and schedules. While the union is hoping and expecting for continued progress, they remain ready to fight, up to and including a strike, said Ocampo.
Sanchez told Truthout that a union contract at KKR-owned Refresco could transform his life for the better, giving him the time and energy to simply do everyday things like exercise, read, watch the news and sleep well at night.
Ocampo says the UE is also determined to defend labor in the broader struggle against private equity takeover. "History shows that these private equity firms will buy up a company and they'll just squeeze it for five to seven years and then sell it, and sometimes that means shutting the business down, stripping it, degrading conditions at work," he said.
"They're just out to make a buck," he said. "They don't even care about the long term viability of the company necessarily. They're just in it for a few years to suck it dry, like a vampire, and move on."
The Private Equity Labor Rights Platform
The UE is among the labor partners that support the Private Equity Labor Rights Platform, which is calling on private equity firms to uphold ten planks at their companies, including a sustainable living wage, equitable scheduling and hours of work, paid sick leave and affordable health care, and the right to organize free of intimidation and harassment.
A key strategy for implementing the platform will involve working with large investors with private equity firms that together manage trillions in worker retirement savings, such as public sector employee pension funds and union pension funds.
"Workers' retirement savings in the form of pension funds make up the largest investor group funding private equity firms," the platform states. "Pension funds and other investors should consider the risks of investing with anti-worker private equity firms and take responsibility for ending abusive practices at companies they are invested in through private equity."
One report found that private equity killed more than 1.3 million jobs between 2008 and 2018
Agustin says that these pension funds have the power to stipulate certain demands when they invest with private equity firms. "There's an opportunity, when a private equity firm is asking for money, for a pension fund to attach conditions to their investment dollars," she said.
"Union pension funds don't really want to be associated with some of the worst excesses of private equity," said Flores. He said the platform wants to help these funds "make sure that their money is not going to exploit workers."
Agustin said she's excited about the platform creating more cohesion among unions and community organizations around one set of demands for workers' rights in private equity owned industries. She said that the platform will be an "easy place" to direct private equity firms and pension funds to let them know that "these are the things we want and need."
Flores is also excited about the platform serving as a "hub" for a larger response to private equity around workers' rights as well as for helping to better coordinate between different labor campaigns connected to private equity.
"Sometimes people are organizing a company and may not even realize that it's private equity owned," he said. "So part of this is uniting groups who touch on employment related issues within private equity in different spaces, to start to collaborate and connect the dots."
At times, Flores said, there may be workers across geography or industry that may not even realize they're both struggling against employers owned by the same private equity firm.
"Bringing folks together, having a hub for private equity labor campaigns, where we're using similar language and strategies and then sharing information about what's happening in different places — that's the idea," Flores said.
Copyright © Truthout. Reprinted with permission. May not be reprinted without permission.
Truthout provides daily news, in-depth reporting and critical analysis. To keep up-to-date, sign up for our newsletter by clicking here!