labor
Minnesota Lawmakers Approve 9 Major Worker-Friendly Changes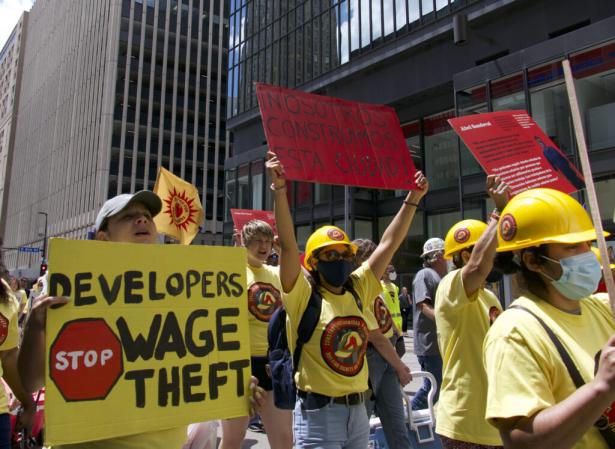 Construction workers and labor activists march through downtown Minneapolis to call on developers to improve labor standards and agree to independent monitoring on June 16, 2022. ,Max Nesterak/Minnesota Reformer.
Minnesota Democrats say a sweeping labor bill they passed on Tuesday could be the most significant worker protection bill in state history.
"This bill is a big damn deal," said Sen. Erin Murphy, DFL-St. Paul, during a news conference.
The labor bill (SF3035) includes a Democratic wish list years in the making that will affect virtually every worker in the state. The bill mandates paid sick days, bans noncompete agreements, boosts funding for workplace safety inspectors and increases protections for workers in nursing homes, Amazon warehouses, meatpacking plants, construction sites, hospitals and public schools.

Democrats are also advancing a host of other labor bills that will create a statewide paid family and medical leave program, expand unemployment eligibility for hourly school workers and give hospital nurses a greater say in staffing levels.
Here are nine major labor changes in the labor bill passed by the Legislature, which the governor's office says he'll sign.
Workers will get paid sick days 
Virtually all Minnesota employees will be eligible for paid sick and safe days — with full-time workers receiving at least six paid days off a year. Employees will accrue one hour of paid sick leave for every 30 hours they work up to 48 hours a year.
Employees will be able to use the time off for a number of reasons, including:
To recover from an illness.
Go to a doctor's appointment.
Care for a sick family member.
Go to a counseling or other psychological appointment.
Severe weather caused work or school to close for them or a member of their family.
Seek services for domestic abuse, sexual assault or stalking.
Teachers will be able to negotiate over class sizes
Unionized teachers will be able to negotiate over adult-to-student ratios in classrooms and student-to-personnel ratios, which could include school psychologists, custodians, or other staff. They will also be able to negotiate over student testing beyond what the state mandates.
The new rule won't guarantee that schools will have smaller class sizes. Rather, teachers may now bargain over these provisions in labor contract negotiations with school districts.
New board will set industry-wide pay and benefits at nursing homes
Minnesota will create a first-in-the-nation board with the power to set minimum pay and benefits for workers at all nursing homes across the state. The Nursing Home Workforce Standards Board comes close to the sector-wide bargaining — common in Europe — in which labor groups negotiate pay and benefits for an entire industry rather than with individual employers.
The board is a leap forward for unions like SEIU Healthcare Minnesota and Iowa, which represent about a quarter of nursing home workers in the state. Having minimum standards removes an incentive for nursing homes to fight union efforts, and raises the floor against which unionized workers bargain for better treatment.
Nursing homes are funded nearly entirely by the government through Medicare and Medicaid, and Minnesota sets their reimbursement rates based on the average cost of care across the industry. (Nursing homes in Minnesota are not allowed to charge private-pay patients more than the government reimbursement rate.)
Nursing homes and Republicans voiced their staunch opposition to the bill, saying the new rules will burden an already highly regulated industry and force many nursing homes beyond their breaking point. Nursing home leaders and Republicans instead called for more funding. But labor leaders cautioned that extra money wouldn't necessarily trickle down to workers, which they say is critical to addressing dire staffing shortages.
Under the bill, if the board's proposals exceed what nursing homes can reasonably afford based on their payment rates from Medicaid and Medicare, then the increases to wages and benefits will be delayed until the Legislature grants them more funding.
Noncompete and no-poach agreements will be banned
Noncompete agreements will become unenforceable, so workers can take jobs at competing companies without fearing they'll be sued by their former employers. The agreements have become prolific in labor contracts, affecting everyone from condominium caretakers to fast food workers to doctors.
The Federal Trade Commission is weighing a national ban on the practice, which the agency says is an often exploitative move that "suppresses wages, hampers innovation, and blocks entrepreneurs from starting new businesses."
About one in five American workers — and 350,000 workers in Minnesota — are bound by noncompete agreements, which the FTC estimates costs workers more than $250 billion per year by decreasing competition for their labor.
Business interests argue that noncompete agreements are critical to protecting trade secrets and client lists. The legislation's authors say businesses can still protect valuable information through nondisclosure and nonsolicitation agreements.
The bill also bans no-poach agreements, which operate as shadow noncompete agreements. Franchise owners within the same franchise — such as McDonald's or Sbarro — agree not to hire from each other, which labor experts say suppresses wages.
Construction workers will have greater protections against wage theft
General construction contractors will be liable for wage theft by their subcontractors and will have to make workers whole if they aren't paid all that they're owed.
Construction projects are often completed through a byzantine hierarchy, with general contractors hiring subcontractors who themselves may hire subcontractors. Sometimes even individual workers are treated as subcontractors, which means they don't receive overtime pay, Social Security benefits or workers' compensation insurance.
Wage theft and misclassification — being illegally treated as an independent contractor rather than an employee — is rampant in construction, and employers rarely face consequences. That's in no small part because many non-unionized construction workers don't have legal authorization to work in the country and are unlikely to take legal action to recover lost wages.
Currently, workers who have their wages stolen must hire an attorney or report it to government authorities. Such cases often take months or even years to be resolved.
Under the new rule, general contractors would have to pay workers their unpaid wages and then could take legal action to recover it from the subcontractor who failed to pay workers all they're owed.
The bill's advocates, which includes labor unions, argue the new rule flips the power dynamic so that general contractors with more resources and legal know-how are responsible for correcting wage theft rather than rank-and-file workers. They also argue the bill would disincentivize general contractors from using disreputable subcontractors who are able to offer lower prices by cheating workers out of fair wages.
The bill exempts unionized contractors because unions have their own procedures for recovering lost wages.
The rule could face legal challenges by contractors and construction industry groups, who say it's illegal to make one business liable for the conduct of another. They say the rule is unworkable because general contractors don't have the capacity to analyze the business practices of every subcontractor they hire, and it could force them to pay twice for the same work.
More than half a dozen states — including California, New York and Virginia — have similar laws on the books, which have not been knocked down by legal challenges. The new rule will add to Minnesota's robust wage protection laws, already among the most stringent in the country. Wage theft in excess of $1,000 was made a felony in 2019, although few employers have ever been charged.
Amazon will have to disclose key data to its warehouse workers
Companies that operate warehouse distribution centers like Amazon will have to tell workers what work quotas they're held to and provide workers with their individual productivity data.
The bill aims to protect warehouse workers from high rates of workplace injuries, including repetitive stress injuries caused by quickly doing the same task over and over. Amazon is notorious for measuring workers' every minute "off task" and disciplining workers for failing to meet opaque quotas. Labor advocates say the lack of transparency on quotas can lead workers to move at a dangerous pace to avoid discipline.
The bill, which will apply to companies with 250 or more employees, requires companies to tell workers what quotas they're subject to and how it's measured. Workers may not be forced to skip meals, restroom breaks or prayer periods to meet quotas. Workers will also have the right to request their work speed data, and a company must provide the data to workers they discipline for failing to meet a quota.
The bill also directs state labor officials to investigate companies if injury rates are 30% higher than the average rate for comparable workplaces.
An Amazon spokeswoman said the rules are based on a misunderstanding of the company's performance metrics, which are not fixed quotas.
"We assess performance based on safe and achievable expectations and take into account time and tenure, peer performance, and adherence to safe work practices," Maureen Lynch, a spokeswoman for Amazon, said in an email. "While we know we aren't perfect, we are committed to continuous improvement when it comes to communicating with and listening to our employees and providing them with the resources they need to be successful."
'Captive audience' meetings will be banned
Employers won't be allowed to require workers to attend anti-union presentations or any other meetings to hear about the employer's religious or political views.
The so-called captive audience meetings are often the primary way employers discourage their employees from unionizing and can be highly effective. Union organizers argue the meetings give employers an unfair advantage and violate people's rights to organize free from interference or coercion.
Captive audience meetings were banned for more than a decade after the National Labor Relations Act was passed in 1935. The general counsel of the National Labor Relations Board, which oversees private sector unions, asked the board last year to reinstate the ban on compulsory anti-union meetings.
Large meatpacking plants will have to create injury prevention plans
Meat and poultry processing facilities with 100 or more workers will have to take more proactive steps to reduce workplace injuries. Meatpacking plants must provide workers training on how to safely perform all tasks they're responsible for as well as the hazards associated with it. Workers must also receive training on how to identify the early signs of musculoskeletal injuries and how to report them.
Workers would be allowed to refuse work they reasonably believe is dangerous, and meat processing plants would have to continue paying employees for missed hours until the hazard has been addressed.
The state Department of Labor and Industry will also hire a meatpacking industry worker rights coordinator.
State will create first-of-its-kind ergonomics requirement
The state will fund a first-in-the-nation state ergonomics requirement, mandating that large warehouse distribution centers, meatpacking plants and health care facilities create programs to reduce the risk of repetitive strain injuries.
The ergonomics programs must include assessing risks and training employees on how to avoid injury and recognize early symptoms of musculoskeletal disorders. Employers must also establish a process for employees to report injuries and recommend possible solutions to reduce risks.
The state Department of Labor and Industry will provide grants to employers to make ergonomic improvements.