I'm a TV Writer on Food Stamps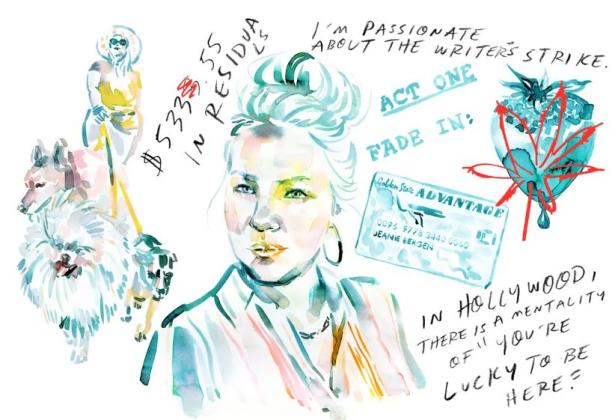 Illustration: by Samantha Hahn // New York Magazine,
I was working as a cater waiter when I sold my first TV show. One evening, while working a party, I ran into someone I knew in college. I was serving weed-infused chocolate-covered strawberries to rich white men while a celebrity tooted on a harmonica in the background. I offered my acquaintance a napkin and asked what he had been up to. He informed me he'd just developed a pharmaceutical drug. He returned the question in kind and I shared my news. He smiled, surely thinking I was joking. I wasn't.
The original pilot was based on my experience becoming guardian and caregiver to my sibling, who is a person with disabilities, after our parents died. It had been years in the making. After working as a local-news journalist, I came to Hollywood and started over. I took out loans to attend a graduate screenwriting program, worked for a studio, and landed a gig as a writers' assistant, where I met the writer who generously agreed to supervise my pilot. We had sold the pilot in May, but I wasn't paid until October of that year. Which is why I'd happily kept donning my apron and spilling Champagne on people at weddings.
The pilot never got picked up for production. As a mid-level TV writer, I'm now used to this feeling of taking one step forward in my career only to then take two steps backward. I'm currently walking two dogs for $30 per day on a route that takes me through Hollywood and past a billboard for the hit comedy I most recently wrote on. Have I "made it," I wonder? It doesn't feel like it as I pry stray chicken wings from a dog's mouth in an attempt to pay my bills.

Right now, the WGA is striking because sustainable writing careers in film and television are in danger of disappearing. There are two main ways you can make a living: you sell pilots or screenplays to studios, or you get staffed as a writer on someone else's project. In traditional broadcast TV, writers could stay employed for most of the year, from the writers' room through production. But streaming has changed the game. Lower- and mid-level writers are rarely paid through production now, meaning we do not get on-set experience or learn how to produce TV. Studios are also ordering shorter seasons and hiring fewer writers to work on them. It has become common for writers to work on just one season of television, for ten to 20 weeks per year, and be unemployed for the rest.
Industry revenues topped $220 billion last year, and yet somehow median weekly pay for writer-producers has fallen over the last decade of peak TV. Television writers are compensated on a weekly basis. The current WGA minimum for a staff writer position is about $5,000 per week, though some lower-budget streaming series are allowed to pay less. In theory, it sounds like a lot. But not if you're only employed for ten weeks, and you pay your taxes, and you pay 25 percent of your wages to agents, managers, and lawyers — partly to negotiate more money and secure fair contracts. Factor in rent in one of the least affordable cities in the U.S. and eating three meals a day and you aren't left with much.
In my first job for a streamer, I was one of three writers in the room tasked with writing 12 episodes. I was paid around the WGA minimum for "low budget New Media," and in addition to having a smaller writers' room, streamers pay less in residuals too. A residual is a payment for reuse of a writer's work — anytime a show is repackaged, resold or rerun. Not that long ago, writers could live off residuals until their next job. I've only ever made $533.55 in residuals, none of it from streaming, even though the show has rotated through every major streamer.
I could not live off what the streamer paid, and I later ran out of room to stretch the money I'd made off my pilot. So I got a gig as a script coordinator, a support role in which I formatted and proofread scripts for production. It was a demotion, but I wanted to be in a writers' room again and I needed the work. To make ends meet, I was nannying and dog sitting on the weekends. When that job ended because of the coronavirus pandemic, I took out a loan to survive, adding to my six-figure student debt. Being able to take out loans is a privilege in itself, but it also feels like digging a hole I'll never climb out of.
Once writers' rooms resumed, I was hired to write on a limited series that told the true story of a large corporation. It was for a major streamer with big stars attached and a huge director. The job demanded massive amounts of reading and research both before and after work. The show focused on workers' rights, the kind of story that had potential to shine a light on corporate greed. Unfortunately, the streamer decided not to move forward with the project.
After that, I was hired on a show where I was told there was no room to negotiate higher wages. Ten years ago, around one-third of writers worked at WGA minimum; today, half of us do. I asked for a title promotion, something that would cost the studio nothing but would in theory help at my next job. My request was rejected, apparently because the last show I wrote on was never made. When I inevitably worked past my contract — when studios have writers' rooms work for shorter periods, it's often not enough time to break all the stories and write all the episodes — I did not get paid my weekly fee.
Recently, I applied for food stamps. If I make over $1,473 this month from the side gigs I've picked up to tide me over, I'll have to report it to the county and my benefits will be stopped. In that scenario, I'd still be short $502 to pay rent on my 600-square-foot apartment and still in need of, you know, food. This is a math problem Hollywood studio heads will never have to solve, and yet they are getting rich from the content writers like me create. Last year, 13 CEOs across 12 major media companies averaged $32 million each in total compensation.
It's as if we've been forced to accept that this is just how society works: A handful of people hold the power and the money while the rest of us live paycheck to paycheck. Writers are on strike for a deal from the studios that allows us to share in the success of the content we create and make writing a sustainable career. That, and the studios want to replace us with AI — not because we're bad at our jobs but because they don't want to pay human beings fair wages.
In Hollywood, there is a mentality of "you're lucky to be here." It's why people don't speak out when they are mistreated, overworked, and underpaid. (This is not unique to the entertainment industry. Worker exploitation is everywhere.) I've stayed because I care about writing stories about people we rarely see on TV: poor people, people with disabilities, people who are disenfranchised. I also believe people who don't come from money should have a seat at the table; otherwise it'll just be rich people and robots (gross) who have no incentive to tell stories about those who are already underrepresented in our media. Since the beginning of time, humans have created stories to connect to each other; maybe we're not saving lives, but film and TV has the power to make people feel less alone.
I'm sharing my experience because it's much more common than people realize. I recently applied for a program called Groceries for Writers, along with hundreds of other TV and feature writers in the guild. There is so much shame when you're struggling financially, but I want to talk about it openly. Instead of internalizing the blame and wondering if we're working hard enough, we should be challenging the systems that created these conditions in the first place.
On the Friday before the strike, my agents sent me an email telling me they'd secured a job interview. I spent the weekend prepping: taking notes, writing pitches, thinking of how my life experience related to a comedy about power dynamics in the workplace. It felt good to do my job again, and the interview alone gave me what I needed: hope. I thanked the showrunners for meeting with me and went to pick up the dogs for their walk.
[Jeanie Bergen is a comedy writer living in Los Angeles, CA. She is known for Dave (2020), Zac and Mia (2017) and One Mississippi (2015).]