Industrial Accidents in 2023, Including East Palestine, OH, and West Reading, PA, Have Cost Lives and Hurt Communities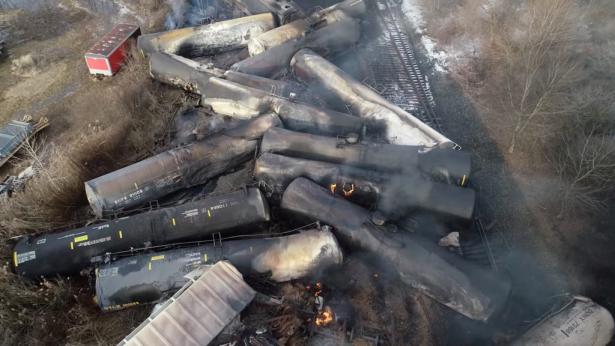 (NTSBGov/Handout via REUTERS)
We are living through an age of disasters. Each day the news cycle brings fresh horrors, including mass shootings, widespread police violence, and rising hate crimes against Asian Americans and LGBTQ+ people. Sometimes it seems impossible to keep up with the tragedies, many of which are steered by human hands, the result of choices made by corporations, politicians, and their donors over whose safety and comfort matters and whose does not. These choices often create a ripple effect, too, leading to unforeseen consequences that invariably wreak the most havoc on the least powerful. 
Recently we've seen a very public spate of industrial disasters that have poisoned or threatened to poison entire working-class communities in places like East Palestine, Ohio, and Philadelphia, and killed multiple workers in West Reading, Pennsylvania, and one in Newburyport, Massachusetts. 
On February 3, a Norfolk Southern freight train derailed in East Palestine, creating a lingering nightmare for the town's 5,000 inhabitants. Twenty of the train cars were carrying hazardous materials, including vinyl chloride, butyl acrylate, ethylhexyl acrylate, isobutylene, and other toxic chemicals; several of these caught fire when the train derailed, and vinyl chloride leaked out. 

Officials ordered residents to evacuate ahead of a controlled burn on February 6, which released a black cloud of chemicals into the air above East Palestine. Though officials told residents it was safe to return home on February 8, the townspeople and the land itself are still suffering aftereffects four months later. 
Norfolk Southern has removed thousands of pounds of contaminated soil and over a million gallons of contaminated water from the area (in the weeks after the derailment, thousands of dead fish were found floating in the local river), while residents — and a team of investigators from the Centers for Disease Control and Prevention — have reported experiencing respiratory issues, headaches, and other ailments following the crash. 
Government officials insist the air and drinking water pose no hazards, but some residents are still afraid to return home. Norfolk Southern is paying for lodging for an unknown number of people, and others are bouncing between hotels and roadside motels. "I have no idea how long we can continue to do this," Shelby Walker, a displaced East Palestine resident who's now living out of a hotel with her family, told PBS in April. The company is currently facing over 30 proposed class action lawsuits related to the disaster.
On March 29, Senator John Fetterman (D-PA) introduced the Railway Accountability Act with fellow Democratic senators Bob Casey (PA) and Sherrod Brown (OH), saying in a statement: "This bill will implement commonsense safety reforms, hold the big railway companies accountable, protect the workers who make these trains run, and help prevent future catastrophes that endanger communities near railway infrastructure. Working Pennsylvanians have more than enough to think about already — they should never have been put in this horrible situation."
Reportedly, rail workers had long worried about safety hazards on the specific train, nicknamed "32 Nasty," that derailed in East Palestine. And since that February catastrophe, multiple Norfolk Southern trains have derailed in other locations. As recently as May 10, nine cars jumped the track in New Castle, PA; there were no hazardous chemicals involved this time. Sen. Fetterman characterized the crash as "the same sh*t, different day from Norfolk Southern," channeling the frustration that many have felt over the lack of safety precautions for rail workers. 
It may be my bias as a local showing, but it sure seems like Pennsylvania has had an especially rough go this year in terms of chemical-related industrial accidents. On Friday, March 24, an equipment failure at the Trinseo Altuglas manufacturing facility in Bristol Township dumped more than 8,000 gallons of latex emulsion chemicals — a cocktail that includes ethyl acrylate, methyl methacrylate, and butyl acrylate, which was also present in East Palestine — into Otter Creek. The creek empties into the Delaware River, which provides Philadelphia with half its drinking water. City officials sent an alert on a Sunday afternoon warning residents to stock up on bottled water, which predictably led to panic-buying across the region. 
Officially, the assurance given was that the drinking water was fine, but there was a slight chance of contamination, and the alert was framed as a "suggestion" by Mayor Jim Kenney. The bungled communication, which relied on cryptic updates and vague language, raised questions about the city's water system and left residents wondering how much we could trust the official response. 
The Philadelphia Inquirer reported that the Bristol plant has a history of "contamination incidents" under its previous owner, including federal investigations and documentation surrounding chemical "releases" and spills in 2010, 2012, 2014, and 2021. (The Bristol plant was acquired by Trinseo in 2021, and this is the first accident under the new ownership.) 
Philly's tap water quality isn't exactly sparkling in the best of times. Visions of Flint, Michigan, and Jackson, Mississippi — two other working-class, majority-Black cities with infamous, ongoing water crises — exacerbated anxiety during what local artist Grim Grim Grim, referencing a local linguistic quirk, dubbed "the Philadelphia Wooder Wars of 2023."
While Philadelphians worriedly stocked up on bottled water at the Acme, people an hour north in West Reading were dealing with a horrific industrial accident of their own. On March 24, a massive explosion ripped through the R.M. Palmer Company's chocolate factory, reducing the two-story building to rubble. Seven workers' lives were ultimately lost, and several survivors suffered grievous injuries. Mark Baxter was unloading a delivery of melted chocolate in the factory's loading dock just before the explosion ignited; according to a lawsuit against the company, he suffered second- and third-degree burns on 19% of his body, hearing loss, and other injuries. 
R.M. Palmer is also facing allegations that the company ignored workers who smelled gas inside the building 30 minutes before the blast, and a wrongful death suit filed by the family of Judith Lopez-Moran, a worker who died in the explosion, is accusing the company of negligence. The suit alleges that company supervisors "intended to mislead the factory workers... so that the factory workers would continue working and so that factory downtime would be minimized." R.M. Palmer, known throughout the region for its iconic hollow chocolate Easter bunnies, has said the company can't publicly comment on ongoing litigation while the National Transit Safety Board investigates the incident and that it is assisting with the investigation.
Last month, yet another worker lost his life in a chemical explosion, this time at a Seqens pharmaceutical facility in Newburyport, MA. On May 4, a blast — the city's acting fire chief Stephen Bradbury called it a "seven-alarm hazardous materials" event — blew off the roof and sent a chemical metal vat skidding into the parking lot. Four workers were taken to the hospital with injuries, but it took firefighters hours to find Jack O'Keefe's body.  
The cause of the explosion is still under investigation, but it's worth noting this particular facility's track record: In 2019, the Occupational Safety and Health Administration (OSHA) found serious violations in the facility's handling of hazardous materials and eventually issued a $50,000 fine; that same year, the company (then known as PCI Synthesis) reached a settlement with the Environmental Protection Agency after the agency accused the company of violating federal and state hazardous-waste laws. The facility was also fined in 2020 and 2021.
In 2020, a chemical reaction caused a series of explosions to rip a hole through the roof, and in 2021, a chemical fire sent smoke pouring out of the plant's roof vents. "There is clearly a documented history from OSHA of negligence committed by this nonunion company toward the safety of its workers," Al Vega, chief of strategy and engagement for the nonprofit Massachusetts Coalition for Occupational Safety and Health said in a statement. 
Senator Ed Markey (D-MA) said the explosion was "just the latest avoidable disaster at this facility, following years of serious violations, fines, and explosions. Three disasters in three years is three too many. We need answers." Sen. Markey also signed a letter with fellow Massachusetts Democrats Sen. Elizabeth Warren and Rep. Seth Moulton that called on Seqens to explain how and why the explosion happened. (In a statement, the company said it is "fully committed to working closely with the authorities and relevant agencies to determine the cause of the incident.")
We do need answers. We deserve to know how major industrial companies are able to get away with ignoring federal agencies, making costly — even deadly — mistakes. According to the Coalition to Prevent Chemical Disasters, there is, on average, a chemical incident nearly every day in this country; every 24 hours or so, another life may be lost, another community may be shattered, and another company may walk away with its hands in its pockets, offering thoughts and prayers instead of real accountability and action. 
A Guardian report found that, in the first seven weeks of 2023, the Coalition to Prevent Chemical Disasters documented more than 30 incidents, from California to Kansas to Louisiana, and that accident rates are getting worse. The US also averages about three train derailments per day; though most are not major incidents, the frequency has increased as profit-obsessed rail bosses have eroded workplace protections for rail workers. "We call things 'accidents,'" as National Transportation Safety Board chair Jennifer Homendy told NPR. "There is no accident. Every single event that we investigate is preventable."
We deserve to know why rail and factory workers seem to be ignored when they raise concerns about safety. We deserve to be told the truth about potential risks to our health and clear communication about what is going on with our water supply. We deserve clean air, clean water, and clean soil. We deserve to know that we and our loved ones will make it home from work at night. 
And we deserve to know why corporations are able to get away with this sh*t. Why aren't the people we've elected to represent us doing more to punish offenders, protect workers (and their right to strike against bad employers), and prevent these disasters from happening in the first place? 
We deserve so much better. But the sad truth is that too many politicians are bought and paid for by the very corporations that are killing us. Capitalism is the greatest disaster of all — the engine behind every industrial accident in the US and every get-out-of-jail-free card for every negligent employer. Until we do something about that, we are all potential victims.