Abortion Ballot Measures Set the Stage Ahead of 2024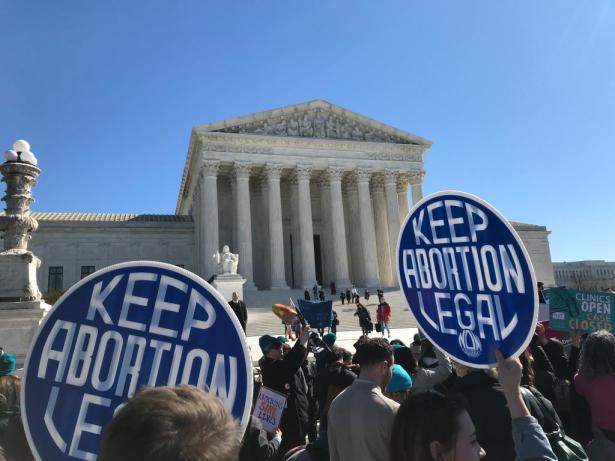 Voters in five states backed abortion rights in the 2022 midterm elections. ,Robin Bravender/States Newsroom D.C. Bureau
The battle over abortion rights is set to play out with several ballot measures across the country going into next year as the issue shows no signs of waning among voters.
The first big fight is in Ohio, where Republicans in next month's special election are looking to increase the voting threshold to 60 percent to amend the state constitution. If passed, that move could hinder Democrats' efforts to enshrine abortion rights in the state constitution in a potential ballot box measure in November.
Florida, South Dakota and Arizona are also battlegrounds for whether abortion is restricted or protected as states continue to contend with the Supreme Court's decision to overturn Roe v. Wade last summer.

"I think one thing that's been true post-Dobbs is not only the anger and frustration among voters and people in this country about the politicians making decisions about our futures, but a sense of helplessness," said Sarah Standiford, national campaign director at Planned Parenthood Action Fund. 
"One thing that we are and that we'll always evangelize is that we have the opportunity as people in this country to demand access, and we're going to fight everywhere," she continued.  
In Ohio, early voting is already underway in the election on whether to make it harder to amend the state's constitution. The proposed resolution would raise the voting requirement to 60 percent, up from a simple majority.
The August election, generating bipartisan criticism, comes as abortion rights advocates are looking to put a proposed amendment to voters in November that would enshrine abortion protections in the state constitution.
Ohioans United for Reproductive Rights submitted more than 700,000 signatures this month to place the measure on the Nov. 7 ballot — exceeding the requirement of 413,446 signatures. The state's secretary of state has until July 25 to certify the signatures.
Abortion is currently legal until 22 weeks of pregnancy in Ohio after a judge blocked a six-week ban, which went into effect after Roe v. Wade was overturned.
But Ohio is not alone in putting constitutional amendments — either to protect or restrict abortion access — before voters.
In South Dakota, the organization Dakotans For Health is collecting signatures to get an abortion rights measure before voters in 2024. The state enacted a "trigger law" following the fall of Roe last year, banning the medical procedure except in cases where the life of the mother is in danger.
The proposed constitutional amendment says that South Dakota "may not regulate a pregnant woman's abortion decision and its effectuation" before the end of the first trimester.
"After the end of the first trimester and until the end of the second trimester, the State may regulate the pregnant woman's abortion decision and its effectuation only in ways that are reasonably related to the physical health of the pregnant woman," the ballot measure notes. 
"After the end of the second trimester, the State may regulate or prohibit abortion, except when abortion is necessary, in the medical judgment of the woman's physician, to preserve the life or health of the pregnant woman," it continues.
Dakotans for Health co-founder Rick Weiland explained that while they don't have any Democratic statewide officeholders, "we do have the initiative process."
"And we've been very successful at using it to get things that the people of South Dakota want that they can't get out of their state legislature," he added.
In Florida, the coalition Floridians Protecting Freedom is also collecting signatures to put a constitutional amendment on the ballot next year. Now, the state bans abortion after 15 weeks with several exceptions.
The text of the ballot measure says that "no law shall prohibit, penalize, delay, or restrict abortion before viability or when necessary to protect the patient's health, as determined by the patient's healthcare provider," and its summary notes the amendment wouldn't change "the Legislature's constitutional authority to require notification to a parent or guardian before a minor has an abortion." 
Despite facing political headwinds — Florida Republicans currently hold the governor's office and the Senate and House — abortion rights proponents say voters are on their side.
"I don't think that [abortion rights opponents] have a winning path because everyone — I don't care how old you are, I don't care what color you are, I don't care what political affiliation you are — everyone is noticing that there are literal patients dying … and they also believe that the government interference is a problem," said Sarah Parker, president of Women's Voices of Southwest Florida. 
Groups in Arizona and Missouri also are in the process of getting abortion rights ballot measures in front of voters next year. The efforts have expectedly drawn criticism from abortion opponents, including Brian Westbrook, executive director and founder of the anti-abortion group Coalition Life, who called it "a matter of desperation from the other side."
At the same time, abortion rights opponents are also moving to get their constitutional amendments in front of voters.
In Florida, Protect Human Life Florida is looking to amend the state's constitution to include, "the right to life of the preborn individual is God‐given, thus unalienable and recognized accordingly. Therefore, it shall not be infringed at any stage of development." 
The proposed ballot initiative, which would be slated for 2024, defines a "preborn individual" as "a preborn human person at any stage of development" and offers several exceptions.
Iowa lawmakers were considering a proposed state constitutional amendment that would "declare that this Constitution does not recognize, grant, or secure a right to abortion or require the public funding of abortion."
To come before voters, the amendment needs to be approved in two legislative sessions in a row. It was approved last legislative session.
A spokeswoman for the Iowa Republican House caucus told The Hill in a statement that no decision regarding the next immediate steps in the constitutional amendment has been made, noting, "We will return for our next Legislative Session in January and will continue to work on legislation that protect life, support new parents and strengthen Iowa families."
Likewise, Pennsylvania could see a proposed amendment to add that the state constitution "does not grant the right to taxpayer-funded abortion or any other right relating to abortion."
Though that language passed the state legislature last session, it would need to be passed through the state legislature in two consecutive legislative cycles to go before voters. The state GOP House and Senate caucuses confirmed to The Hill that efforts around a potential abortion constitutional amendment have been paused.
"That has not been the focus of any constitutional amendment movement this session," Jason Gottesman, spokesman for the Pennsylvania House Republican Caucus, told The Hill in a statement.
Anti-abortion rights groups are already gearing up to go toe-to-toe with groups trying to enshrine abortion protections in their state constitutions.
"We have filed public comments where there's been an opportunity to do so. We also are evaluating different options as far as the type of canvassing — TV, digital, mail ads that we've done in previous campaigns," said Katie Daniel, state policy director at Susan B. Anthony Pro-Life America.
While the issue of abortion has galvanized voters toward Democrats in recent elections, some abortion rights opponents are hoping the same will happen for them.
"I think more pro-life people are going to turn out and you're going to see that — maybe some of the pro-lifers who stayed home or pro-lifers who weren't that thrilled the last election cycle, I think you're going to see them turn out in droves," said Lynda Bell, Florida Right to Life president. 
But abortion rights activists believe voters across the political spectrum support access to the procedure.
"I think that it would make me more nervous if I didn't know how badly people want to have this amendment. If I didn't understand that everybody — Democrats, Republicans, independents — that all of us understand what's at stake when we remove reproductive freedom," said Amy Fitch-Heacock, whose Arizonans for Reproductive Freedom group is looking to put an issue on the ballot next year.
"I realize that there will be people from an incited base who will turn out to vote but the reality is that we still outnumber them," she added.