Global Left Midweek – Focus on Canada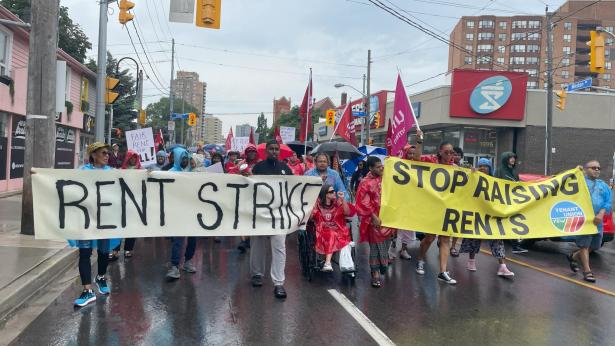 Hundreds of Toronto tenants turn out for rent strike rally Saturday. Credit, CityNews Toronto
__________
The Left Lacks Leadership
Kathleen O'Hara / rabble.ca (Toronto)
Something is wrong with how we choose leaders and allow them to act! We need to redefine our democracy at every level from groups to parties to governments. Excite people about the importance of their voices and participation! In fact, at the base of all my comments is the need for thoughtful, profound culture change. 
__________
Breakthrough in Toronto
David Rider and Alyshah Hasham / Toronto Star
Progress Toronto grew up in opposition, with petitions and protests, banging on the doors of city hall. Now, to the surprise of many, including some in the political advocacy group, those city hall doors have swung wide open. Former NDP MP Olivia Chow is mayor. Former Progress Toronto executive director Michal Hay is her chief of staff.
__________
Tide Turning for Worker Action?
Adam D.K. King / The Maple (Calgary)
If recent strike activity and union wage settlement data are any indication, Canadian union members seem to be on the march in a way they haven't been since at least the onset of the pandemic. Labour is losing out on a chance to both learn by example and inspire further efforts by workers to fight for what they deserve.
__________
Wildfires and Indigenous Land Protecters
Brian Osgood / Al Jazeera (Doha)
With Canada in the throes of a record-breaking early wildfire season, the country's Indigenous communities, which include First Nations, Metis, and Inuit peoples, say it is time for them to be given a more prominent role in shaping the country's approach to fire and forest management.
__________
Québec's Climate Victory
Louis Ramirez / The Breach (Montréal)
A movement bringing together environmentalists, farmers, hunters, labour activists, Indigenous nations, and progressive politicians, managed to force a conservative provincial government to agree to keep all oil and gas in the ground—the first state in the world to do it. Quebec's ban on hydrocarbon exploration represents a massive social movement victory, but the story of it has never been fully told.
__________
Next Steps for Tenant Organizing
Vanessa Balintec / CBC News (Ottawa)
Striking tenants who are refusing to pay big rent increases in several buildings in Toronto's west end say they've been flooded with support from across the country. York South-Weston Tenant Union organizer Bruno Dobrusin said support for their rent strike has been "overwhelming." Not only are people paying attention, but he said they're interested in learning how to organize themselves.
__________
ILWU Still on Strike
Amy Judd / Global News (Toronto)
British Columbia's port workers are back on the picket lines. The International Longshore and Warehouse Union Canada and the B.C. Maritime Employers Association first announced a tentative agreement was reached last week, but the employer said the union — representing thousands of port workers — has backed out.
__________
Vancouver Hotel Workers
Emma Arkell / Jacobin (New York)
The owners of a Vancouver hotel cashed in millions from government programs and then fired over 140 workers. The workers fought back, and now their labor dispute has surpassed the two-year mark, marking it as Canada's longest ongoing strike.
__________
Turmoil in the Assembly of First Nations
Christine Sy and Joyce Green / Canadian Dimension (Winnipeg)
The Assembly of First Nations (AFN) is a political organization that advocates on behalf of First Nations with the federal government. RoseAnne Archibald was the first female national chief, elected in 2021. Prompted by her ousting on June 28—at a virtual special chiefs assembly—we are compelled to speak out again of the events of the last few weeks and days.
__________
The Legacy of the Organized Working Women
Kaitlin Peters / Spring (Toronto)
The 1975 women's conference "Women in the Workforce, It's About Time," co-sponsored by the Labour Council of Metropolitan Toronto and Humber College Women's Centre, established Organized Working Women. The OWW sought to reach any woman who was a member of a bona fide collective bargaining unit to "convince the organized labour movement to take up the cause of working women."