The New Rightwing Laws Taking Effect in Texas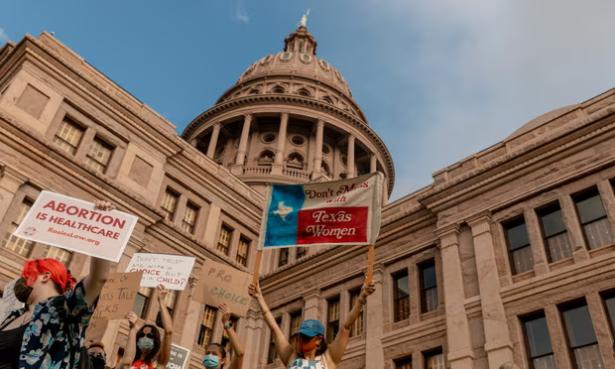 Demonstrators hold signs outside the Texas state capitol during a Women's March,Bloomberg/Getty Images
On Friday, the Republican-controlled legislature in Texas will dump an avalanche of virulent new laws on the state's 30 million residents, cementing its reputation as a hotbed of the far-right turmoil that is sweeping America.
Hundreds of laws will come into effect as the product of the legislative session that Texas holds every two years. Among them are a number of highly controversial targeted bills that will have a seismic impact on some of the most vulnerable Texan communities.
They include measures attacking the rights and healthcare of transgender Texans, undermining the autonomy of progressive cities such as Houston, extending the state's prohibition of abortion, pushing back on efforts to combat rising heat amid the climate crisis, and more.

The Republican group that controls both houses of the Texas legislature has been emboldened by favourable election results in 2022 that showed little or no backlash to their radical rightwing agenda of a year before. The introduction of an almost total abortion ban after Roe v Wade was overturned also appears to have inflicted minimal damage on the party's standing.
"The Republican party is unbridled in Texas," said Mark Jones, a political science professor at Rice University.
Here are some of the most striking new laws that take effect on Friday, which Jones likened to a "smorgasbord of red meat for the Republican base":
Anti-LGBTQ+ measures
Several of the most significant bills that come into effect on Friday involve attacks on the LGBTQ+ community. The most contentious is SB 14.
When the new law goes into effect on Friday, after the state supreme court gave the go-ahead, Texas will become the most populous state to ban gender-affirming care for transgender children. The legislation bars under-18 trans Texans from gaining access to medical treatments including hormone therapies, as well as surgeries that are rarely performed on children.
Under the measure, trans kids will be "weaned off" any medical care they receive.
Johnathan Gooch of Equality Texas, the largest LGBTQ+ advocacy group in the state, said the new law had had a dramatic chilling effect. "We've seen a lot of healthcare providers either close or move out of state, which has left not only trans youth but many trans adults without the medication they need."
Twisting the knife in the anti-trans wound,
SB 15 prohibits
trans men from competing in men's college sports teams, and trans women from taking part in women's college athletics teams. The move is an extension of a similar ban that was introduced for grade school children in the 2021 legislative session.
Then there is SB 12, the latest in a rash of state laws cracking down on drag shows performed in front of children. Though lawmakers removed "drag" from the language of the bill, their target is crystal clear – they specifically demonise show props that "exaggerate male or female sexual characteristics". The law was temporarily halted by a federal judge on Thursday, pending a legal challenge.
"This is tragic," Gooch said. "Texas has a long history of drag performances stretching back to 1930s San Antonio and Houston. It astounds me that almost 100 years later, lawmakers have made drag performances illegal in many cases."
Texas is also echoing book bans that have been introduced in Florida and other Republican-controlled states. The measure, HB 900, orders school libraries to remove or segregate any books carrying "sexually explicit" material, raising fears that it will lead to blanket censorship of titles addressing LGBTQ+ themes.
Taking all this together, Gooch said that the LGBTQ+ community in Texas was feeling "exhausted and defeated. Those who can afford to leave have been leaving, especially families with trans kids but also trans adults who feel that their healthcare will be next on the chopping block."
Houston, the largest city in Texas, has been singled out. Two new laws, SB 1750 and SB 1933, respectively unseat the elected Democratic election administrator in Houston who has successfully expanded the city's electorate, and allow for the Republican legislature to take over future election counts if there are complaints of "irregularities".
"This is an act of revenge against our efforts to expand access to voting in Houston," Kamin said. "More than that, it's interference in the integrity of our elections."
As a further blow to local democracy, HB 17 allows the removal of progressive locally elected prosecutors who choose not to pursue regressive laws such as the criminalisation of marijuana possession or abortions.
Abortions
Texas already has one of the toughest abortion bans in the country, allowing for only rare exceptions and threatening doctors accused of violating the prohibition with possible life in prison. SB 24 uses state funds to create a statewide network of anti-abortion clinics misleadingly known as "crisis pregnancy centers".
Under the provision, state funds are also barred from being used to support family planning services including birth control.
Diversity, equity and inclusion
SB 17 eradicates DEI offices and training programs from all public university campuses.
Heat and the climate crisis
Texas has more worker deaths from heat than any other state, according to federal data, the Texas Tribune reports. Yet Austin and Dallas will no longer be allowed to require mandatory 10-minute water breaks for outdoor construction workers in extreme heat.
The state is currently in the grip of a record-breaking heatwave, with temperatures reaching 119F (48C).
The searing heat is being felt especially keenly in Texas prisons which have seen a spike in deaths this summer. Yet the state legislature chose to spend not a penny of its $33bn surplus on introducing air conditioning to its crumbling penal institutions.
Despite Texas already suffering from the impact of the climate crisis, including strengthening hurricanes and brutal heat, environmentalists were dismayed that from Friday
new levies
on electric vehicles will be imposed. Anyone buying an electric car will have to pay $400, on top of a
$200 annual fee
.
Other red meat laws
Republicans have thrown in some other eye-catching new laws that are certain to play well with the base. As Covid cases begin to rise again, with some states encouraging renewed use of masks, Texas is permanently banning mandates for mask wearing and vaccinations.
Hitting another hot-button issue, HB 6 defines overdoses from fentanyl as "poisonings". That will allow prosecutors to charge anyone who supplies a fatal dose of the opioid with murder.
Assault on local democracy
While Republicans enjoy lock-tight control over statewide elected offices in Texas, they still have to contend with a number of left-leaning major cities who see – and do – things very differently. The Republican solution is to strip cities of their local democratic power.
New laws out on Friday amount to the most aggressive attempt yet by the Republican-controlled legislature to erode the power of Texas's progressive and Democratic-led big cities. That includes Houston, Dallas, San Antonio, El Paso and other urban areas.
The most far-reaching provision is HB 2127 – dubbed by opponents in the Lone Star state the "Death Star law". It wrenches away from cities and counties whole areas of policymaking, from labour relations to agriculture and the environment, in effect transferring control from progressive urban areas to the hard-right caucus in the state legislature.
"The Death Star law covers entire swaths of code. It's so murky we have no idea what it means," said Abbie Kamin, a Democratic city council member in Houston. "They are literally denying the right of local control for progressive major cities and harming our ability to represent and provide services to our millions of residents."
A Texas judge has ruled the Death Star law unconstitutional, but the state is appealing and the future of the measure still hangs in the balance.