labor
The Looming Shutdown: 'Political Theater' Showing Total Contempt for Essential Workers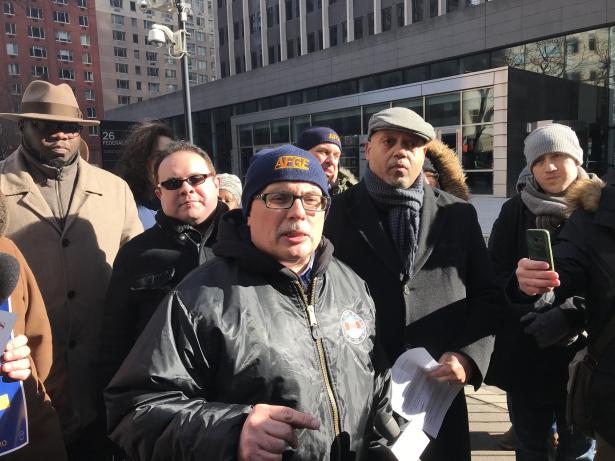 The last time there was a government shutdown many many federal employees had to keep working without pay. ,Bob Hennelly
Hundreds of thousands of federal workers and contract workers are on edge this week with just a few days to go before a possible federal government shutdown engineered by former President Donald Trump's most ardent partisans in the House of Representatives. 
The longest shutdown in U.S. history happened during the Trump administration when federal civil servants were locked out or forced to work for free from Dec. 22, 2018 until Jan. 25, 2019. The shutdown was an extreme hardship for federal workers like correction officers and employees of the Transportation Security Administration who had to keep reporting for work and paying for their commutes without being paid.
Many thousands of federal workers had to rely on credit cards, family loans, and food banks to get through the protracted shutdown. Out of the 800,000 federal workers affected last time, 24,000 lived in the tri-state region. 

"It is a matter of total disrespect of federal employees to have to deal with this issue over and over again with Congress saying we are locking you out," Dr. Everett Kelley, president of AFGE, the nation's largest federal union, told Work-Bites. "You will see more and more people going to food banks for sure. At some point you would think that Congress had learned this lesson from past shutdowns. But they didn't."
Kelley continued, "Sixty percent of America's working people are living paycheck to paycheck, and it's no different from the people that I represent-they live from paycheck to paycheck as well. Take TSA workers — many of them have to pay for the commute to the job, they have childcare and it's almost impossible to live. Up until this year when we are able to secure a bump in pay for them, but up until this year, these guys were making only an average of $34,000 a year."
The AFGE leader also said that the last shutdown cost the overall American economy over $11 billion and while his rank file did get back pay, tens of thousands of contract employees in sectors like building service were never made whole.
Kelley, whose union maintains a robust political action arm in all 50 states, said events like the shutdown drive home the reality that elections can have real consequences for working people.
"I employ every citizen in America," he said, "to pay close attention to what's being said. You know, the little sound bites…the little bits and pieces because it can tell you a whole lot about an individual.
The looming shutdown comes as the UAW continues its strategic strike, SAG-AFTRA continues its job action and United Steelworkers Nurses Local 4-200 remains on strike for safer staffing against the Robert Wood Johnson University Hospital in New Brunswick, NJ.
While federal employees can't strike, Kelley said growing national support for unions, especially among younger people, is changing the national conversation on labor.
"What this tells us is that workers in America are standing up for what they believe to be right," Kelley said. The union leader further observed that while there's always been a focus on corporate profitability, there's now a growing concern that all too often "the worker gets peanuts, so American workers are standing up saying that it's not right and they're going to make sure that they fight for what they truly believe that they deserve. I totally agree with it." 
The specter of another national government shutdown comes at a time when the federal government is having trouble recruiting in the healthcare and technology sectors and one-third of the overall federal workforce will soon be eligible to retire.  
The Federal Times reported that the inability of the federal government to hold on to its younger workers is a concern for senior managers and the White House.
"Another key priority for the White House has been marketing federal jobs to younger workers as the rest of the civil service is expected to age out," the outlet reported. "Indeed, the attrition rate for employees under 30 was 8.5 percent, significantly higher than the government-wide average and notable for those keeping tabs on a workforce that can bridge institutional knowledge gaps and train newcomers."
Kelley told Work-Bites the erratic nature of the government shutdown, even the anxiety around the possibility of one, would undermine one of the historic selling points for federal employment. 
"This definitely is a problem," Kelley said. "We don't have adequate staffing now in various occupations in the federal government. Instead of locking federal workers out, they should be figuring out how we can better staff these agencies and how do we recruit the best and the brightest."
In a Jan. 20, 2019 impassioned speech given by Association of Flight Attendants CWA  International President Sara Nelson, after the shutdown was several weeks old, she called on the broader American labor movement to engage in tangible support for the federal workforce.
"Don't wait for an invitation," Nelson said.  "Get engaged, join or plan a rally, get on a picket line, organize sit-ins at lawmakers' offices. Go back with the Fierce Urgency of NOW to talk with your Locals and International unions about all workers joining together — To end this shutdown with a general strike."
The Trump shutdown was only a facet of the ex-president's multi-faceted attack on the federal civil service unions which he attempted to unilaterally dismantle.
In May of 2018, President Trump issued several executive orders that sought to eliminate the presence and role of unions in the federal workforce. During Trump's tumultuous tenure his administration targeted for closure or downsizing offices with scientific expertise staff that helped agencies like the USDA and EPA monitor corporate compliance with federal law.  
In August of 2018, in her now famous 'Presidents are not Kings' ruling, then U.S. District Court Judge, now Supreme Court Justice Ketanji Brown Jackson, ruled Trump's anti-union executive orders violated the 1st Amendment of the U.S. Constitution and the separation of powers among the three branches of the Federal Government. In her 119-page opinion, Jackson conceded that while it was well within Trump's purview to issue Executive Orders on labor relations, those directives could not undermine existing and well-established collective bargaining rights. "And because many of the executive order provisions that the unions challenge have that effect, this court concludes that the President has overstepped his bounds," Jackson wrote. 
Throughout the worst of pandemic, AFGE members were on the frontlines working for agencies like the USDA, Bureau of Prisons and Veterans Affairs where the risk of exposure to the deadly virus for the workers and their families were significant.
In an interview last year, Kelly confirmed the AFGE had lost at least 600 members during COVID, many through their occupational exposure to the often deadly virus. Union officials have confirmed they have anecdotal reports of so-called long COVID symptoms among their members of varying severity that have persisted months after the initial infection. 
Kelley said he has tried to call the family of each union member who died in the pandemic. "It's something I don't wish for anyone because we know that person is not coming back and that person gave their life, right — for their job — knowing the hazard, and in many cases, they were not protected at all. It was very difficult [to get information]. We had to fight. We had to expose ourselves. We had to do all kinds of things just to get information — and to be honest with you, we really don't know the real amount. There's so much we don't know. It really varies by agency."
Early on, the union's TSA officers were some of the first to be infected and killed by COVID. AFGE members and their families serving in congregant facilities like the ones run by the Veteran's Administration and the Bureau of Prisons were particularly hard hit, as well as those with frontline job titles like USDA inspector in the nation's meat processing plants were also put at significant risk. Throughout the pandemic, particularly during the Trump administration, federal agencies refused to provide the union with any information about the status of the pandemic within their operations as the death toll mounted.
Back in 2020, AFGE, along with Kalijarvi, Chuli, Newman & Fitch, filed a class action lawsuit against the Federal Government for premium hazard pay on behalf of tens of thousands of federal workers in frontline agencies like the USDA, the Bureau of Prisons, Department of Defense, TSA, and several others that saw COVID deaths and infections. That lawsuit is still pending.  
David Borer, AFGE's general counsel, said that "early on, we had a real crisis in the federal prisons when COVID got into these facilities and then we had the government doing things like transferring COVID positive patients to different facilities and exposing more people."