Indigenous Groups Say Referendum Loss Proves Australia Is a 'Country That Does Not Know Itself'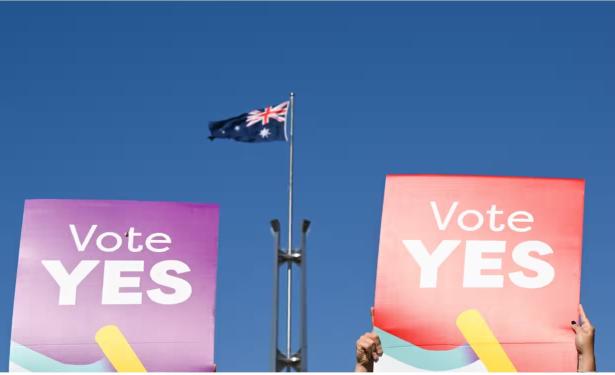 Young Indigenous Australians are 'in shock and disbelief' after the voice to parliament was defeated, the Central Land Council says, . Photo Lukas Coch/AAP
Indigenous groups have broken a week of silence after the defeat of the voice referendum to express sadness and disappointment, with some describing the no result as "an unparalleled act of racism by white Australia".
Australians overwhelmingly rejected the proposed Indigenous voice to parliament on 14 October, with the highest yes vote recorded in the Australian Capital Territory at 61%, followed by Victoria at 45%. Queensland had the lowest yes vote at 31%.
After a vow to remain silent for a week to grieve after the vote's results became clear, groups on Sunday shared their dismay, condemning the "dog whistling and misinformation" of some in the no campaign.

The Central Land Council, one of four land councils in the Northern Territory, said the referendum result showed Australia was a "country that does not know itself."
"Those of us who have been around for a long time recognise how it feels," it said. "We have been here before. We are sad but we know that we must stay strong.
"Others in our communities, especially young people, are in shock and disbelief. We need to work together and support each other. We will keep fighting for equality, fighting for land, fighting for water, fighting for housing, infrastructure, good jobs, education, closing the gap – a future for our children."
The CLC noted that Aboriginal and Torres Strait Islander people all over remote Australia voted yes.
The council said while the outcome was disappointing, it recognised the courage of the prime minister, Anthony Albanese, for bringing the request for a voice to a vote.
Australians for Native Title and Reconciliation (Antar) said it was "deeply saddened" by the results but would not back down for voice, treaty and truth – the key aims of the 2017 Uluru statement from the heart.
"Once again an opportunity to be more than a former colony of the British Empire has been missed, despite a proposition which was so gracious, modest, and accommodating to mainstream values," it said on Sunday.
"We don't accept that this is the end of the movement for change. The voice was only one mechanism for progressing First Nations rights and justice."
The group said many First Nations people felt lost and placeless in their own country.
"We are hearing that for many, the unfolding events of 14 October felt like an unparalleled act of racism by white Australia," Antar said. "But there are more stories of resilience and resistance of leaders who won't back down."
The group said it was clear that "dog whistling and misinformation were critical factors at play" in the 14 October result.
Nine newspapers reported on Sunday there had been division among some yes campaigners over the wording of an official joint statement.
A draft copy, according to Nine, blamed the federal Coalition, stating the referendum was "doomed from the time the National party and then the Liberal party said they would oppose it and bipartisanship was lost".
It was reported to have stated: "The truth is that the majority of Australians have committed a shameful act whether knowingly or not, and there is nothing positive to be interpreted from it. Only the shameless could say there is no shame in this outcome."
Albanese has so far resisted revealing the government's next steps but has committed to listening to Indigenous groups.
Sarah Basford Canales is a political reporter for Guardian Australia, based in Canberra. Email: sarah.basford-canales@theguardian.com or via sbasfordcanales@protonmail.com.
Scroll less and understand more about the subjects you care about with the Guardian's brilliant email newsletters, free to your inbox.