Students at 100 Campuses Walkout for Ceasefire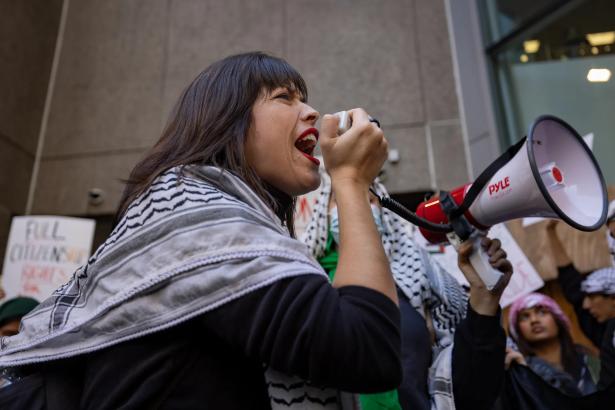 Pacific Press/Teen Vogue
College students at more than 100 campuses across the country plan to walk out today to protest for a ceasefire in Gaza and for their universities to sever their close ties to arms manufacturers providing Israel with its weapons, like Lockheed Martin, Boeing, and Raytheon. The national walkout was organized by a broad coalition of groups including the Palestinian Youth Movement; the anti-war youth organization Dissenters; Anakbayan, the national organization for Filipino students and young people; the National Students for Justice in Palestine organization; the Muslim Students Association; and others.
Since the Hamas attacks on October 7 — which killed an estimated 1,400 Israelis, mostly civilians, and with more than 200 still held hostage — at the time of writing, Israel's retaliatory siege on Gaza has a death toll of over 5,700 Palestinians, including an estimated 2,000 children, according to the Hamas-run Gaza Health Ministry. On October 24, the World Health Organization announced that nearly two-thirds of Gaza's hospitals were non-functional; the same day, the Gaza Health Ministry also announced that 700 Palestinians were killed overnight in strikes from Israel.
Polling last week from CBS and YouGov found that Americans are largely mixed on the US providing arms to Israel; another poll from Data for Progress found that 66% of voters who responded support a ceasefire, which goes up to 70% when restricted to respondents under age 45.

"The goal of our walkout and moment of silence is to disrupt the day-to-day complicity on American college campuses across the US" to bring them into the movement calling for a ceasefire, says Zoë DeMercado, a student and Dissenters fellow at Xavier University of Louisiana, one of multiple historically Black colleges and universities (HBCUs) participating. DeMercado tells Teen Vogue that other students she's spoken to at HBCUs have felt compelled to participate by Palestinian solidarity with Black American communities during movement uprisings in both 2014 and 2020: "We can't stay silent about this."
Advocates say that anti-Semitic and Islamophobic hate crimes are on the rise, with one group finding that anti-Semitic attacks have doubled in New York City since October 7, as reported by The New York Times. The weekend following the Hamas attack, six-year-old Palestinian American Wadea Al-Fayoume was killed at his home outside Chicago. According to the Council on American-Islamic Relations (CAIR), a 20-year-old Palestinian American was hospitalized on Sunday after a hit-and-run in Cleveland; on Monday, CAIR called for authorities to investigate it as a hate crime, alleging the driver yelled "Kill all Palestinians" at the victim.
The news out of Israel and Gaza has incited an active anti-war movement among students and young people not just domestically but globally (including even climate activist Greta Thunberg). In the US last week, thousands of high school and college students walked out of schools to call for a ceasefire, with large-scale actions across California, in Philadelphia, Detroit, and Boston. Over 1,800 scholars associated with the Rhodes, Fulbright, Truman, and more fellowships are circulating a public letter with signatories calling for a ceasefire.
Campuses including Harvard, New York University, the University of Pennsylvania, Columbia, Cornell, and more have seen conflict and controversy among their student bodies, professors, and school administrations. National Students for Justice in Palestine, who were criticized for calling the October 7 Hamas attacks "a historic win for the Palestinian resistance," are facing campus bans from the likes of Florida Gov. Ron DeSantis and his chancellor.
Wednesday's walkout marks the first nationally coordinated student action of this scale since October 7. "The student movement is a historic sector that has mobilized thousands during a variety of anti-war moments in the United States," Kaleem Hawa, an organizer with Palestinian Youth Movement, tells Teen Vogue, explaining that students have been inspired by past student movements against the Vietnam War and South African apartheid.
"It's a painful moment for a lot of Palestinians, Arabs, and Muslims," says Hawa, citing harassment of those speaking publicly on the conflict, in addition to the dehumanizing rhetoric and hate crimes. "It's scary stuff. So when I see campaigns like this, I feel very proud, because the students are always more courageous than their [institutions]."
For DeMercado, her perspective in looking to the Black liberation movement made her choice to participate in the walkout feel obvious. "Black and Palestinian solidarity has gone as far back as the Black Power and Civil Rights Movement," she says.
The US has so far supported Israel's military campaign against Gaza, with a White House spokesman saying a ceasefire would only benefit Hamas. A number of congresspeople are working on various legislative proposals on US engagement: Within the Democratic party, one letter signed by "every Democratic Jewish member and 128 other Democrats in Congress" backed a continuation of the Biden administration's support for Israel, as well as humanitarian support for Gaza; a resolution by Reps. Rashida Tlaib, Ilhan Omar, Cori Bush, and others calls for a ceasefire.
On October 24, US Secretary of State Antony Blinken defended Israel's military campaign to the United Nations Security Council, but said "humanitarian pauses must be considered" as Israel prepares for a ground invasion into Gaza. Also on that day, the UN's secretary general called for a ceasefire, saying the "appalling" Hamas attacks "cannot justify the collective punishment of the Palestinian people."
Lexi McMenamin is the news and politics editor at Teen Vogue. They are also a freelance writer covering politics, identity, activist movements and pop culture. They have been published by the BBC, them., i-D and elsewhere.