labor
Palestinian Workers Return to Gaza After Expulsion From Israel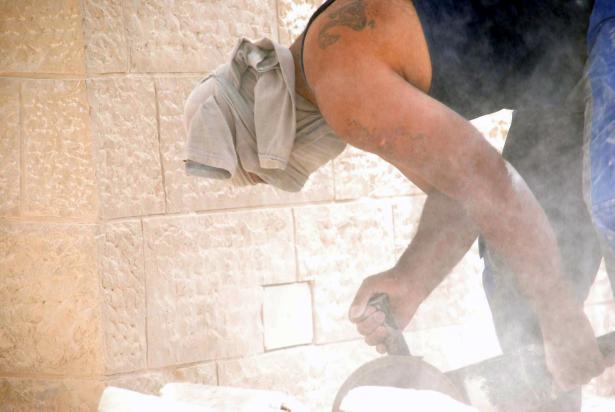 Palestinian construction workers. Yad Vashem Museum, Jerusalem, Israel,Shlomit Or
Gaza is facing constant bombardment and acute shortages of key supplies.
The UN voiced its concerns for the workers' safety in the "incredibly difficult and dangerous situation".
Before the war, more than 18,000 Palestinian workers were allowed to cross from Gaza into Israel and the occupied West Bank.

Israel suspects Hamas, which runs Gaza, may have got information about the places it attacked on 7 October from Gazans working on the kibbutzes.
Israeli media reports quote intelligence sources who suggest that the layouts of individual homes in these communities - and the proximity of Israeli defences - were among details that might have been passed on.
The unprecedented assault on southern Israel by Hamas almost four weeks ago killed more than 1,400 people. The Israeli military says that 242 others were abducted and are being held hostage in Gaza.
In the wake of the attack, Israel launched an aerial campaign campaign and ground offensive in the Gaza Strip, a Palestinian enclave. The Gazan health ministry, run by Hamas, says more than 9,000 people have been killed.
The crossings to Gaza were also closed as Israel stepped up its blockade, which has left Palestinian labourers stranded in Israel for weeks.
Announcing the expulsion of workers, Israeli Prime Minister Benjamin Netanyahu restated his aim to cut all ties with Gaza.
A post on X, formerly known as Twitter, from his office went on to say: "There will be no more Palestinian workers from Gaza. Those workers from Gaza who were in Israel on the day of the outbreak of the war will be returned to Gaza."
Israeli officials have not said how many of these people were in Israel on the day Hamas launched its deadly attacks.
The jobs held by the Gazans - in sectors like agriculture or construction - commanded salaries up to 10 times what a worker could earn in Gaza, according to the Reuters news agency.
Crowds of men were pictured on Friday using the Kerem Shalom crossing from Israel into Gaza, which is normally used for goods only.
The checkpoint is east of the Rafah border crossing - between Gaza and Egypt - through which a limited number of people have been able to leave Gaza since Wednesday.
Some of those who spoke to Reuters at Kerem Shalom said they had been detained and mistreated by Israeli authorities after the Hamas attacks.
The UN's human rights office said it was "deeply concerned" that "at least 4,000 Palestinian workers and hospital patients were detained without sufficient legal basis" when Israel revoked their work permits after the events of 7 October.
The BBC has approached Israeli authorities for comment on the alleged mistreatment of Gazan workers in detention.
A UN spokeswoman also said it was "worrying" that some Palestinians were being sent back to Gaza "despite the gravity of the situation there". She said it was not clear whether some of the affected people even had a home to return to.