By Censuring Rashida Tlaib, Congress Reveals 'Palestine Exception' to Free Speech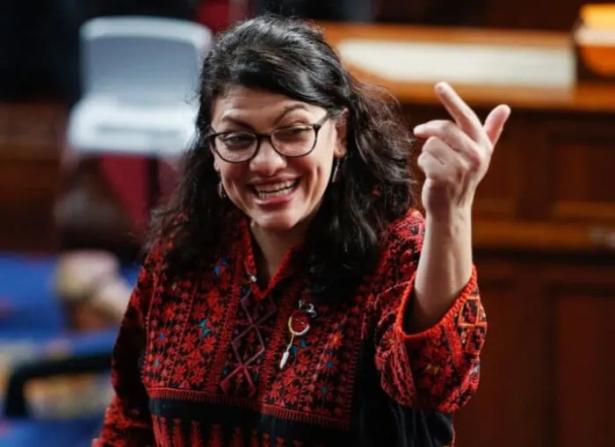 Rep. Rashida Tlaib,
In the U.S. Capitol Rotunda, the nation's founding documents are on display, including the Bill of Rights, which enshrines free speech. As Israel subjects Gaza to a massive air and ground assault, Congress has reminded us of what has come to be known as "the Palestine exception" to free speech.
Last Tuesday, 22 Democrats joined with the Republican majority to censure Palestinian-American Congressmember Rashida Tlaib. Just before the rare vote, Tlaib addressed the House, surrounded by her progressive colleagues including the two other Muslims in Congress, André Carson and Ilhan Omar–herself the only African refugee in Congress, their fellow African American Congressmembers Ayanna Pressley, Summer Lee, Jamal Bowman, and Cori Bush, along with the chair of the Progressive Caucus, Pramila Jayapal.
"I'm the only Palestinian American serving in Congress, Mr. Chair, and my perspective is needed here now more than ever. I will not be silent, and I will not let you distort my words," Tlaib said. "Trying to bully or censor me won't work, because this movement for a cease-fire is much bigger than one person. It's growing every single day. There are millions of people across our country who oppose [Israeli Prime Minister] Netanyahu's extremism…They are done watching our government, Mr. Chair, supporting cutting off food, water, electricity, and medical care to millions of people with nowhere to go. Like me, Mr. Chair, they don't believe the answer to war crimes is more war crimes."
As Congressmember Tlaib was being censured, 87-year-old Holocaust survivor Marione Ingram was nearby, protesting at the White House, demanding President Joe Biden call for a cease-fire.
"I find it horrific that the politicians have the nerve to censure righteous voices for peace and for the lives of Gazans, who are being murdered," Ingram said on the Democracy Now! news hour the next day. "It is a slaughter that is happening. Rashida Tlaib is, in my eyes, a hero."
She continued, "I am a Jew, my mother was a Jew, my Jewish family was murdered in 1941. Hamburg Jews were sent to Minsk in Belarus. Upon arrival, they were stripped and then shot and dumped into a mass grave. My grandmother was taken by two Gestapo who came to my mother's apartment and took her away the night before I turned 6 years old."
The German American Holocaust survivor was adamant: "Netanyahu's government, Israel's policies for decades has been the suppression of Palestinians, land grabs, deprivation of Palestinians… I was a child of war. I have experienced all of these things. I have also known for a fact that what Israel is doing will not end this conflict. It will only exacerbate it."
Marione Ingram is not alone. Over 1,000 Jewish academics, artists, and clergy have signed an open letter that called for an immediate cease-fire, the release by Hamas of all hostages, and an end to Israeli apartheid and occupation. The effort was led by Omer Bartov, Brown University Professor of Holocaust and Genocide Studies, described by the U.S. Holocaust Memorial Museum as one of the world's leading specialists on the subject of genocide.
"I was a soldier in the Israeli Defense Forces between 1973 and 1976, so as a young soldier, the first thing that I experienced was the trauma, the huge surprise of the Arab, the Egyptian, and Syrian attack on Israel on October 6, 1973," Bartov explained on Democracy Now! "When the Hamas attack on Israel occurred on the 7th of October 2023, 50 years and a day later, that was quite traumatic for myself and many members of my generation."
Professor Bartov continued, "Israeli political leaders and military leaders have made very startling and frightening statements about Gaza, speaking about flattening Gaza, speaking about Hamas, but by extension, Gazans in general, as human animals, speaking about moving the entire population of Gaza out of Gaza, that is a clear intention of ethnic cleansing. Those statements show intent… genocidal intent, which is often very difficult to prove, and genocide, people who carry out genocide don't always want to say that they're doing it."
Bartov's concerns are seconded by another veteran of the 1973 Yom Kippur War, renowned Israeli historian Ilan Pappé. Pappé wrote a seminal history of the 1948 ethnic cleansing of Palestine, in what Palestinians call the nakba, or catastrophe, in the lead up to the founding of the state of Israel.
"What we are seeing now, what unfolds in front of our eyes, is a genocidal situation, by which people are targeted, whether they are children, babies, in hospital, or in schools. This is a massive operation of killing, of ethnic cleansing, of depopulation," Pappé said on Democracy Now!
Speaking out against an ongoing, attempted genocide is not a crime, nor is it antisemitic. In fact, it is central to the phrase often invoked by Holocaust survivors and their descendants: "Never again."
Amy Goodman is the host and executive producer of Democracy Now!, a national, daily, independent, award-winning news program airing on over 1,400 public television and radio stations worldwide.
Denis Moynihan has worked with Democracy Now! since 2000. He is a bestselling author and a syndicated columnist with King Features. He lives in Colorado, where he founded community radio station KFFR 88.3 FM in the town of Winter Park.