Doctors in Minnesota and Wisconsin Just Formed a Big Private Sector Physicians' Union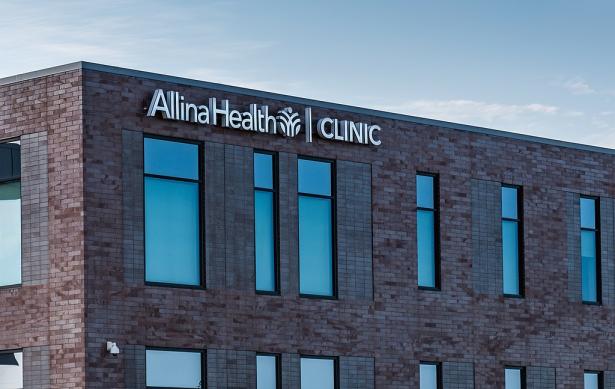 Allina employees complain of being understaffed and overworked and lacking input into decision-making, which they say is undermining patient care., (Tony Webster / Wikimedia Commons)
An interview with Beth Gunhus, Cora Walsh, Matt Hoffman and Jess Boland by Sara Wexler.

Last month, doctors across sixty-one clinics in Minnesota and Wisconsin owned by the nonprofit Allina Health System elected to form a union. With around four hundred doctors in the bargaining unit — along with roughly 150 nurse practitioners and physicians' assistants — Allina doctors are likely the largest group of unionized private sector physicians in the United States, according to the New York Times.

The group voted 325-200 to unionize with Doctors Council, an affiliate of the Service Employees International Union, with twenty-four contested ballots. These employees are joining another unit of over a hundred doctors at Mercy Hospital in Minnesota, a two-campus facility owned by Allina Health System, who voted to unionize with Doctors Council in March; Allina is contesting that election with the National Labor Relations Board.

Allina employees complain of being understaffed and overworked and lacking input into decision-making, which they say is undermining patient care. Last week, Jacobin contributor Sara Wexler spoke with three health care providers from the recently unionized Allina clinics as well as a doctor from Mercy Hospital about their unionization efforts.


---

SARA WEXLER

When did you start organizing for a union?

MATT HOFFMAN

This started in April 2022. At that time, myself and another doctor made a last-ditch effort to work with our company.

We circulated a petition to ask for changes, and Allina essentially told us, "We're not interested in creating a new leadership structure, we have leaders that are addressing your concerns, we don't need your voice" — the voice of the workers, the voice of the people on the ground. After that, it was full steam ahead with unionizing.

SARA WEXLER

What were the main issues that convinced you and others to form a union?

MATT HOFFMAN

We had a huge kickstart in terms of this petition we were circulating. It wasn't about unionizing at first — it was about changes we wanted to see. We're primary care. We don't have the support that other people do. We wanted help with staffing; we wanted help with administrative work, with paperwork, so that we can see our patients more.

At that time, Medicare had tried to get more money into primary care by paying us more for the work we do. It said, we want to increase compensation of primary care by about 20 percent. But that money goes to the companies; it doesn't go directly to us. Our company redistributed that money elsewhere essentially.

We said, "We want this money to be invested in primary care. We want staff to be paid more, we want more staff, and we want to see some of that money ourselves." That got a lot of people interested. So we had lots of email addresses, lots of contact information. We already had a huge group of people to draw from who were upset and angry that primary care wasn't getting any help.

BETH GUNHUS

There was a shooting at the Buffalo clinic, and several of our coworkers were involved, and there were not a lot of answers no matter how many questions we asked at that point. We had a terrible time trying to figure out what we were going to do next.

Also, shortly after we started talking about organization, we had a suicide of one of my coworkers in the building I work in. That was a real driving force for a lot of us too — realizing how much the stress was eating away at us.

CORA WALSH

I ended up speaking with a lot of our younger colleagues as a part of the organizing effort. One of the things in this organizing process that was telling was how quickly folks were joining a clinical practice and rapidly struggling with burnout and mental health issues, and looking to their older, more seasoned colleagues and seeing the distress that they were under — and feeling like, "There's no hope if my colleagues who are twenty years in are feeling like they're drowning as much as I am."

That was another one of the really motivating pieces for some of them. We have a lot of folks involved who have been in practice less than two years and are motivated to join a union.

MATT HOFFMAN

For a lot of us, it comes down to having so much to do that you don't feel like you have the time or ability to give your patients the best care you can. Also, you don't have the time or ability a lot of times to take care of yourself, to go home, to see your family, to spend time with your kids.

You have so much paperwork, so many messages, so many phone calls: things that, in our opinion, don't need to be done by the providers. These could be offloaded.

We only have nine hours in a day. You have all this stuff to do — where do you cut? Do you spend less time seeing your patients? Do you spend less time than you'd like to be able to reviewing lab results or calling specialists? Do you spend less time at home with your kids?

My patients are suffering because they're not getting the care they should. They're not getting the time. They can barely get an appointment.

You think: Who set up the system? Who's benefiting in this system? It's the health care corporations, it's drug companies, it's insurance companies, it's Allina, it's companies like Allina. You see this squeeze. I've been working for nine years, and the squeeze is getting tighter every year.

We have to work collectively to force change in the system. I think that message is the message that resonated with people because everybody feels that. When I would call people to talk to them about unionizing — in different words, maybe — they said the same thing back to me.

SARA WEXLER

You all just won your union election. What's next?

MATT HOFFMAN

We are getting our bargaining survey together; we're planning on sending that out this week. Shortly after we're going to submit a petition to bargain with Allina. We're forming our bargaining team, and a contract administration team to support bargaining and to keep people organized.

JESS BOLAND

Mercy's at a slightly different phase. Allina is refusing to recognize our union. It's suggesting that our election wasn't fair — it was. So we are still waiting for recognition and prompting Allina to recognize our vote.

SARA WEXLER

For those in the clinic unit: What do you hope to achieve in bargaining?

MATT HOFFMAN

I think what's most important to people is that we want support. What that support will look like will be more staff. It'll be hiring new positions to help with our paperwork so that we're not spending time on paperwork, but being in the room with patients. It'll be paying staff more so we can retain them and not have as much turnover.

CORA WALSH

Those are the issues that have driven most people to the organizing process. Staffing issues really come back to patient safety, being able to improve the quality of patient care that we provide. Staffing and workload are cornerstones to everything that we're able to provide our patients.

BETH GUNHUS

Also, the fact that we don't even have paid sick time. Nobody would believe we don't have paid sick time. We need working conditions that are commensurate with the type of work we're doing.

MATT HOFFMAN

Broadly, we need to have control over primary care. We cannot let a huge health care corporation call the shots. So that's a big part of [this organizing effort]: How do we collectively work to say we need to be calling the shots in primary care?

CORA WALSH

Health care–quality metrics is a big issue in primary care right now. Allina is compensated to some degree when we meet certain benchmarks — if a certain number of our patients have gotten a preventive test done, for example, a colonoscopy or mammogram. If we fall below a benchmark, Allina doesn't get the lump sum payment. If we are above that benchmark, it does.

That means that we're being pushed in every encounter now to sacrifice our limited time with patients, to have our clinical assistants be working on getting their colonoscopy or their mammogram ordered and so on. For example, I had a colleague last week who had a patient who came in with chest pain and was waiting to do an EKG on this patient. Instead of spending the appointment time focused on an acute issue, instead the first ten minutes of the appointment were spent on our standard rooming procedures, which now include the things that Allina is paid for in large chunks to meet these quality metrics.

Some important background behind this: years ago, when clinics were small and owned by groups of providers, decisions were made much closer to the front lines of patient care. Now, as practices have been bought up and mergers have occurred, more and more decisions are being centralized and made at the corporate-suite level rather than at the clinic level.

JESS BOLAND

I think one huge reason for unionization is wanting to have a layer of protection. This is something that we saw throughout the country during the pandemic. Physicians were saying, "I'm at risk of being fired if I speak out. I'm at risk of being fired if I disagree with my employer about the conditions in the hospital." There were circumstances where I was wondering: Am I at risk of being fired for the medical decisions I'm trying to make in the best interest of my patient?

Another [new] phenomenon in medicine is staffing companies. It's not just that my hospital employs me — it's that a contract group employs me and sends me to the hospital. So there are multiple layers of separation between "I live here, and I want to give good care and get good care," and "Here's your doctor that's supplied by an employer that's owned by private equity in a different state." That is shaping medicine right now in a way that I don't think the public is aware of.

One of the things I want to accomplish is having a layer of protection where I can say, "Hey, I'm doing the right thing for my patient. You can't fire me for that."

MATT HOFFMAN

We're an organized group of about six hundred, plus 150 at Mercy. That's a huge consolidation of power of health care providers. It's exciting to think about what we can push to do outside of our contract.

I think we will have power at a state level. I think we will have power in terms of pushing for policy and fighting back against insurance and drug companies. And we're not alone in those groups. We're joining Doctors Council, which is a couple thousand doctors. A lot of these things we're talking about are bigger problems in health care that we can't address in a contract.

I hope we can get other people organized in Minnesota and other places in the country. This is a nationwide problem to fight against.

CORA WALSH

I think what we're all talking about is finding our voice and finding that, in working together, our voices are stronger, and they can create change. One of the first examples we saw of that was . . . at Allina, there's long been a practice that patients could be terminated from care for financial reasons, for failing to pay bills. It's not just an Allina practice. It was a practice at my last place of employment; it's a practice at many specialty groups.

It's a fairly common practice in health care, but it's become even more problematic. With mergers and consolidations, if you get terminated from Allina, there are huge parts of Minnesota where you then can't get care. You're in a care desert. So clinicians' frustration with this policy has grown and grown over the past years. We've brought it up to multiple superiors and leadership and just been told that this is the way it has to be.

The New York Times had done some interesting work looking at nonprofit health care companies and how they're earning their nonprofit status, with the tax breaks they receive from that: How much are they donating to the community? How much are they caring for uninsured patients? That's what that nonprofit status is supposed to be in exchange for. So a few of us reached out to the Times about this policy.

When the New York Times story came out, our attorney general's office picked it up immediately as an issue that fits in with much of the office's work on health care and consumer protection. Shortly thereafter, Allina reversed its policy — it has stopped the termination of patients for financial reasons. But the attorney general's office is continuing to investigate this, because there's nothing currently legally that keeps Allina or any other health care company from reinstating that policy once the limelight is off of them.

It was really motivating for us, and taught us early on that when we bring our voices together for what we think is right for patients, we can make a difference. It's helped us feel less alone in that fight.

SARA WEXLER

What have you learned from organizing? Have you noticed any differences in your work with your colleagues since you started the union drive?

MATT HOFFMAN

This process has given me tremendous hope that there can be change in the health care system. In our group of six hundred, looking back, it feels impossible that we did this across sixty-one clinics, against a system that hired an anti-union law firm to fight us. It has given me hope that the message of, "Hey, you can make patient care together better by working with your colleagues" — that message resonates.

Beth Gunhus has been a pediatric nurse practitioner for thirty-two years. She has worked at Allina Health Inver Grove Heights clinic for the last twenty-five years.

Cora Walsh, MD, MSc is a family physician practicing with Allina Health in West St Paul, Minnesota. She has been in practice eight years.

Matt Hoffman has been a physician at Allina Health Vadnais Heights Clinic for the past nine years.

Jess Boland, MD has a background in emergency, internal, and critical care medicine and is a critical care physician at Mercy Hospital in Coon Rapids, Minnesota. She serves on Mercy Hospital's union Organizing Committee.

Sara Wexler is a member of UAW Local 2710 and a PhD student at Columbia University.