Blaming Mass Shootings on Mental Illness Doesn't Address Either Issue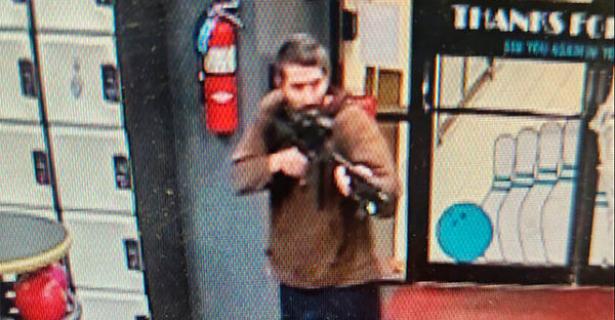 Since a gunman went on a rampage in Lewistown, Maine, killing 16 people, we've learned a few things about the shooter, Robert Card, who was found with a fatal self-inflicted gunshot wound after a two-day manhunt. A member of the Army Reserve, Card had recently been committed to a mental health facility after he reported hearing voices and threatened to shoot up the National Guard base in Saco, Maine.
Card's mental health history has been central to reporting that laid out the lead-up to the deadliest mass shooting in the US this year. Questions of how Card was able to have access to guns, given his psychiatric hospitalization and documented concerns of family and soldiers in his reserve unit, drove much of the coverage. Lax gun laws that allow people like Card to slip through the cracks warrant interrogation, but the reality is that most mass shooters don't have a mental health history like Card's, nor is a record of mental illness a good predictor of gun violence.
Card's ability to carry out this tragedy is a symptom of the gun violence crisis in the US, but the presence of his mental illness is not representative of the issue. In the vast majority of cases of mass violence, mental illness is not considered a primary factor. Attempting to rationalize the horrors of a mass shooting by emphasizing the perpetrator's mental state does very little to address the larger issue at best, and leads to dangerous mental health stigma at worst.

A 'textbook case'?
The New York Times piece "The Signs Were All There. Why Did No One Stop the Maine Shooter?" (11/2/23) referred to Card having a "textbook set" of warning signs, including that he was "hearing voices."
"The Maine Gunman Was a 'Textbook Case' for a State Law Designed to Remove Firearms From People Like Him. Why Didn't It Work?" read a CNN headline (11/5/23).
"Even to the most untrained eye, Card is the literal textbook example of a person who shouldn't be allowed to have access to firearms," a New York Post editorial  (10/26/23) declared.
These pieces refer to Maine's "yellow-flag" laws, which gun control advocates consider watered-down versions of red-flag laws. Also known as extreme-risk laws, red-flat laws allow the loved ones of a person in crisis or law enforcement to petition a court for an order that temporarily prevents the person from accessing guns. Yellow-flag laws require several procedural steps, including a mental health evaluation, before a gun can be removed from someone's possession. Red-flag laws don't require mental health evaluations.
It needs to be made clear: While Card's mental illness might make him a "textbook example" of someone who should not have had access to a gun, it does not make him a "textbook example" of a shooter. A large majority of firearm deaths involving mental illness are suicides. These pieces did not make that distinction. (Gun suicides outnumber gun murders overall, but by a narrower margin.)
A tiny minority
So while a critique of the weak gun laws that allowed Card access to firearms is warranted, harping on his mental illness doesn't add much context to the larger epidemic of mass shootings in the US. Mental illness exists all around the world, after all, but only one country accounted for 73% of the mass shootings that occurred in the developed world between 1998 and 2019. And removing guns from everyone who displayed similar symptoms to Card is not likely to decrease mass shootings by a significant amount.
An FBI study that monitored pre-attack behaviors of mass shooters between 2000 and 2013 found that 25% of them had diagnosed mental illnesses (which includes non-psychotic conditions, such as depression and substance abuse). This is not far off from the 23% of US adults who experienced mental illness in 2021, according to the National Alliance on Mental Illness. Only 5% of the shooters in the FBI study had been diagnosed with a psychotic disorder.
And a diagnosis doesn't necessarily assert a causal relationship. In most cases, the relationship between the violent act and mental illness is incidental (Columbia Psychiatry, 7/6/22).
In a piece for the American Association of Medical Colleges (1/26/23), John Rozel and Jeffrey Swanson cited a 2018 study that found that less than 5% of mass shooters had any record of a gun-disqualifying mental health adjudication, like involuntary hospitalization:
Indeed, if serious mental illnesses suddenly disappeared, violence would decrease by only about 4%. More than 90% of violent incidents, including homicides, would still occur.
They added, "The real story—and the real need—regarding mental illness and violence is suicide."
The real red flag
Card's family's concern for his mental health was central to corporate media reporting, including a segment on MSNBC's Chris Jansing Reports (10/26/23) and an NBC piece (10/26/23) that described Card's family and colleagues recalling him hearing voices. A CBS News Boston piece (10/26/23) that outlined a number of facts authorities knew about Card when he was on the run headlined his mental illness: "What We Know About Lewiston, Maine, Shooting Suspect Robert Card and His Mental Health History."
"Even as [Card] was confronted and hospitalized and had a sheriff's deputy come knocking, nothing went far enough," the New York Times article (11/2/23) read.
"Cops Were Warned About Maine Gunman's Declining Mental Health in May," reported the Daily Beast (10/30/23).
A New York Post report (10/31/23) was headlined "Maine Mass Shooter Robert Card Claimed Voices in His Head Were Calling Him a 'Pedophile.'"
Eclipsing the why
The obsession with Card's mental health eclipses why stronger risk-based gun restrictions—like red-flag laws—are so effective. In an opinion piece for the Boston Globe (10/30/23), Kris Brown, the president of gun violence prevention group Brady, points out:
Importantly, these laws were intentionally designed, in their initial recommendation by the Consortium for Risk Based Firearm Policy, to avoid reliance on mental health diagnoses, and instead to focus on the behaviors that best indicate potential future violence.
As NBC (8/6/19) reported in 2019, mental illness is not a significant risk factor in mass shootings—but a record of violent and risky behavior is. Card's spoken threats and access to guns were statistically much more indicative of the risk he posed to the public than the mental illness that dominated the headlines.
Involuntary commitment and stigma
The stigma caused by this type of reporting is palpable. Following the massacre, GOP presidential candidate Vivek Ramaswamy took to Twitter (10/26/23), painting with dangerously broad and wantonly vague strokes:
We must remove these violent, psychiatrically deranged people from their communities and be willing to involuntarily commit them.
Unsurprisingly, the New York Post editorial board (10/26/23) was also a fan of involuntary commitment, suggesting that Maine needs red-flag laws—and "better ways to commit the mentally ill."
The Post editorial made the solution seem simple:
The state must intervene by making sure the sick person's getting the treatment they need, and keeping them totally isolated from any and all guns. Imagine if cops, prosecutors and mental health workers had acted swiftly to put Card back in a mental hospital and not let him leave.
Advocating for more mental health hospitalization requires an understanding of what's wrong with mental healthcare in the first place. What, exactly, is the "treatment they need"? Is it available? Are psychiatric hospitals adequately staffed and funded? Is the staff trained enough to manage patients' conditions and keep everyone safe? Does the patient have insurance, or sufficient funds to pay for treatment? How does stigma from communities, politicians and media serve as a barrier to effective treatment?
The New York Times piece's subheading (11/2/23) said, "Shortcomings in mental health treatment, weak laws and a reluctance to threaten personal liberties can derail even concerted attempts to thwart mass shootings." But the text of the article hardly addressed the former. It stated:
The system to treat people who resist getting help on their own is geared toward acute, not long-term, problems. Involuntary stays require an imminent threat of harm and generally last from 72 hours to two weeks.
Suggesting that involuntary commitment can prevent mass violence without engaging in meaningful discussion about barriers to effective mental health treatment—and the trauma inadequate mental health treatment can cause—is lazy.
In response to Ramaswamy's ill-informed and stigmatizing tweet, journalist Ana Marie Cox (MSNBC, 10/26/23) highlighted another crucial point: 97% of mass shooters are men, and the majority of those men are white. Involuntary commitment has already been on the rise, but white men remain significantly underrepresented in involuntarily  committed populations.
'That unstable neighbor'
A St. Louis Post-Dispatch editorial (11/2/23) that advocated for tighter gun laws also used vague and stigmatizing language that villainized "unstable" people. While first discussing red-flag laws that should keep guns out of the hands of those who display signs of mental illness, the piece later sarcastically accused legislators who refuse to pass gun control measures of "mental instability":
These are the same lawmakers who (talk about a clear sign of mental instability) defeated a measure this year that would merely have specified that children aren't allowed to carry guns around in public. On firearms, these folks are immune to common sense and beyond convincing.
The piece ended:
Fully 60% of Missourians favor the modest, rational step of keeping guns from the mentally ill, according to a St. Louis University/YouGov poll this year. Yet the only way they will ever achieve that imperative is by sending a saner delegation to Jefferson City. Until then, you'll just have to keep an eye out for that unstable neighbor.
The righteous call for stricter gun laws is obscured by the facetious conflation of mental illness with violence, political corruption and the need to be locked up. Statistically, the bigger reason to "keep an eye out for that unstable neighbor" with a gun is because of the risk of suicide—not mass violence.
Public stigma—including branding mentally ill people as dangerous—leads to worsening symptoms and reduced likelihood of receiving treatment. It can also lead to discrimination by employers, the healthcare system and the law (American Psychiatric Association, 8/20).
Locking people like Card in mental health facilities doesn't automatically cure them. And considering mentally ill people are far more likely to be the victims than the perpetrators of violence, it certainly does not adequately address the mass shooting crisis in this country.
Olivia Riggio is a journalist and FAIR author who became FAIR's administrative and fundraising director in April 2021. You can follow her on Twitter @oliviariggio97.
FAIR is the national progressive media watchdog group, challenging corporate media bias, spin and misinformation. We work to invigorate the First Amendment by advocating for greater diversity in the press and by scrutinizing media practices that marginalize public interest, minority and dissenting viewpoints. We expose neglected news stories and defend working journalists when they are muzzled.
FAIR's work is sustained by our generous contributors, who allow us to remain independent. Donate today to be a part of this important mission.